Meyer Lemon Thyme Icebox Cake Recipe
This lovely (and easy!) Meyer Lemon Thyme Icebox Cake is the perfect celebration cake with no baking required!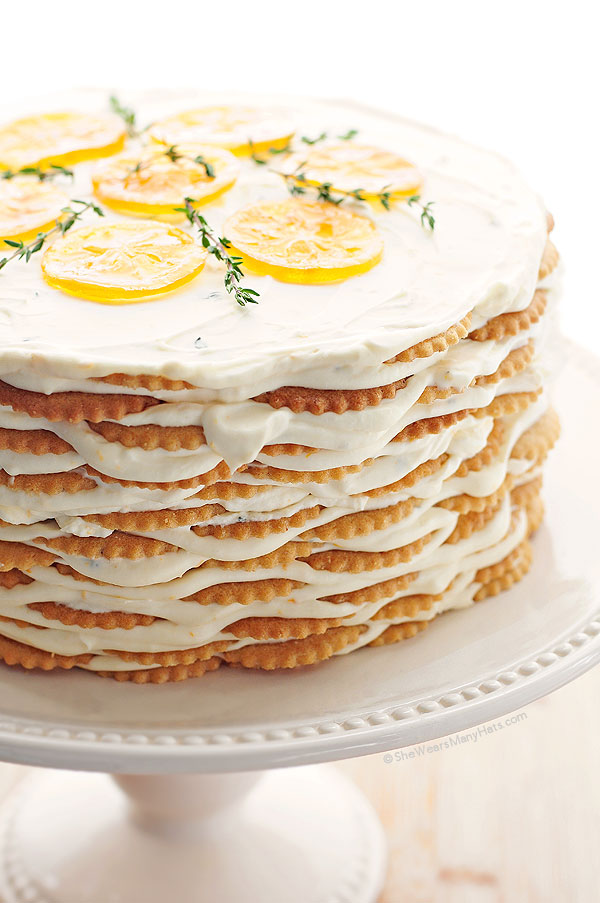 No need for an oven with this lovely cake. This icebox cake is perfect for any spring or summertime occasion. From baby showers and Easter lunch, to Mother's Day and barbecues this cake would be a lovely addition to the celebration!This recipe is my answer to a challenge from KitchenAid®, a challenge to create a recipe for a springtime no-bake cake. The formal challenge: Elevate a No-Bake Cake that is seasonally relevant. Seasonally relevant … hmmm … bright, fresh, springtime flavors come to mind, like lemons, and thyme. So I gathered my favorite cake plate, a bunch of Meyer lemons, some pre-made vanilla cookies, a few other basic ingredients, and began to make a plan.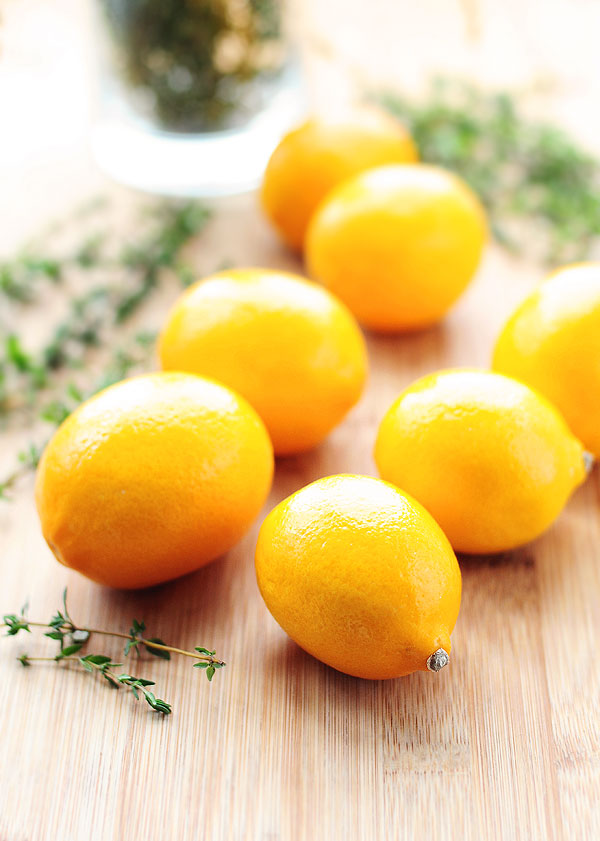 The cake should be simple to make, but still a showstopper—an impressive cake filled with loveliness and flavor, reminiscent of summertime, when the living is easy and sweetness abounds. But the best part? No baking required.
After checking the refrigerator to make space, and shifting things around a bit to make room for a new temporary occupant, I moved on to some basic mixing. Heavy cream was whipped up with fresh thyme and Meyer lemon zest, then folded into cream cheese that had been whipped with honey and lemon juice to create a smooth and fluffy filling. So aromatic too!
The cake assembly begins with a layer of cookies on a cake plate, followed by a layer of the whipped cream cheese filling. Then another layer of cookies, and so on until the desired height is reached. Top it all off with a lovely garnish of Candied Lemon Slices, and more fresh thyme.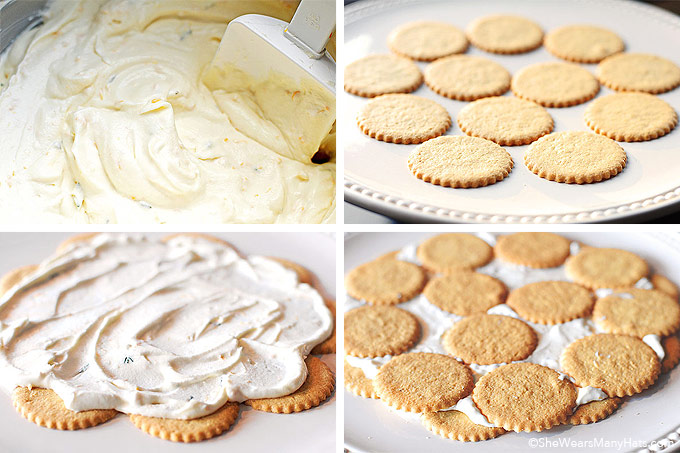 Such a pretty cake! I have to admit it was quite fun building this cake—like legos for adults, only edible. And super duper easy too!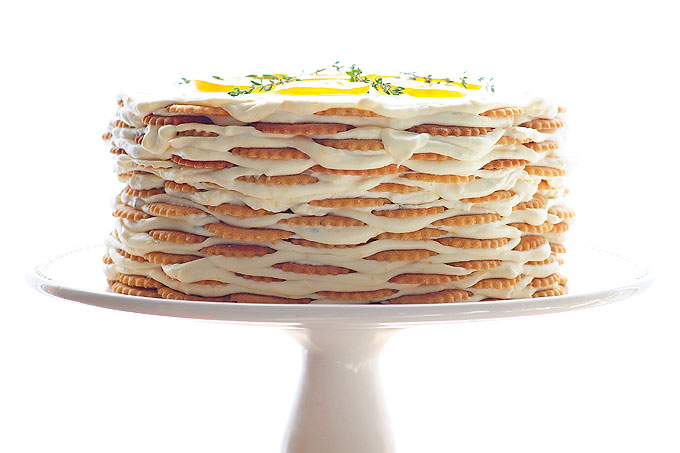 The flavor of the no bake cake is astounding, but not overwhelming. Meyer lemons, thyme and honey are such a heavenly combination. It is pure lightness and happiness on a fork!
A few recipe notes:
The whipped cream cheese filling can be made a couple of days ahead, then covered and refrigerated until ready to assemble cake.
Any thin vanilla or lemon cookies may be substituted. I used a favorite Moravian lemon cookie found at a local grocer. A thinner cookie will work better as it is easier for layering evenly, and absorbs moisture to soften nicely for slicing and serving. Vanilla wafers, and those inexpensive butter cookies would work well too. You know the ones we enjoyed as kids that are shaped liked flowers with holes in the center that we wore as rings. Just be sure to adjust amounts accordingly. The recipe below is based on the very thin 2-inch Moravian cookie size.
Powdered confectioners sugar may be substituted for honey. Additional 1-2 tablespoons of cream may be needed to create a smooth consistency.
Edible Candied Lemon Slices are a wonderful garnish for this cake. They can be prepared ahead and refrigerated until needed for garnish.
If fresh thyme isn't handy, substitute dried. If using dried, use 1/3 of the amount.
Meyer Lemon Thyme Icebox Cake Recipe
A wonderful flavor combination perfect for spring and summer.
Author: ©Amy Johnson | She Wears Many Hats
Serves: 18
Ingredients
4 cups heavy cream
2 tablespoons fresh thyme, roughly chopped
2 tablespoons fresh lemon zest
16 ounces cream cheese
6 tablespoons Meyer lemon juice
¾ cup honey
230 2-inch thin vanilla or lemon cookies (adjust amount according to cookie size)
optional garnish: candied lemon slices, fresh thyme
Instructions
Add heavy cream, chopped thyme and lemon zest to a large mixing bowl and whip until soft peaks form. Set aside.
Whip together cream cheese, lemon juice, and honey until smooth and light. Fold in whipped cream until combined and smooth, cover and refrigerate* until ready to assemble cake.
Assemble cake by arranging 12 2-inch cookies in a circle on 10-inch cake plate (a ring of 9 cookies, edges touching, with 3 in the center). Gently spread ½ cup of cream cheese whipped filling over layer. Repeat cookie and filling layers until desired height. Top with final layer of cream.
Refrigerate for at least 3 hours, or until ready to serve. When ready to serve, garnish with candied lemons, and fresh thyme if desired.
Notes
*Cream cheese whipped filling can be prepared up to 2 days ahead and kept covered refrigerated until ready to assemble cake. Substitute vanilla wafers, sugar or butter cookies for the thin cookies. Powdered confectioners sugar may be substituted for honey. Additional 1-2 tablespoons of cream may be needed to create a smooth consistency.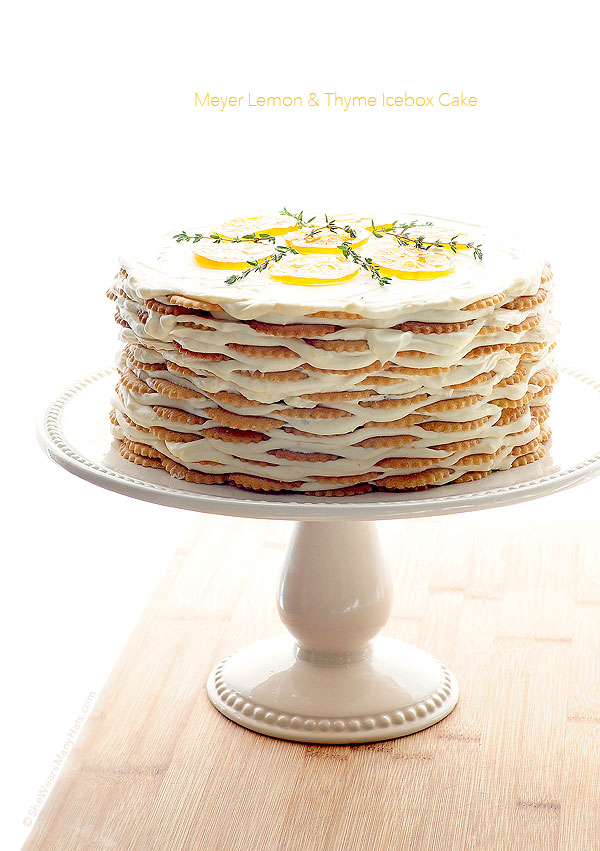 Originally posted March 19, 2014. Updated March 25, 2014.
This post was sponsored by KitchenAid, March 2014.