Honeydew Blueberry Lemon Cream Trifle Recipe
This super easy Honeydew Blueberry Lemon Cream Trifle is such a pretty ending to a meal or a simple addition to a dessert party spread. It can easily be made a day ahead too!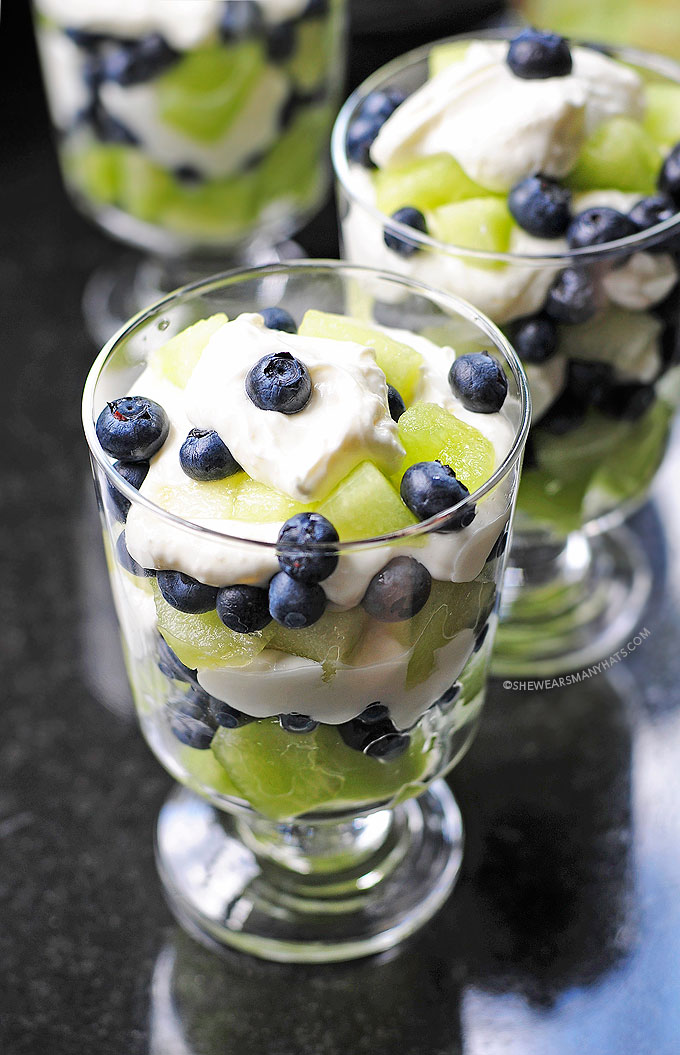 Summer is here in all of it's warm sunny glory and that means it's the perfect time for serving cool fresh dishes and desserts, like this super easy Honeydew Blueberry Lemon Cream Trifle. Recently I picked up a really ripe Honeydew melon and found it to be an excellent colorful match for a bunch of fresh blueberries needing to find a home. Who can resist the happy green color of a Honeydew? And I do love a light green and rich dark blue color combination, don't you? The honeydew melon was sliced and cubed then layered with fresh blueberries and a version of the delicious Lemon Cream that I recently shared. This pretty summery dessert couldn't have been quicker to put together and was the perfect ending for a summer meal.
This Honeydew Blueberry Lemon Cream Trifle is sweet and light, and just right for snack time or dessert for a ladies luncheon, baby or bridal shower. The happy green and blue color combination makes a lovely presentation for such a simple dish. And what could be easier for serving a crowd at a party? Only and few simple ingredients are needed. Plus this trifle can be quickly prepared the day before and refrigerated ready to go. Or cut the melon the night before, have the blueberries washed and ready, and quickly whip up a batch of Lemon Cream, then set all the ingredients out in individual serving dishes for guests to prepare their own mini trifles. How easy is that? And what a fun way to serve a lighter dessert option—a dessert trifle bar! I do believe I will be planning an easy trifle bar for our next cookout gathering.
Enjoy and have a lovely summer!

Honeydew Blueberry Lemon Cream Trifle Recipe
A sweet and light dish just right for snack time or dessert.
Author: ©Amy Johnson | She Wears Many Hats
Recipe type: Dessert
Serves: 6
Ingredients
4 ounces cream cheese, softened
5.3 ounces (or thereabouts) lemon greek yogurt
1 large honeydew melon, cubed
1 pint blueberries, washed (or more if you'd like!)
Instructions
Using an electric mixer beat the cream cheese on high until soft and fluffy (about 1-2 minutes). Add lemon greek yogurt and mix until combined well.
Create trifle by layering melon, blueberries, and lemon cream in a large bowl or individual dessert dishes.
Notes
This trifle can be made a day ahead and refrigerated covered until ready to serve.