Carrot Cake Recipe
This Carrot Cake Recipe with a Cinnamon Cream Cheese Frosting is a classic favorite that deserves a spot on any dessert menu.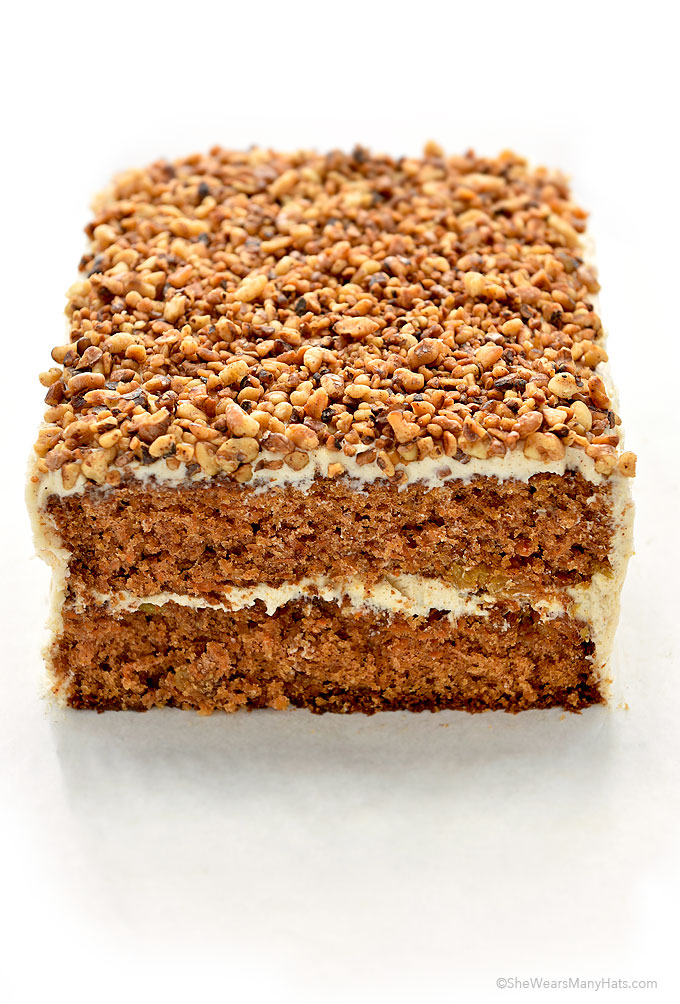 Cake is great! Whoever thought about putting a root vegetable in it? That's craaaaaaaazyyyyy. Crazy Good is what it is. But seriously, who thought, "Hey, let's shred up some carrots and bake it up in a cake and see what happens?" It had to have been a genius. Although it does make a bit of sense, seeing as how carrots naturally contain a large amount of sugar.
You know what else makes sense? Voice to text thingamajigs. Brilliant! Whoever invented that had to be related to the carrot cake inventor. Had to. It's a mighty handy dandy tool, except when you have a southern accent. Sometimes it struggles a bit. My daughter and I were headed home tonight from the grocery store when I realized I had not yet written anything for this recipe. So I asked her turn on the voice to text while I drove so I could dictate about this Carrot Cake recipe on the way home:
"Cake is great virtual and it is what it is no cake is great virtual and it just what is it is no tattoo we didn't get a good remedies do you have a catwell it's it's not open anything from Walgreens nope I told dad"
Yep. The voice dictation didn't turn out as well as this carrot cake did, but when it does work, it's pretty durn cool.
A few Carrot Cake recipe notes:
Be careful not to over beat the batter. Mix until just combined.
Raisins shmaisins. I could take them or leave them when it comes to this cake. They are optional with this recipe, but if you choose to use them, I recommend giving them a rough chop. Raisins get kind of weird when baked, and in this cake they can puff up and…well, just be weird. I don't like it. So if you chop them up, they can't poof up. Plus smaller bits spread throughout are just nicer.
This recipe calls for baking in a 9×13-inch baking pan. The cake can be carefully turned out, then frosted, or frost directly in the pan and be done with it. For the photos in this post, I cut the 9×13-inch cake in half to create a rectangle layer cake. It worked great. With that said, if you'd like to bake a round layer cake, the batter should be divided evenly into three 9-inch round cake pans, and baking times adjusted until cake is done (I'd say about 35-40 minutes, but always check for doneness before removing from the oven).
The frosting (oh the frosting!) amount in this recipe is just enough to cover a 9×13-inch cut in half and then layered cake (as shown). Adjust amount needed accordingly.
Carrot Cake Recipe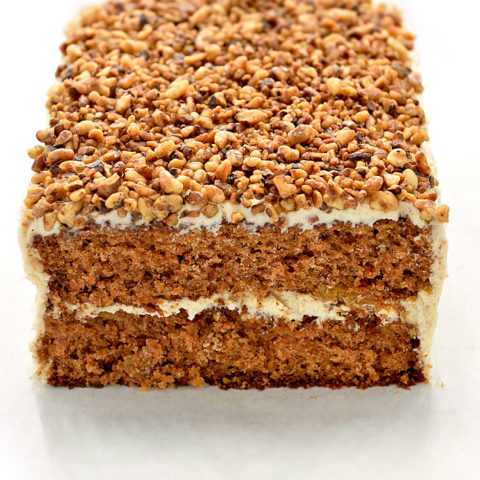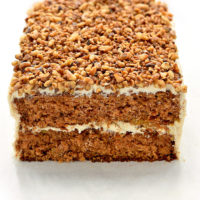 Carrot Cake Recipe
Yield: 16

Prep Time: 15 minutes

Cook Time: 45 minutes

Total Time: 1 hour

A delicious cake made with carrots, cinnamon and ginger.
Ingredients
2 cups all-purpose flour
2 teaspoons baking powder
1 teaspoon baking soda
2 teaspoons ground cinnamon
1 teaspoon ground ginger
3/4 teaspoon salt
1 3/4 cups packed light brown sugar
1 cup vegetable oil
4 large eggs
2 teaspoons vanilla extract
3 cups grated carrots
optional: 1/2 cup raisins (golden or dark), rough chopped
Instructions
Position oven rack in middle. Preheat oven to 350-degrees F. Butter and flour a 9x13-inch* baking pan, tap out excess.
In a large mixing bowl, whisk together flour, baking powder, baking soda, cinnamon, ginger and salt.
In a separate mixing bowl, beat together the sugar, oil, eggs, and vanilla extract until smooth. Stir in carrots and (if using)raisins.
Add dry mixture into wet mixture and mix until just combined. Do not over mix.
Evenly spread batter in prepared baking pan.
Bake at 350-degrees F for until cake tester (or wooden toothpick) inserted in center comes out clean, about 45-50 minutes. Allow cake to cool on cooling rack for 10 minutes. Carefully invert cake onto wire rack to cool completely.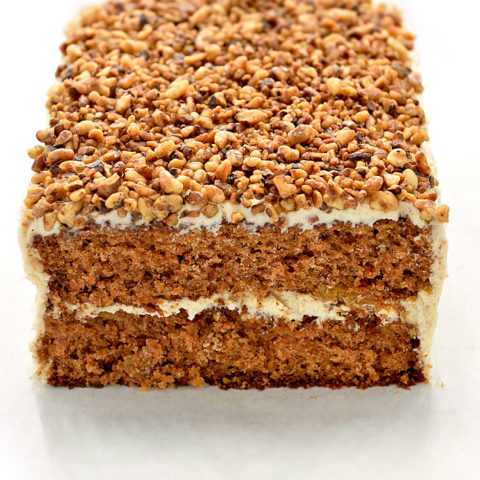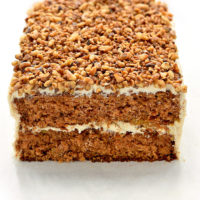 Cinnamon Cream Cheese Frosting Recipe
Yield: 16

Prep Time: 15 minutes

Cook Time: 45 minutes

Total Time: 1 hour

A perfect frosting for carrot cake made with a hint of cinnamon.
Ingredients
4 ounces, weight (8 tablespoons) unsalted butter, softened
1 1/2 cups confectioners' sugar
1 1/2 teaspoon vanilla extract (vanilla bean paste is wonderful for this recipe)
1/2 teaspoon ground cinnamon
1/4 teaspoon salt
12 ounces cream cheese, diced up
optional: 1 cup toasted chopped walnuts or pecans
Instructions
Using an electric mixer on low speed, beat together butter, sugar, vanilla extract, cinnamon and salt for about 30 seconds until combined a bit, then increase the speed to medium-high and beat until smooth, about 2-3 minutes, scrape down sides as needed.
Add in cream cheese a little bit at a time, mixing until smooth, scraping down sides as needed, about 4 minutes.
Frost cake and if desired, top with toasted nuts.