Avocado Bacon Tomato Spinach Corn Salad
Fresh sweet corn mingles with avocado, bacon, tomato and spinach in this corn salad that just screams summer.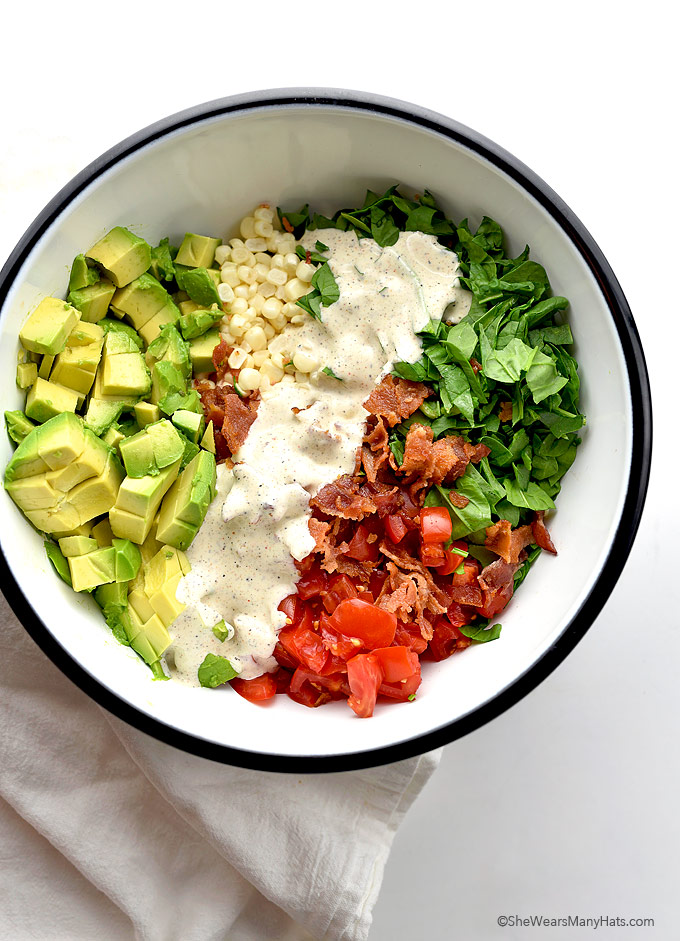 I do like a good side dish. Honestly, I'm probably more interested in the side dishes than main entrees if given a choice. My sister and I joke about how the turkey at Thanksgiving is just a centerpiece. It's all about the sides. Especially salads like this sweet and savory Avocado Bacon Tomato Spinach Corn Salad, tossed with a simple homemade dressing.
Seriously, when I made a batch of this recently with some fresh sweet corn, it was intended as a side dish with grilled Glazed Salmon, but it hardly made it to the table. We were sneaking spoonfuls of this corn salad while we prepared the rest of the meal. Such an irresistible combination of flavors and textures! Randy said he felt like he was eating dessert before dinner. So very satisfying!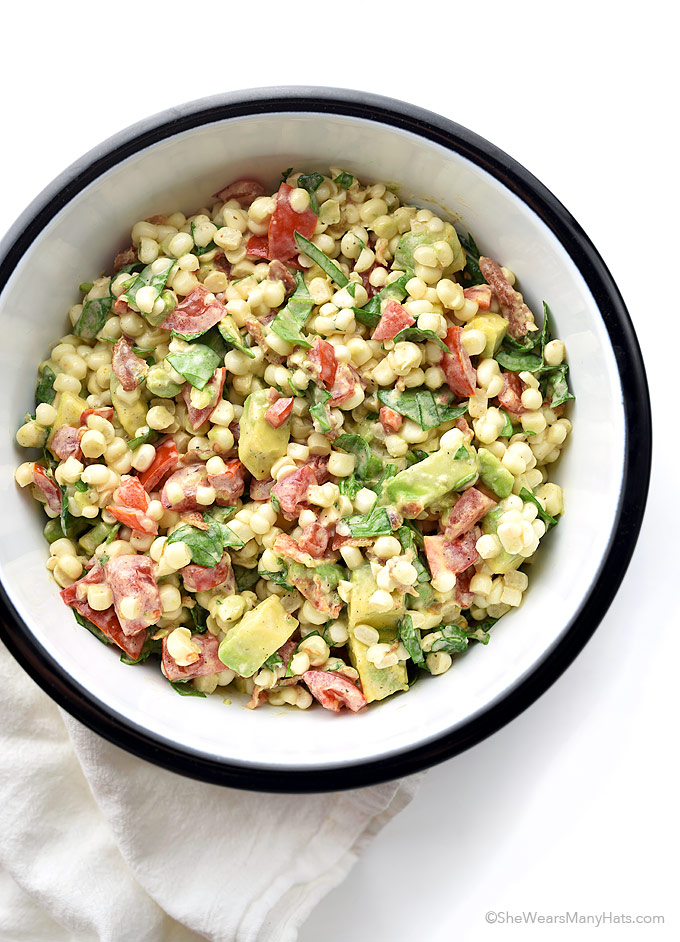 What I think makes this Avocado Bacon Tomato Spinach Corn Salad perfect is fresh sweet corn off the cob. We like to look for Silver Queen Corn or a another white sweet corn if we can find it in season. It's our favorite corn and adds a nice bite of sweet to partner with savory crispy bacon, avocado, tomato and spinach. Serve this corn salad alongside your favorite grilled chicken, fish or steak, or grab a spoon and just dig in!
Avocado Bacon Tomato Spinach Corn Salad
A sweet and savory side dish made with sweet corn, avocado, bacon, tomato and spinach and an easy dressing.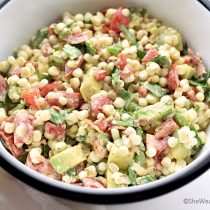 Ingredients:
1/4 cup mayonnaise
1 tablespoons white wine vinegar
1/2 teaspoon garlic powder
1/2 teaspoon salt
1/2 teaspoon ground black pepper
1/8 teaspoon ground red pepper
1 avocado, diced
4 pieces of fried bacon, crumbled
2 1/2 cups fresh sweet corn kernels (about 5 ears of corn)
1 cup diced tomato
1 cup rough chopped baby spinach leaves
Directions:
In a large mixing bowl, whisk together mayonnaise, vinegar, garlic powder, salt, and black pepper.
Add remaining ingredients and toss to coat. Refrigerate covered until ready to serve.