Easy Strawberry Upside Down Cake Recipe
An easy and delectable Strawberry Upside Down Cake recipe that is the perfect dessert for any spring or summer menus.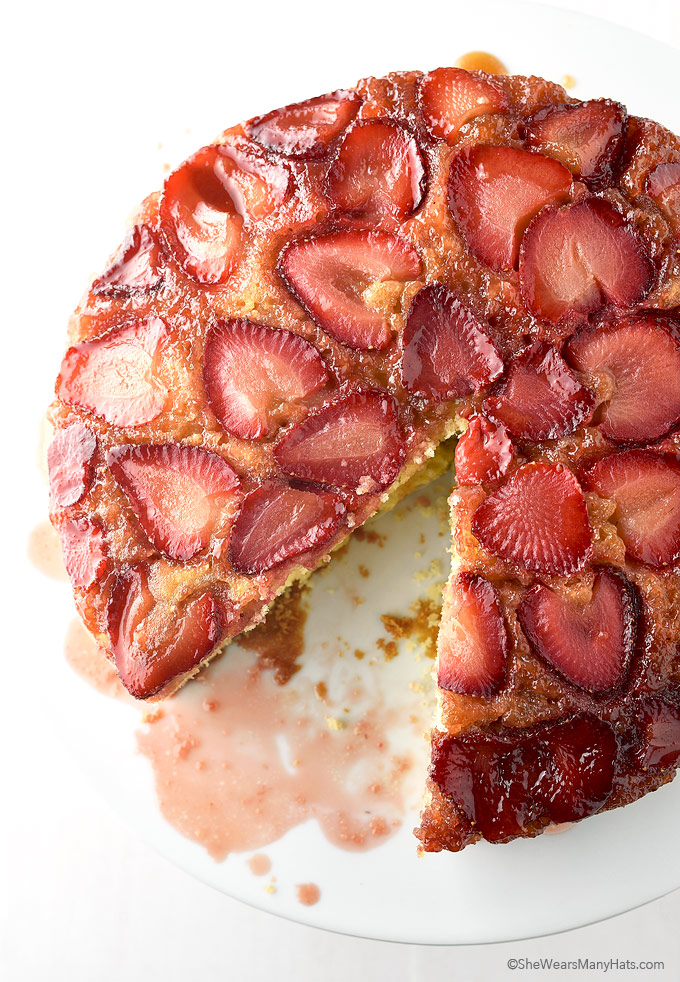 When summer rolls around and strawberries are in season I turn into the Forrest Gump of strawberries. While Forrest waxed on about shrimp, my list of all things strawberry begins to build as soon as soon as the dogwoods bloom. Whether it is fresh Strawberry Salsa, Frozen Strawberry Squares, Strawberry Lemonade, a pie piled mile-high with strawberries, Strawberry Slab Pie (from Miss in the Kitchen) or even a fresh Frozen Strawberry Margarita, I just can't seem to get enough of the bright red fruit.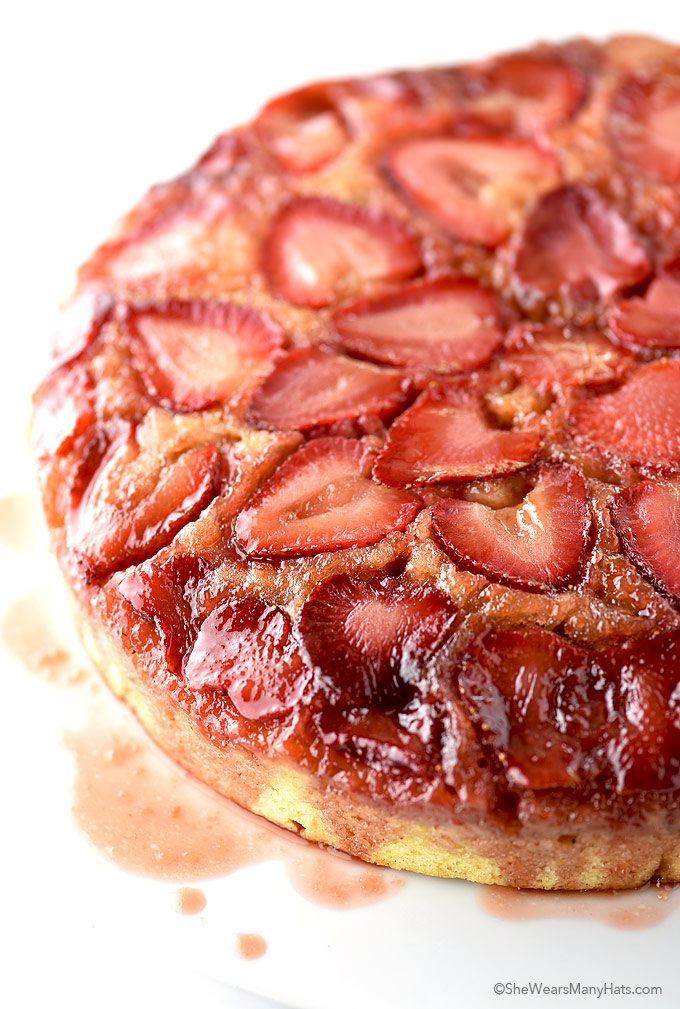 One of the strawberry creations that is always at the top of my list when fresh strawberries are available is this Strawberry Upside Down Cake. This Strawberry Upside Down Cake is a basic vanilla cake, made with strawberries in the fashion of the classic Pineapple Upside Down Cake we have all enjoyed throughout the years. And boy is it delicious. Plus it is easy to make too. Yay for easy cake!
The ingredients for this cake are basic enough and the preparation is simple cake making. A little prep time and measuring, a bit of mixing, plus about 40 minutes of bake time, and you will have a warm strawberry cake perfect for any occasion in about an hour. While the cake is baking you can whip up some fresh cream. Strawberries and cream are always in season, right?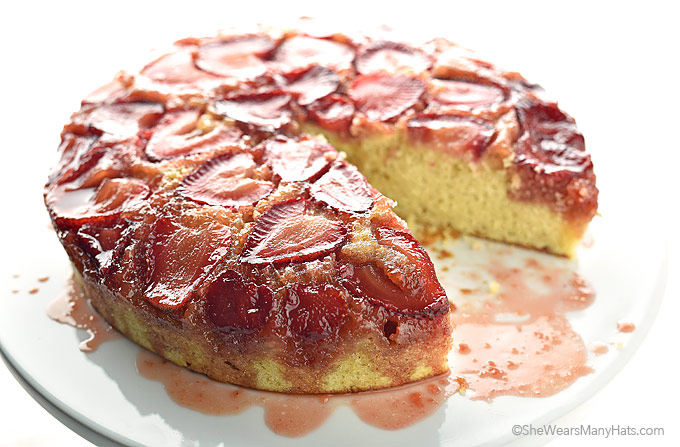 Strawberry Upside Down Cake tastes so much like strawberry short cake. So think strawberry short cake warm out of the oven. Oh yes. Grab your fork! But first top a slice of this cake with more fresh sliced strawberries plus a dollop of fresh whipped cream or vanilla ice cream for a strawberry dessert that would surely make Forrest run for a piece (or two). Run Forrest, run!
Easy Strawberry Upside Down Cake Recipe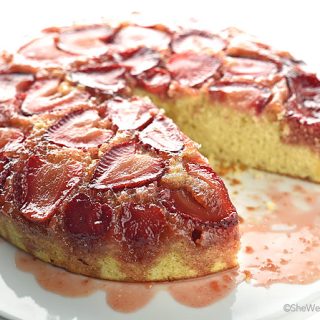 Strawberry Upside Down Cake
Yield: 8
Prep Time: 15 minutes
Cook Time: 40 minutes
Total Time: 55 minutes
A delicious cake recipe made with fresh strawberries that is the perfect dessert for any spring or summer menus.
Ingredients
3/4 cup (6 oz, weight) butter, softened and divided
1/2 cup brown sugar
10 ounces strawberries, sliced
2 cups all-purpose flour
2 teaspoons baking powder
1 cup granulated sugar
2 large eggs
1 teaspoon vanilla extract
1/4 teaspoon ground cinnamon
1/2 cup whole milk
Instructions
Preheat oven to 350-degrees F.
Melt 1/4 cup butter in a 9-inch round or 9x9-inch square baking pan in oven until melted. Carefully remove from oven. Whisk brown sugar into melted butter until combined. Place baking pan in oven for 1 minute. Remove from oven and whisk to blend. Arrange sliced strawberries evenly over top. Set aside.
In a bowl, whisk together flour and baking powder. Set aside.
In a mixing bowl beat together remaining 1/2 cup softened butter and granulated sugar until slightly lightened in color, about 2 minutes. Add eggs one at a time, beating well after each addition. Scrape down bowl as needed. Beat in vanilla extract and cinnamon.
Alternate adding in flour/baking powder mixture and milk, mixing until just combined. Scraping down bowl as needed.
Spoon batter over strawberries in baking pan and carefully spread evenly.
Bake at 350-degrees F until wooden pick or cake tester comes out clean, about 35 minutes. Let cool in pan for 10 minutes then invert onto serving plate. Scrape out any remaining syrup from pan and drizzle over cake.
Serve with whipped cream or vanilla ice cream.
Originally published April 27, 2016.