Easy Frozen Strawberry Margarita Recipe
This Easy Frozen Strawberry Margarita Recipe is a fruity take on the classic lime margarita and perfect for any festivities.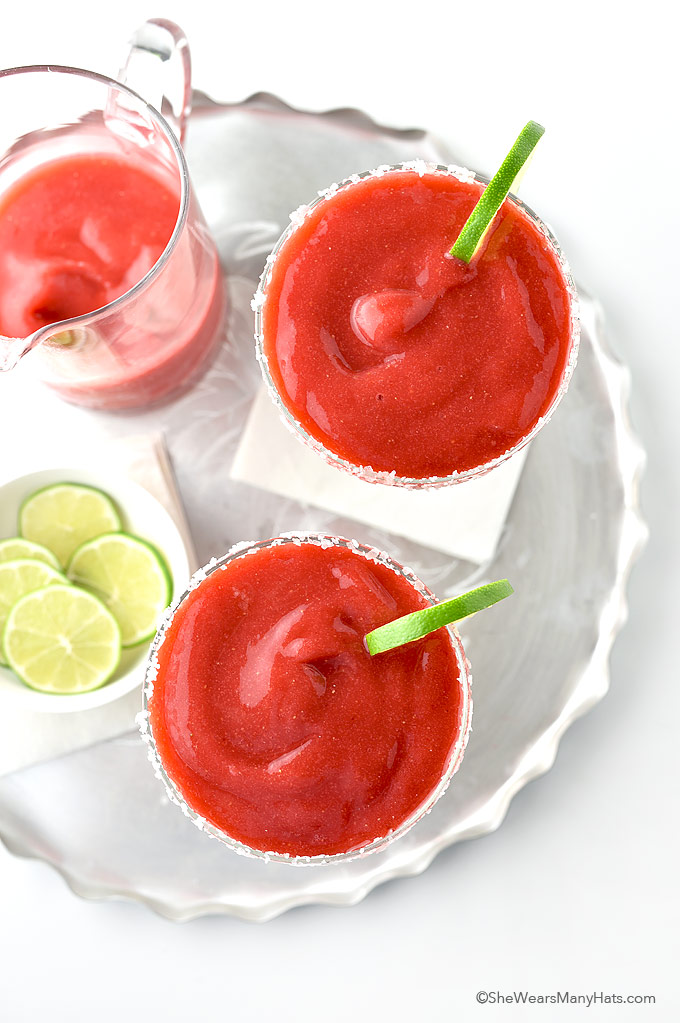 Aunt Marguerite always greets you with a hug and promptly asks you about your life. With a big heart and a big personality to match it, she is always brimming with a smile and full of enough joy to go around. Truly the life of the party!
Every time I enjoy a margarita (which isn't nearly enough) I think of Aunt Marguerite and how the refreshing adult beverage must have been named after her. I know it wasn't. But just let me pretend. The history of the margarita drink is a bit in question anyway so I suppose I can throw my version of the beverage's creation in with the rest.
Classically made with fresh squeezed lime juice, tequila, and Triple Sec (or Cointreau), and, for those that prefer a sweetened beverage, a bit of sugar, the margarita is a delightful beverage for of-age adults to enjoy on any special occasion, especially those where tacos may be served! Serve over ice or blended, for this festive favorite. This Easy Frozen Strawberry Margarita version is made with strawberries in addition to fresh lime juice for a fruity take on the classic lime version. I think Marguerite would approve. Yes, I think she would.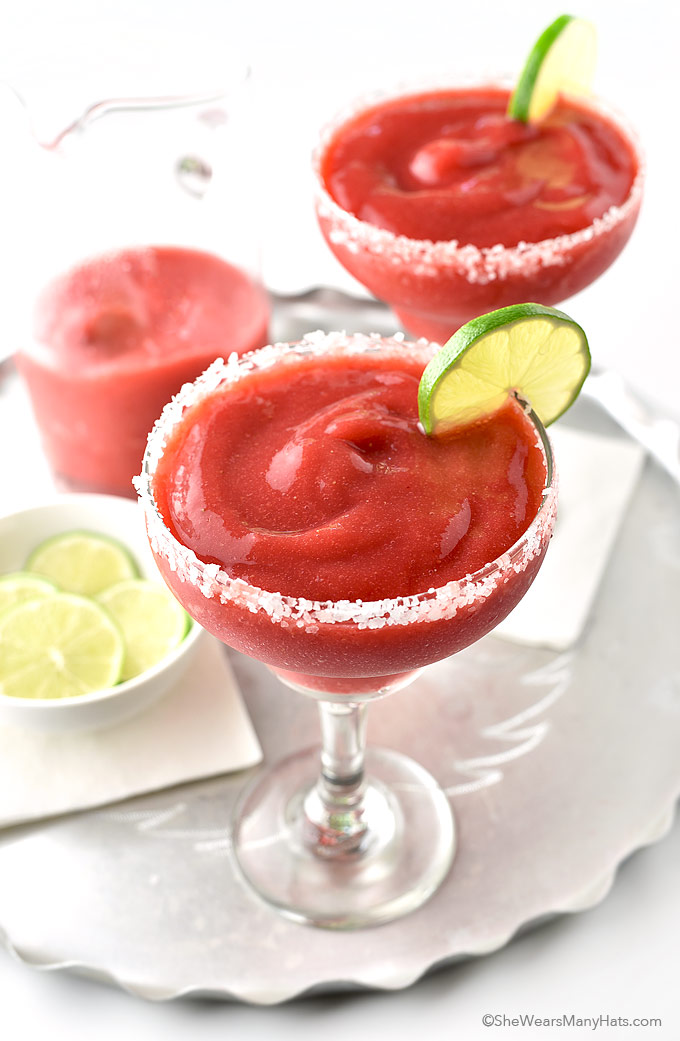 Always drink responsibly, pretty please.
More refreshing adult beverages you will enjoy: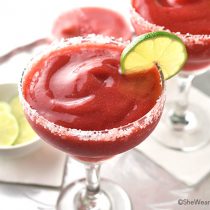 Ingredients:
1 pound frozen strawberries*
2 ounces simple syrup** (adjust amount to preference)
3 ounces fresh squeezed lime juice
2 cups crushed ice
8 ounces tequila
2 ounces orange liqueur (Triple Sec, Cointreau)
optional: salt to rim glasses
Directions:
Blend together frozen strawberries, simple syrup, lime juice, crushed ice, tequila, Triple Sec (or Cointreau) until smooth.
Serve cold in salt-rimmed glasses.
*If using fresh, use 1 pound fresh strawberries, hulled plus 4 cups of crushed ice, instead of 2.
**Simple Syrup: equal parts water and granulated sugar heated and stirred until sugar dissolves. Let cool, and refrigerate covered for up to 2 weeks.