Blueberry Bellini Recipe
This Blueberry Bellini recipe makes the perfect bubbly cocktail for serving at your next bash.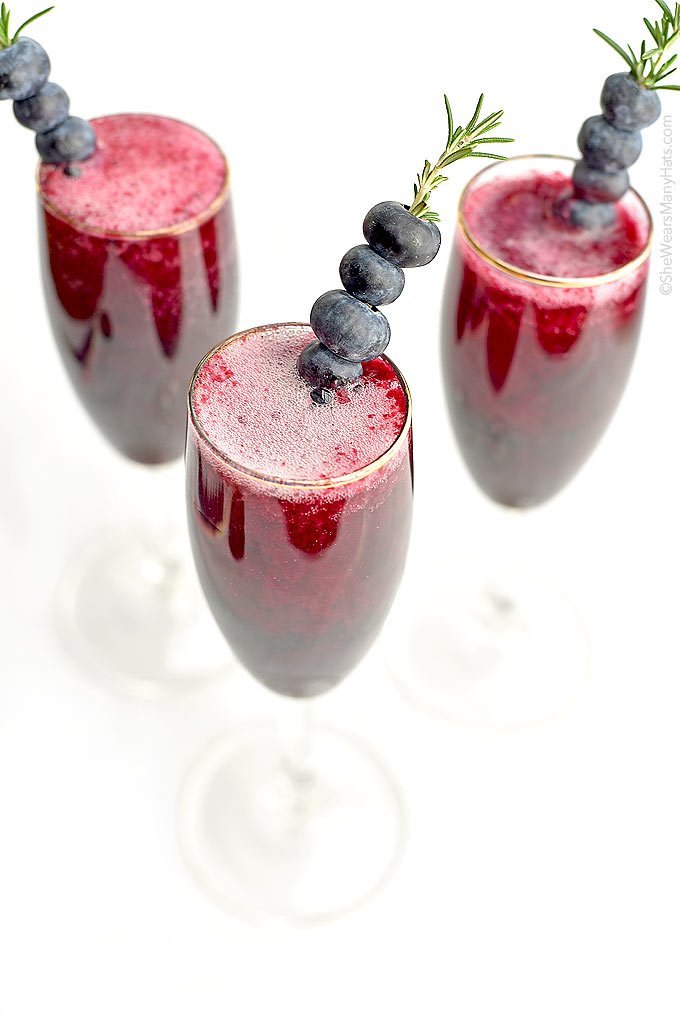 It's always interesting to discover how a food or drink acquired it's name. Not all are appealing names. Some lack inspiration. "Meatloaf" comes to mind. On the other hand Turkey Tetrazzini, Pavlova or Pizza all have a certain pizzazz, don't ya think? A Bellini does too. It's so fun to say! And even more fun to drink. This festive bubbly beverage was originally created by the founder of Harry's Bar in Venice Italy, Giuseppe Cipriani. The classic version is made with a white peach puree and Prosecco. According to Wikipedia, the name was inspired by the pink color of a toga clad saint depicted in a painting by Bellini. 
With some leftover Prosecco and no peaches on hand, I made a blueberry version, a Blueberry Bellini. It's berry good. (Sorry, I couldn't resist.) I'm sure both Cipriano as well as Bellini would approve of the vibrant color. It's such a beautiful beverage!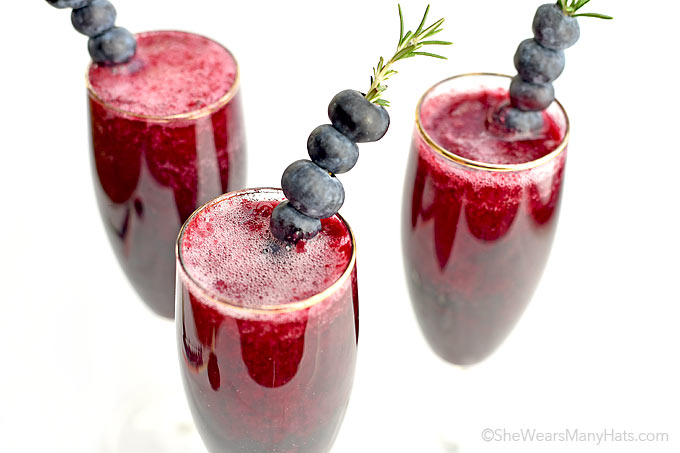 This crisp and fruity champagne cocktail is a perfect compliment to any celebration, especially a brunch event. A large batch of the puree can be set out with a couple of bottles of Prosecco and guests can help themselves, if they'd like. A non-alcoholic Bellini can easily be made by substituting seltzer or sparkling juice.
You may also enjoy these easy cocktails too:
Blueberry Bellini Recipe
A crisp and bubbly cocktail made with blueberries and Prosecco.
Author: ©Amy Johnson | She Wears Many Hats
Recipe type: Beverages
Serves: 8
Ingredients
½ cup sugar
½ cup water
2 cups fresh or frozen blueberries
24 ounces Prosecco, chilled*
Instructions
For blueberry puree:
In a small saucepan, add sugar, water and blueberries. Stir together. Bring to a simmer and allow to cook for about 10 minutes. Sugar should be dissolved. Cool.
Transfer cooled mixture to a blender** and puree until smooth.***
For each individual serving:
Pour 2 ounces of blueberry puree into a champagne flute or cocktail glass. Add 3 ounces of Prosecco. Gently stir to mix.
Notes
*For a non-alcoholic version, substitute seltzer or sparkling juice for the Prosecco.
**An immersion blender may be used to puree mixture directly in saucepan.
***If desired, strain puree through a fine mesh strainer to remove seeds.
A large batch may be made by mixing 2 parts blueberry puree to 3 parts process, stir gently to combine well. Pour into individual glasses.
Blueberry puree can be made a few days ahead of time and refrigerated covered until ready to serve.
Recipes makes about 2 cups of puree.