Sweet Potato Pancake Recipe
This Sweet Potato Pancake Recipe makes fluffy pancakes full of flavor that are perfect for breakfast, brunch or dessert too!
If I were a breakfast food, I may want to be a pancake.
Not because they are flat and fluffy at the same time (Think about that for just a second, will ya.). But because everyone likes a good pancake. Yet a good pancake isn't always easy to come by.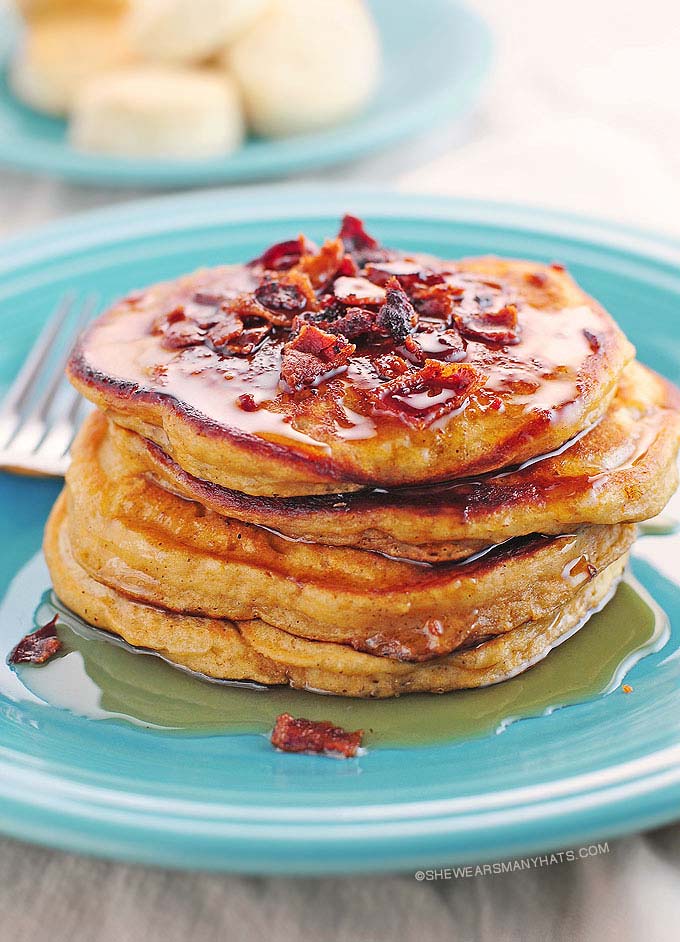 Oh sure, you can whip up a real good pancake on the fly from a box mix or drop by the local pancake house to grab a stack, but we're talking scratch made pancakes, made in your own home, while you're still in your pajamas with sleep in your eyes, sneaking one to eat hot off the stove while cooking the next batch … the stuff of which pancake dreams are made of.
If you're looking for a good—scratch that—a great pancake, you're in luck. These Sweet Potato Pancakes leave those rubbery, tasteless pancakes desperate to be drowned beneath butter and syrup in the dust. This recipe produces the perfect textured pancake, dense yet somehow fluffy at the same time, full of fabulous flavor with still a bit of flavor-room left for a touch of honey or syrup, or perhaps a sprinkling of crunchy Candied Bacon? Oh yeah!
I think you'll enjoy these quite much. Yes indeedy, I do.
Wake up and smell the pancakes!

Sweet Potato Pancake Recipe
These pancakes are full of cinnamon and ginger and sweet potato goodness.
Author: ©Amy Johnson | She Wears Many Hats
Recipe type: Breakfast
Serves: 4-6 servings
Ingredients
2¾ cup all-purpose flour
¾ teaspoon salt
6 tablespoons dark brown sugar
¾ teaspoon baking soda
1½ teaspoon baking powder
3 cups buttermilk
3 eggs
2 tablespoons salted butter, melted
1 cup mashed baked sweet potato
2 tablespoons honey
1½ teaspoon ground cinnamon
¾ teaspoon ground ginger
additional butter for pan
Instructions
Whisk together flour, salt, sugar, baking soda, and baking powder, Set aside.
In a separate bowl, whisk together buttermilk, eggs, and melted butter. Add sweet potato, honey, cinnamon, ginger and mix well.
Add wet sweet potato mixture to the dry mixture. Combine well, but don't over mix. Batter should still be slightly lumpy. If time permits, allow batter stand for at least 30 minutes (the perfect time for enjoying a cup of coffee).
Heat skillet over medium heat. Add enough butter to thinly cover pan. Ladle the batter ⅓ cup at a time. Cook pancakes until done and slightly browned on each side. Repeat, cooking pancakes in batches adding butter to pan as needed.
Notes
Makes about 24 6-inch pancakes.