Coconut Pancakes Recipe
This Coconut Pancake Recipe makes a fluffy pancakes with just the right amount of coconut flavor.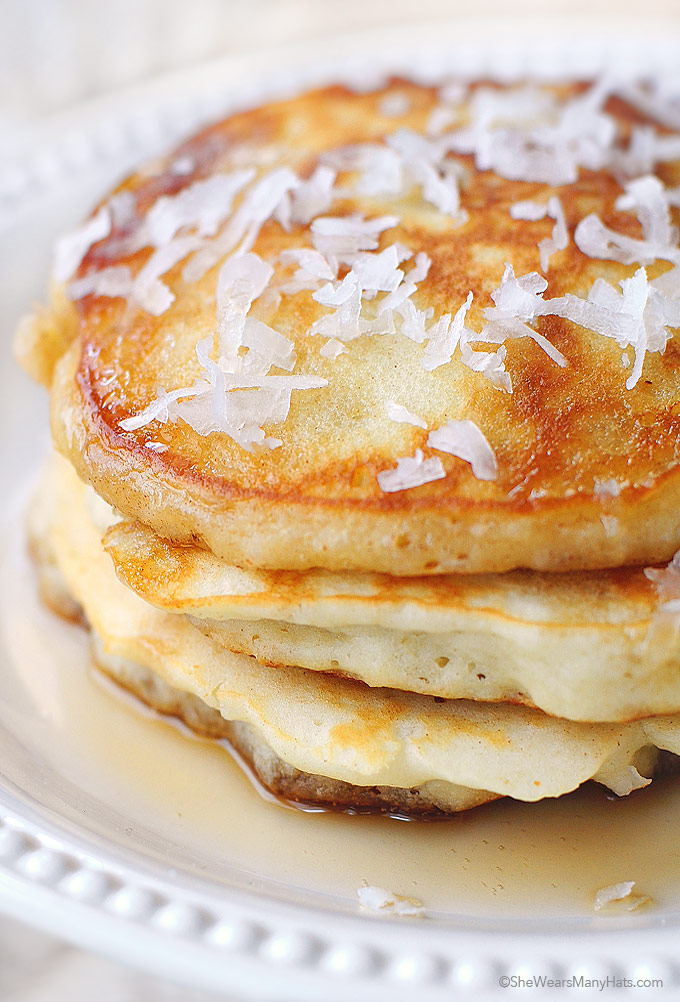 Coconut is on the brain, as well as all warm and sunny, blue-watered places that inspire all things coconut. So what better way to start the day than with Coconut Pancakes? Stick your feet in a kiddie pool, turn on some Caribbean tunes while you enjoy a plate of these, and you just may be able to drift off to a deserted island even if for a short while.
This recipe creates a thicker pancake batter for fluffy coconut-y pancakes. The addition of coconut milk and shredded coconut creates a thicker batter than regular pancake batter, but you will find that they cook in the same amount of time as most pancakes, rising a little more to their fluffy goodness. I'd recommend testing a few to begin with to perfect the cook time and desired size.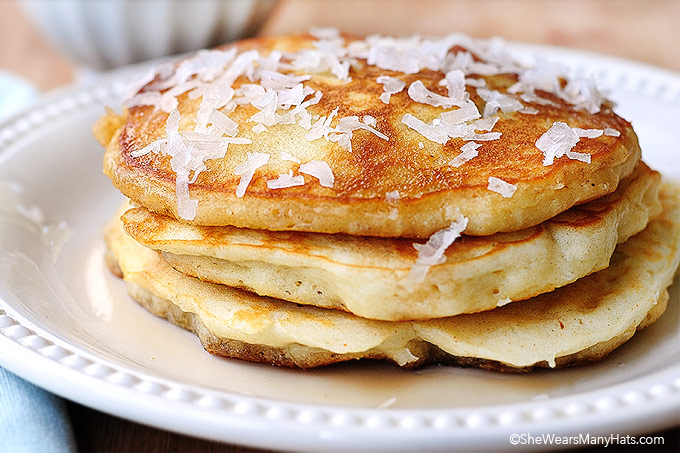 Top these Coconut Pancakes off with your favorite syrup, fresh whipped cream, fresh berries or a bit of lime zest for a delicious tropical-inspired start to the day. You may find everyone rising and shining early for these. The early bird gets the Coconut Pancakes after all!
Enjoy! And pass the syrup!
Coconut Pancakes Recipe
This recipe creates a thicker pancake batter for fluffy coconut-y pancakes. Top them off with your favorite syrup, whipped cream, or berries for a delectable start to the day. I may get up even earlier if these are on the menu. The early bird gets the coconut pancakes ya know?
Author: Amy Johnson | She Wears Many Hats
Recipe type: Breakfast
Serves: Makes about 8 pancakes.
Ingredients
1¼ cup all-purpose flour
2 tablespoons sugar
1 teaspoon baking powder
½ teaspoon baking soda
¼ teaspoon salt
¼ cup shredded, sweetened coconut
1 egg, beaten
½ cup buttermilk
¾ cup coconut milk (NOT coconut water, although that's tasty stuff)
1 tablespoon melted butter (I used salted.)
additional butter or cooking spray for cooking surface
Instructions
Lightly mix all dry ingredients together.
Add all wet ingredients to the beaten egg and combine well.
Mix the wet ingredients into the dry and stir until incorporated. Don't over mix.
In a hot skillet or griddle, add a pat of butter if needed to coat pan.
Over medium-hot heat drop rounds of batter and let cook until bubbles begin to pop in center of pancake, about 2 minutes.
Flip pancake and cook for an additional minute or so until golden brown. Test cook surface and temperature, and adjust cook time accordingly.
Originally posted June 20, 2011. Updated August 11, 2015.