Cheesy Hashbrown Casserole Recipe
This Cheesy Hashbrown Casserole Recipe is not just for breakfast. It's an equally delicious side dish for any meal of the day.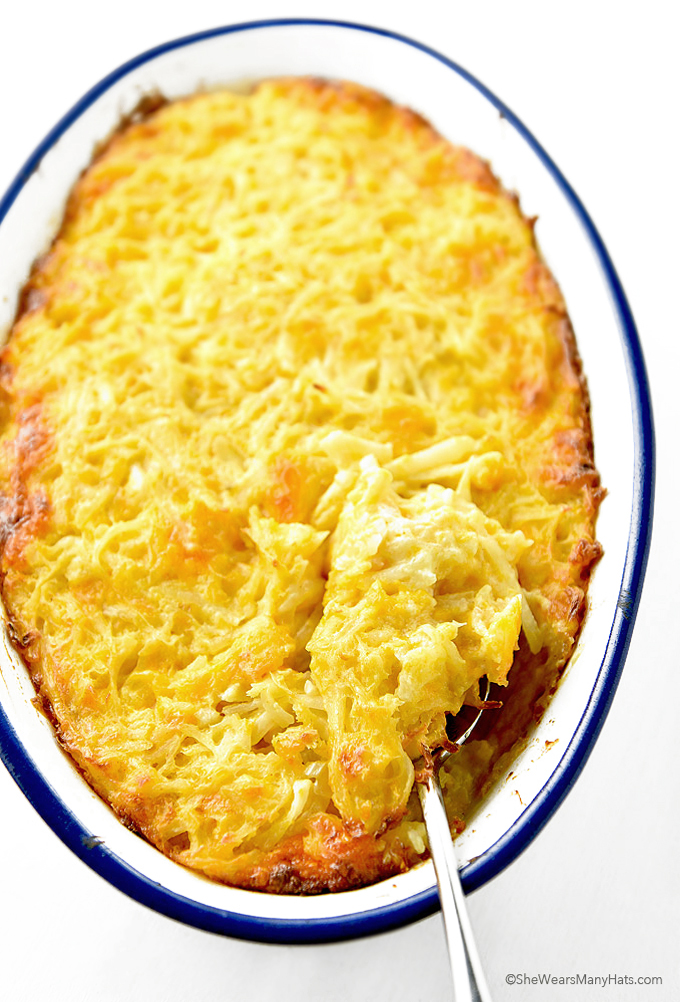 We enjoy this Cheesy Hashbrown Casserole Recipe all throughout the year. This cheesy savory side dish compliments ham or beef very nicely and couldn't be easier to make. Cheesy Hashbrown Casserole can be easily prepared ahead of time and rewarmed or cooked before serving.
You can purchase pre-shredded hashbrown potatoes or make your own using a box grater.
Cheesy Hashbrown Casserole Recipe
Made with shredded potatoes and cheese this easy casserole is a delicious savory side dish for any meal.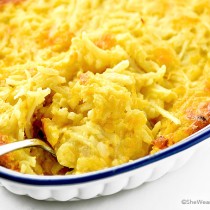 Ingredients:
20 ounces (weight) shredded hash brown potatoes
1 can cream of chicken or mushroom soup (see soup substitution below)*
8 ounces shredded cheddar cheese (about 2 cups)
1 cup sour cream
1/4 cup chopped onion
1/2 teaspoon ground red pepper
Directions:
Butter or coat with cooking spray a 2-quart baking dish.
Preheat oven to 350-degrees F.
Combine all ingredients and spread evenly into prepared baking dish.
Bake uncovered at 350-degrees F until hash browns are tender, about 45 minutes.**
This Cheesy Hashbrown Casserole Recipe can be prepared a day ahead then kept covered and refrigerated until ready to bake. Or go ahead and bake it, then cover, refrigerate and rewarm.
*Cream of chicken soup substitution:
In a small sauce pan, melt 2 tablespoons butter over medium-low heat. Whisk in 3 tablespoons flour; continue to cook, stirring for 1-2 minutes. Whisk in 2/3 cup chicken broth, 1/2 cup milk and 1/4 teaspoon garlic powder, continuing to whisk until it slightly thickens. Simmer for 1-2 minutes stirring occasionally.
**Adjust cooking time as necessary to make sure hash browns are cooked until tender.
More potato recipes you'll enjoy: