Cheese Broccoli Casserole Recipe
Classic casserole dishes like this Cheese Broccoli Casserole are almost a given at any potluck dinner or holiday meal. It's a crowd favorite for sure.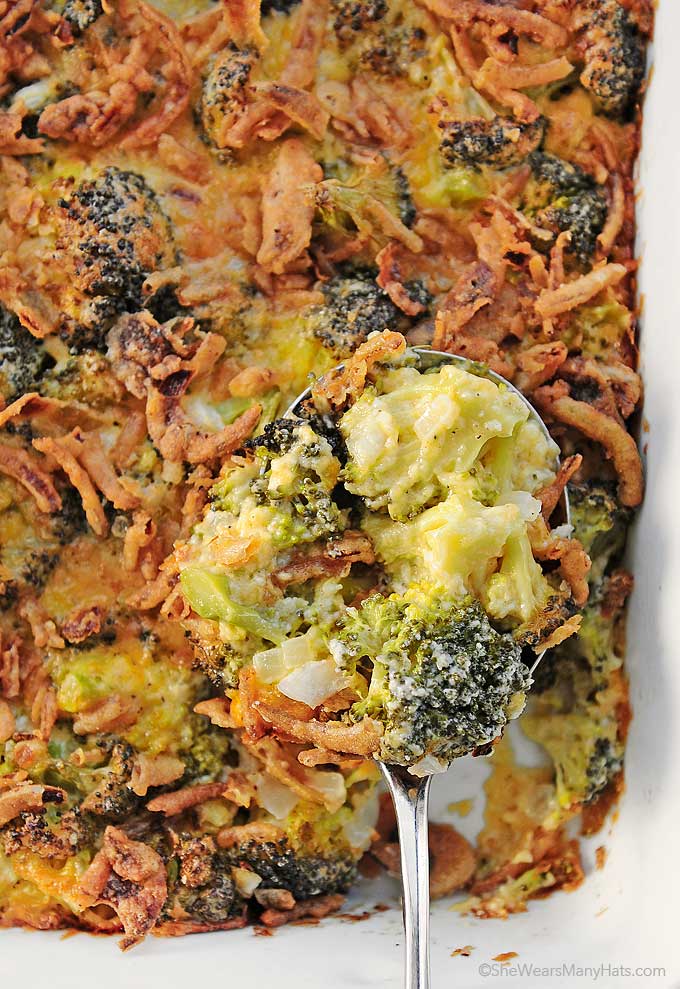 This cheesy Broccoli Casserole is pretty easy to make and even easier to eat. Made with fresh broccoli (although frozen may be substituted) it's a bit of a fresher version without a bunch of extra processed junk (if you don't count the french fried onions on top), yet not lacking one single bit in the flavor category.
This recipe doesn't include the regular cream of mushroom soup, but instead a simple roux mixture is used instead that takes no time to whip up. Shredded sharp cheddar, a bit of diced onion, and fresh broccoli are added, along with beaten egg, mayonnaise, and a smidgen of salt and pepper to make this flavorful classic favorite. Oh wait! I almost forgot the crunchy and savory french fried onions sprinkled on top. What an invention, those onions. Of course, if you need a substitute a combination of melted butter and crushed saltines or Ritz may be used in a pinch.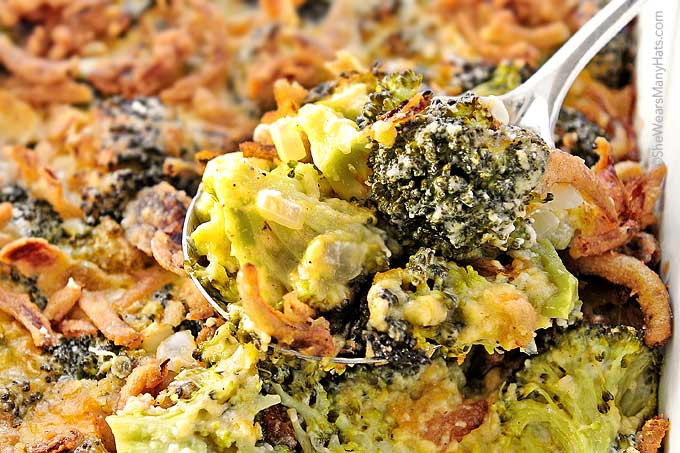 Cheese Broccoli Casserole Recipe
A cheesy broccoli side dish perfect for family gatherings and potlucks.
Author: ©Amy Johnson | She Wears Many Hats
Recipe type: side dish
Serves: 12
Ingredients
2 tablespoons salted butter
3 tablespoons flour
⅔ cup chicken broth
½ cup milk
¼ teaspoon garlic powder
1 large egg
⅔ cup mayonnaise
¼ teaspoon salt
½ teaspoon black pepper*
8 ounces sharp cheddar, grated (about 2 cups)
½ cup chopped onion
8 cups fresh broccoli florets (about 3 broccoli heads, cut up; frozen cut broccoli, thawed may be substituted, same amount)
1 cup french fried onions**
Instructions
Preheat oven to 350-degrees F. Prepare 9x13-inch baking dish by buttering or lightly coat with cooking spray.
In a small sauce pan, melt butter over medium-low heat. Whisk in flour and continue to cook, stirring for 1-2 minutes. Whisk in chicken broth and milk, continuing to whisk until it slightly thickens. Simmer for 1-2 minutes stirring occasionally. Remove from heat.
In a large bowl, lightly beat egg. Whisk in mayonnaise, salt and pepper. Slowly whisk in warm flour/broth mixture. Stir in grated cheese and chopped onion. Add broccoli and stir to fully incorporate.
Spread mixture evenly in prepared baking dish.
Bake for 40-45 minutes at 350-degrees F, until golden and bubbly.
Notes
*If you like a little spice, in addition to the black pepper, add a few pinches or ground red pepper to kick it up a notch.
**French Fried Onion topping substitute: Melt 4 tablespoons of butter. Mix ½ sleeve of crushed saltine crackers with melted butter and evenly spread over casserole.