Slow Cooker Mac and Cheese Recipe
This super easy and crazy delicious three cheese Slow Cooker Mac and Cheese Recipe is just what any dinner table (especially one with kids) needs.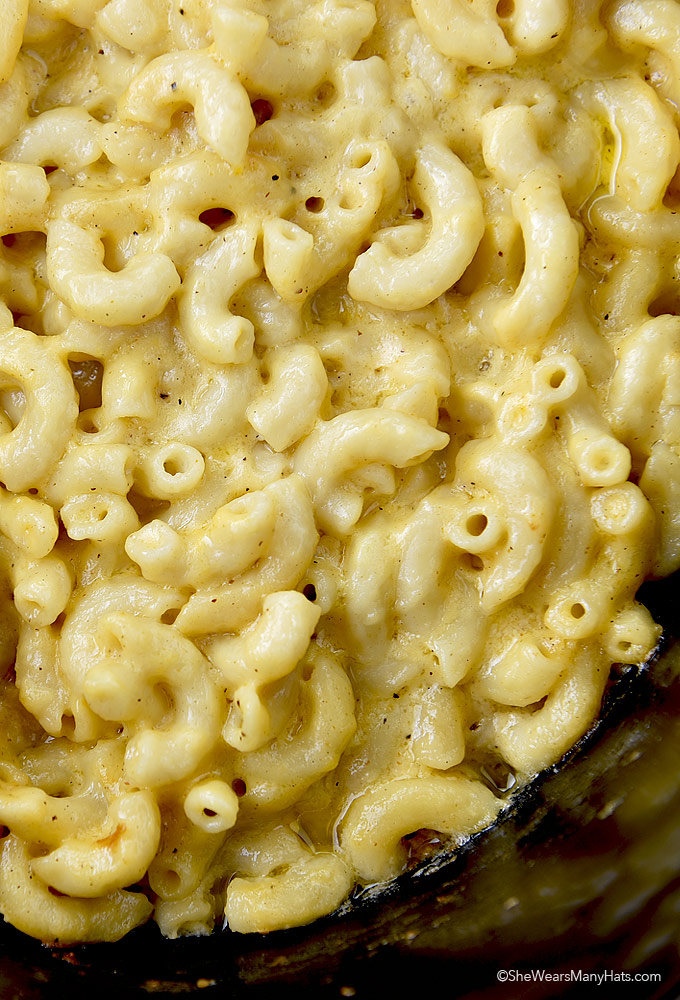 An old friend shared this three cheese Slow Cooker Mac and Cheese Recipe with me a while ago. She's a good friend with always something yummy to share. I've adapted the original recipe a bit, as we all tend to do from time to time, in order to use the ingredients we usually have on hand.
It doesn't get much easier than this recipe. The fact that's it's prepared and then left to cook until ready to serve in a slow cooker is not only easy, but it leaves precious oven space for larger meals, especially during the holidays. This Slow Cooker Mac and Cheese is also great for taking as a potluck. The perfect potluck that will disappear! You may want to go ahead and double the dish.
Of course, this mac and cheese recipe can easily be made in the oven too. Be sure to check out the notes section of the recipe below for oven baking instructions.
The preparation for this slow cooker mac and cheese recipe is easy. A basic roux is made then mixed with sour cream plus a few seasonings, and combined with cooked macaroni elbow noodles. Then a mixture of cheeses, cheddar, Havarti and Provolone, are added to the party to create one oh so delicious batch of macaroni and cheese.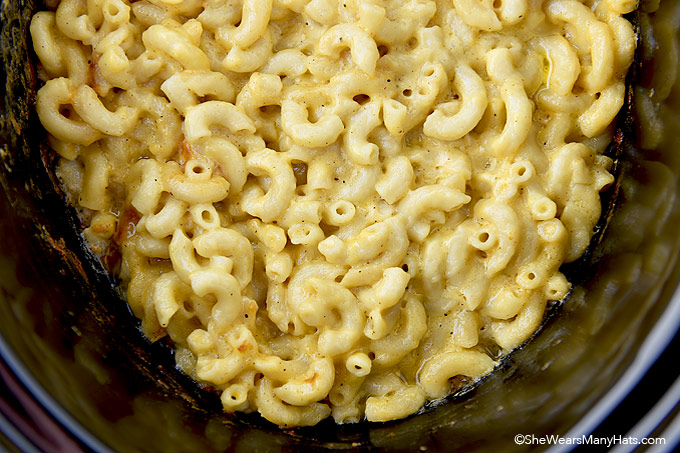 Slow Cooker Mac and Cheese Recipe
An easy creamy three cheese macaroni and cheese that can be prepared in a slow cooker or in the oven.
Author: ©Amy Johnson | She Wears Many Hats
Recipe type: side dish
Cuisine: American
Serves: 8
Ingredients
2 cups uncooked elbow macaroni
4 tablespoons salted butter
3 tablespoons flour
1½ cup milk
½ cup sour cream
½ teaspoon salt
½ teaspoon black pepper
½ teaspoon dry mustard
¼ teaspoon ground red pepper (cayenne)
4 ounces shredded cheddar cheese (about 1½ cup)
4 ounces shredded havarti cheese (about 1½ cup)
4 ounces shredded provolone cheese (about 1½ cup)
Instructions
Grease 3 quart slow cooker with cooking spray, butter or oil.
Cook macaroni noodles to al dente according to package instructions.
In a small sauce pan, melt butter over medium-low heat. Whisk in flour and continue to cook, stirring for 1-2 minutes. Whisk in the milk, continuing to whisk until it slightly thickens, about 2 minutes. Pour into crockpot. Stir in sour cream, salt, black pepper, dry mustard and red pepper until combined.
Drain macaroni. Add to crockpot, stir to combine.
Stir in cheeses to combine.
Cover and cook on low for 1 hour, stir; cover and cook for another 30-45 minutes, until warmed through, or until ready to serve.
Notes
Oven instructions: Preheat oven to 325-degrees F. Prepare recipe as instructed, except combine all ingredients stovetop and add to a buttered or greased 3-quart baking casserole dish. Bake at 300-degrees F until heated through.