Prime Rib Roast Recipe
Delicious Prime Rib Roast Recipe is a fabulous main entree for the holidays or other special occasions. You'll be surprised at how incredibly simple it is to prepare.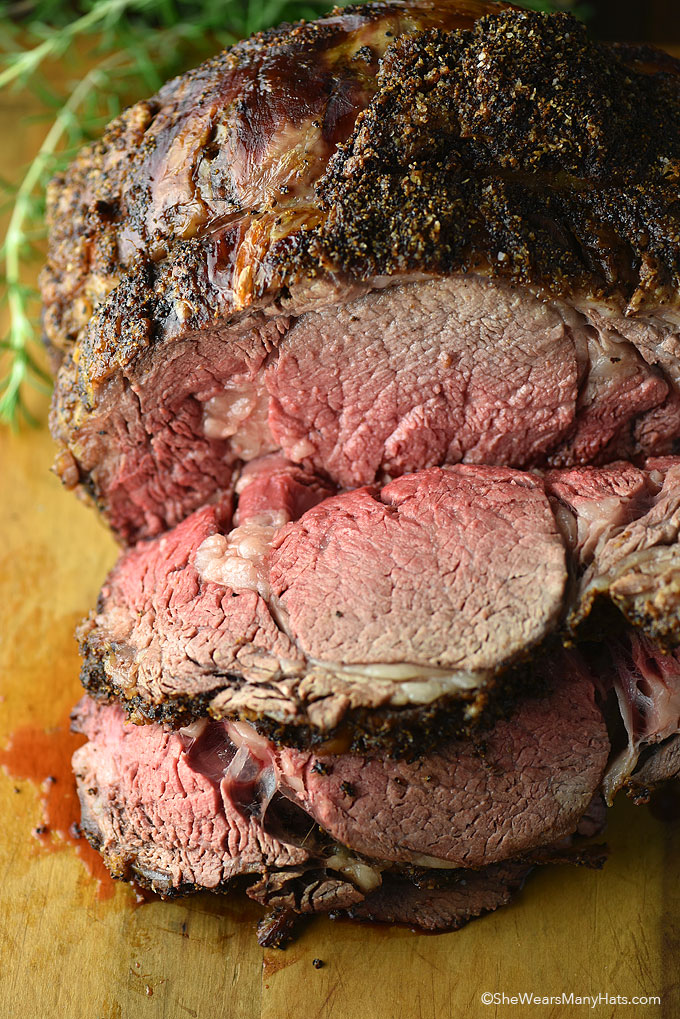 Prime Rib or Standing Rib Roast is a rich, delectable entrée fit for special occasions. And of course, there's nothing quite like the smell of a cooking prime rib to entice your appetite and have your whole home smelling like a celebration. I'm reminded of a story my husband has shared often about the aroma of foods.
Once upon a time in a small town a mill worker began lingering outside of a local bakery during his lunch breaks. Daily he would drink in the smells of the freshly baked breads. After a few days of this the baker confronted the gentleman and escorted him off the property. The baker demanded that the mill worker either buy the bread or stay well away from the bakery so he couldn't smell the bread without paying anything.
The next day the mill worker returned, loitering just outside the bakery door. The baker confronted the mill worker again, but when he did the mill worker, smiling wryly, shook his pants pocket so the few coins in his pocket jingled together.
The baker said, "What are you doing?"
The gentleman replied, "I'm paying for the smell of your bread with the sound of my money."
Tee, hee, hee …
While you could probably charge admission to your home when this Prime Rib is cooking, I'm sure you're more interested in your guests spending their time with you instead of their money.
Prime Rib is the perfect main dish for serving during the holidays or other special occasions. Enjoy alongside Twice Baked Potatoes, Garlic Lemon Green Beans or Roasted Asparagus, and a fresh green salad for one scrumptious meal.
Do keep in mind that while cooking Prime Rib is fairly simple, a roasting pan and a meat thermometer are fairly essential to the overall success.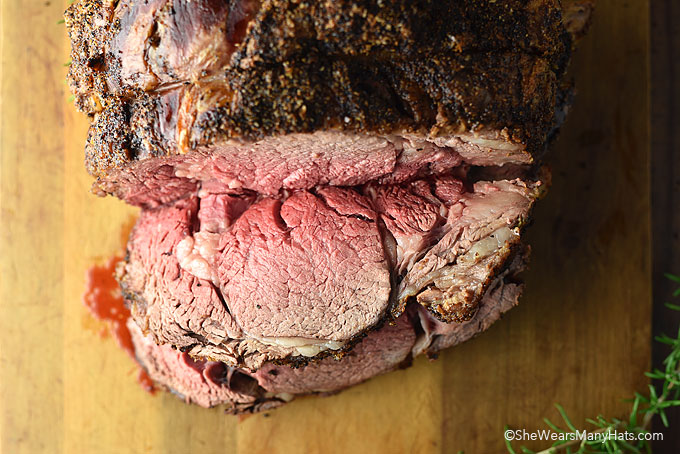 Prime Rib Roast Recipe
A fabulous main entree perfect for the holidays or other special occasions that is easier to prepare than you think.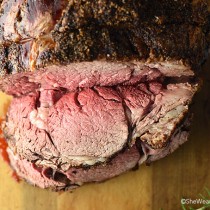 Ingredients:
standing rib roast (2-7 ribs)
kosher salt
ground black pepper
Directions:
Preheat oven to 475-degrees F. Place rack in bottom 3rd of oven.
Liberally coat roast with salt and pepper. Place roast in roasting pan and let come to room temperature; about an hour.
Place roast in oven and cook at 475-degrees F for 30 minutes in bottom 3rd of oven.
Reduce heat to 300-degrees F; cook for 30 minutes.
Reduce heat again to 275-degrees F; continue cooking until it reaches an internal temperature of 125-degrees F. Remove from oven; let rest about 15-20 minutes. Carry over cooking will continue; internal temperature should reach 135-degrees F for medium rare. Cut and remove any strings before slicing to serve.
If time permits, liberally coat roast with salt and pepper; place on a rack, situated inside of a baking sheet or roasting pan; place in refrigerator for up to 3 days.
Overall cook time is approximate and will depend on size of roast.
All prime ribs are standing rib roasts, but not all rib roast are technically prime rib unless they have been given a grade of "prime" by the USDA. With that said, all rib roasts are typically referred to as prime rib regardless of their USDA grade.
Regarding servings size, depending on the roast, estimate about 1 rib/2 people.
Originally published December 3, 2015.