Beef and Bean Soup Recipe
Warm up to a bowl of this hearty Beef and Bean Soup.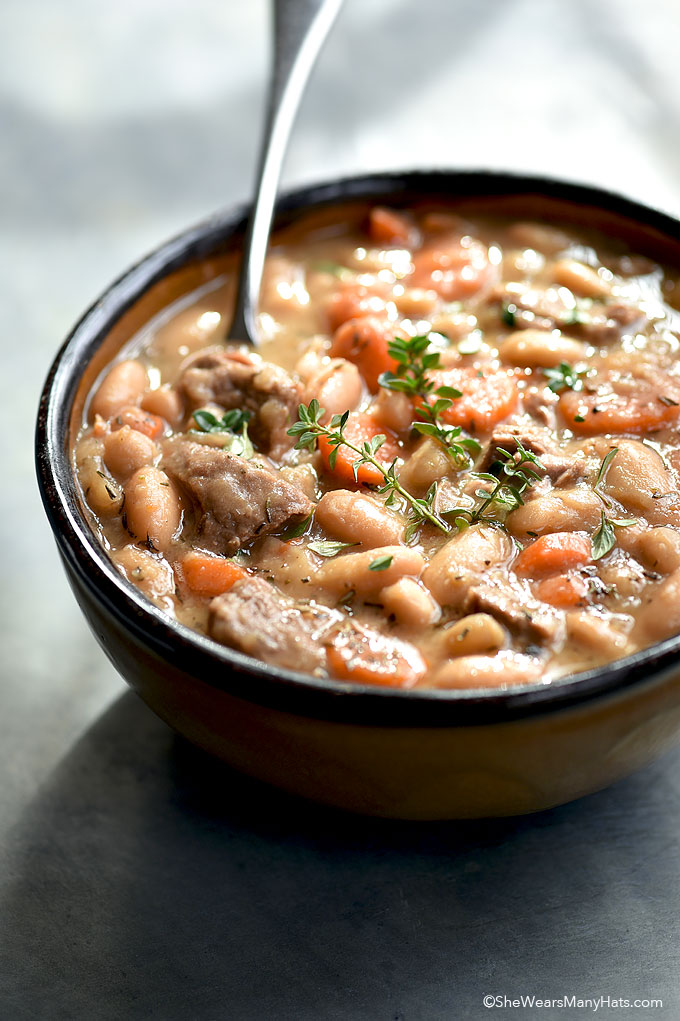 This Beef and Bean Soup recipe is easy to prepare and only gets better the longer it sits and waits until you're ready to devour it. Our family has always enjoyed cooking with beans (Bush's Beans being our favorite). Beans not only lend wonderful flavor and texture to any dish, but they are totally filling and have many nutritional benefits too.
Beef and Bean Soup is a recipe that I adapted from our favorite Beef and Barley Soup that I have made for about fifteen years now. I decided to replace the barley with white beans since white beans can add the same kind of creaminess to dishes similar to what barley tends to give the Beef and Barley Soup. It was a perfectly tasty substitution. So delicious and so satisfying. This is most definitely a hearty soup, perfect for those with an appetite!
The prep time for this soup recipe is about thirty minutes. After some simple browning and sauteing, all the ingredients are left to mingle until the beef is tender, about 1 1/2 to 2 hours.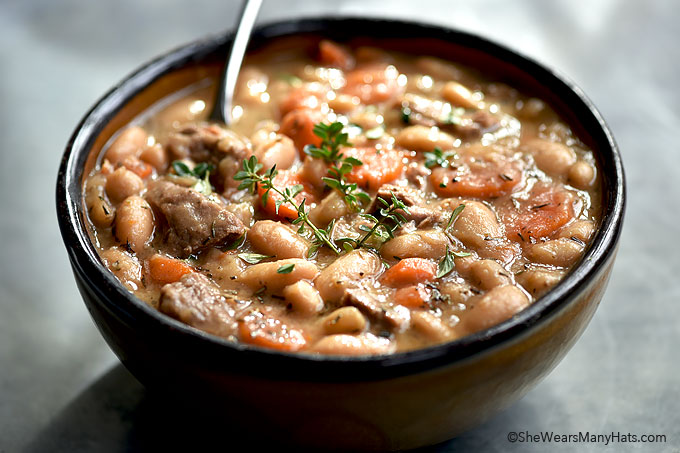 Although the main recipe below is for a stovetop version, this hearty soup recipe can easily be prepped stovetop then transferred to a slow cooker to keep warm until ready to serve. It can also be made ahead, refrigerated, then reheated before serving. Personally, I think something magic happens in the refrigerator as I have found that leftovers are even better the next day. So go right ahead and make a big batch of this Beef and Bean Soup and enjoy those leftovers!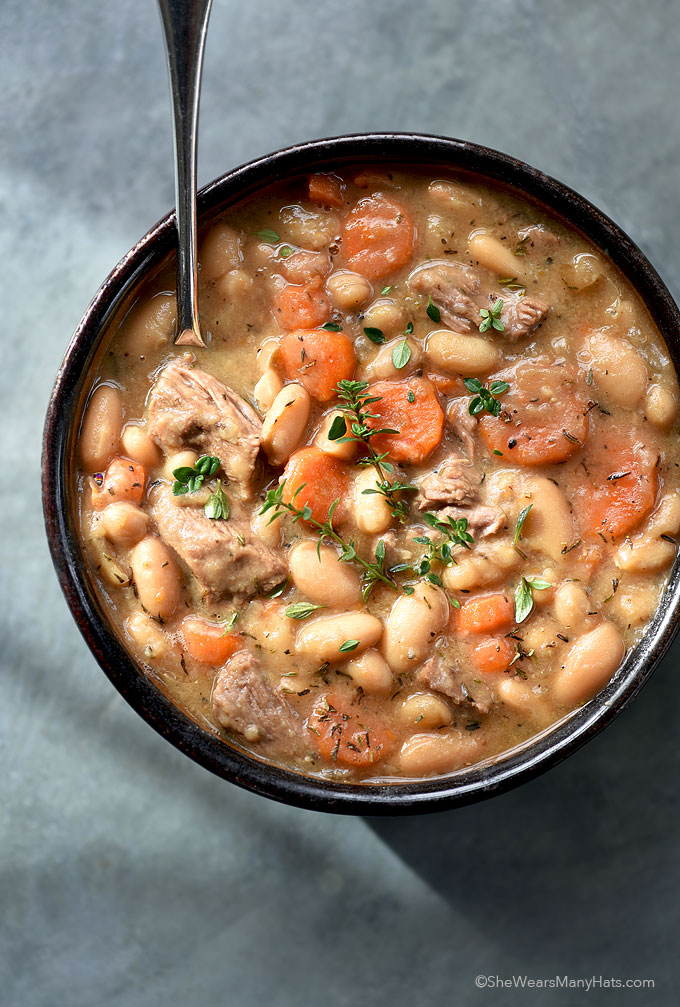 A few more of my favorite soup recipes:
Beef and Bean Soup Recipe
Beef and Bean Soup Recipe
This delicious hearty soup is easy to prepare and can be kept warming stovetop or in a slow cooker until ready to serve.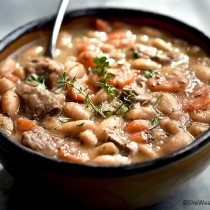 Ingredients:
2 tablespoons Canola oil, divided
2 pounds beef stew meat, trimmed and cut into 1-inch pieces
2 cups chopped onion
2 cups sliced or chopped carrot
4 garlic cloves, minced or grated
2 cups water
1 1/2 teaspoon salt
1 teaspoon black pepper
1 teaspoon dried thyme
1/2 teaspoon dried sage
4 bay leaves
32 ounces beef broth
3 (15.8) ounce cans Bush's Cannellini Beans; drained (or Bush's Great Northern Beans)
Directions:
Heat a large Dutch oven over medium-high heat. Add 1 tablespoon canola oil and heat to a ripple.
Add beef to pan and brown on all sides, working in batches if needed. Remove the beef from pan.
Add remaining 1 tablespoon canola oil to pan and heat. Add onion, carrot and garlic; saute for 5 minutes.
Return beef to the pan. Stir in water, salt, black pepper, thyme, sage, bay leaves, beef broth and beans. Bring to a simmer. Cover and allow to simmer for at least 1 1/2 to 2 hours, until beef is tender.
Discard bay leaves. Salt and pepper to taste.
For a slow cooker version, prep recipe as above, then transfer to a slow cooker once all ingredients have been added and cook for at least 3 hours.
For extra creaminess and to thicken up this soup, I like to use a potato masher or a flat bottomed glass to mash up some of the beans after the soup has cooked for a while.
Originally published December 11, 2015.
This post was originally sponsored by Bush's Beans. As always, all opinions are my own.