Lemon Chicken Orzo Soup Recipe
This Lemon Chicken Orzo Soup is a flavorful soup that is perfect for any time of the year.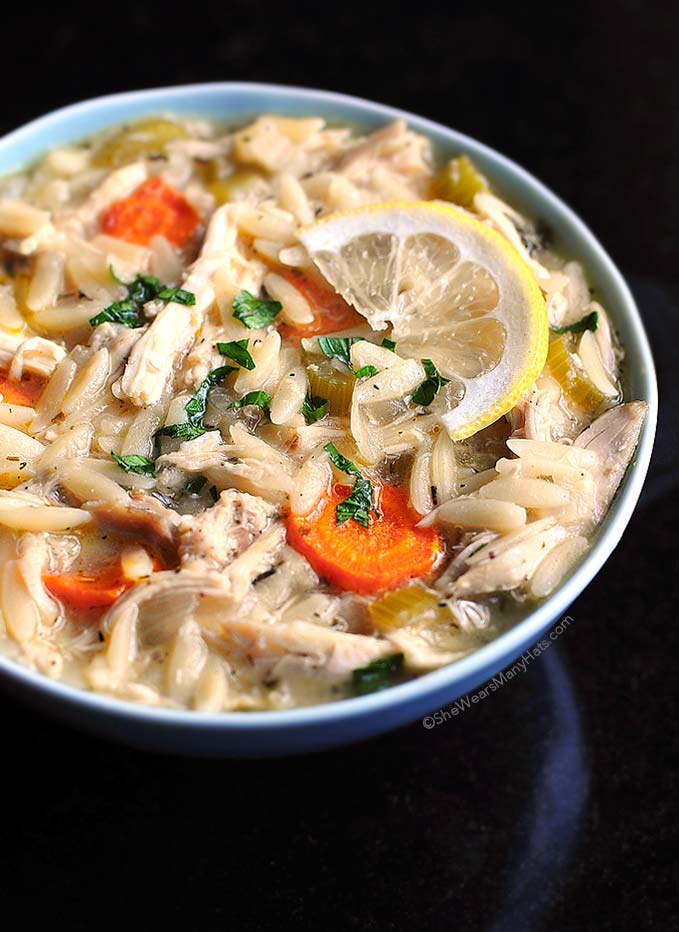 One of my favorite soups at Panera is their Lemon Orzo Soup, but they don't serve it every day. They don't even serve it year-round. I get it. Since it has lemon in it I think they think it's only appropriate during the spring and summer seasons. But I think that is a terrible mistake. Personally I need a bit of summer in the colder, dreary winter months too. Don't you? A little soup with a bit of perky lemon to brighten things up is a good thing all year long.
So I decided to make my own version, with chicken added, because Randy is a carnivore and soup is not really a food is his book, plus soup without meat is … well, you know what I'm getting at. So I added chicken. This Lemon Chicken Orzo Soup is a great bowl of comfort, and dare say better than the Panera-inspired original? Me thinks so.
Lemon Chicken Orzo Soup Recipe notes:
For the chicken called for, this is a great use of any leftover grilled or roasted chicken, or pick up a rotisserie chicken from your local grocer or deli.
To extend the overall amount, add a bit more chicken stock or broth as desired.
You may also enjoy these scrumptious soup recipes:
White Bean and Roasted Mushroom Soup
Easy Chicken Tortilla Soup Recipe
Sweet Potato Soup with Walnut Pesto
Beer Cheese Soup Recipe adapted from Cooking Light

Lemon Chicken Orzo Soup Recipe
A delicious lemony soup made with chicken and orzo, along celery, carrots, and onion.
Author: ©Amy Johnson | She Wears Many Hats
Recipe type: main
Ingredients
2 tablespoons olive oil
1 large onion, diced
2 cloves garlic, minced
2 celery stalks, sliced crosswise ½-inch thick
2 carrots, peeled and sliced
Kosher salt, freshly ground black pepper
1 teaspoon dried parsley
½ teaspoon dried thyme
½ teaspoon dried rosemary
½ teaspoon ground ginger
8 cups chicken stock (or broth)
1 pound roasted or rotisserie chicken, cut into chunks or pulled apart
4 tablespoons fresh lemon juice
¾ cup uncooked orzo pasta
optional: garnish with chopped fresh parsley, additional lemon wedges for squeezing
Instructions
In a large heavy stock pot, heat oil over medium heat. Add onion, garlic, celery, carrots, and a couple of pinches of salt and pepper to season, cook, stirring occasionally, until vegetables are softened, about 4-6 minutes.
Push vegetables to side of pot. Add thyme, rosemary and ginger and stir to toast for about 30 seconds, until fragrant. Stir herbs into vegetables.
Add stock, chicken, and lemon juice. Bring to simmer, cover, and let simmer about 5 minutes.
Add orzo, cover and simmer until al dente, about 8 minutes.
Optional: Garnish with fresh chopped parsley and serve with lemon wedges for additional juice if desired.