Easy Chicken Tortilla Soup Recipe
A savory and spicy bowl of this Easy Chicken Tortilla Soup is the perfect ending to a long day.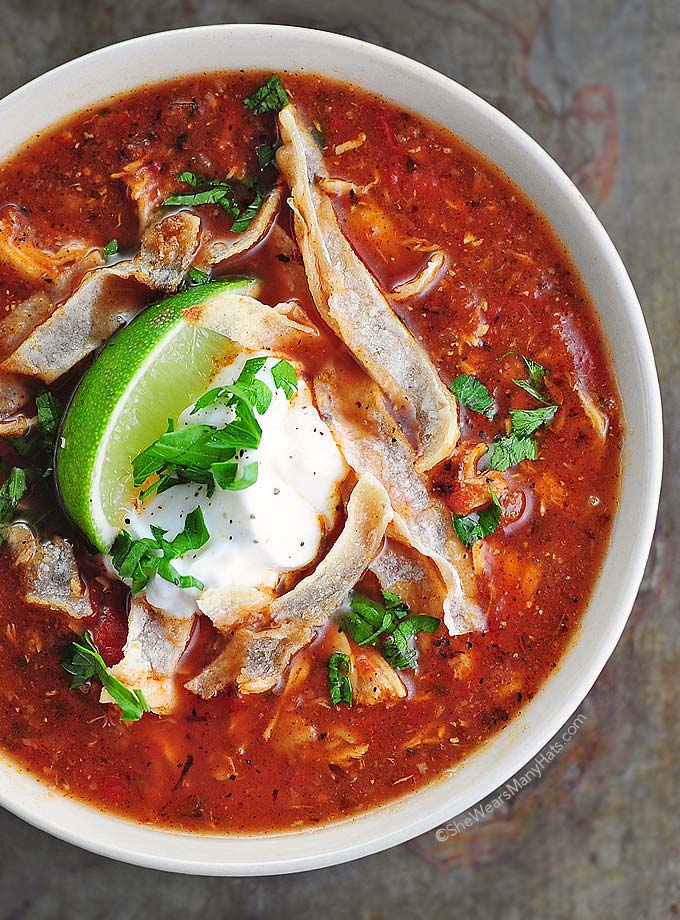 It seems as soon as the weather changes, even as much as a hint in the change of the air or the subtle change in the color of the leaves, we begin craving cozy comfort foods like this Chicken Tortilla Soup. There's nothing like a big pot of soup or stew to fill your home with an appetite inducing aroma and also fill your belly with savory goodness.
What I like about this Chicken Tortilla Soup is that it is hearty and satisfying without being overly heavy and filled with lots of extra calories. It's a pretty light and healthy soup. It's a superb example of a meal that can be light without missing out on flavor. This is one flavor packed soup!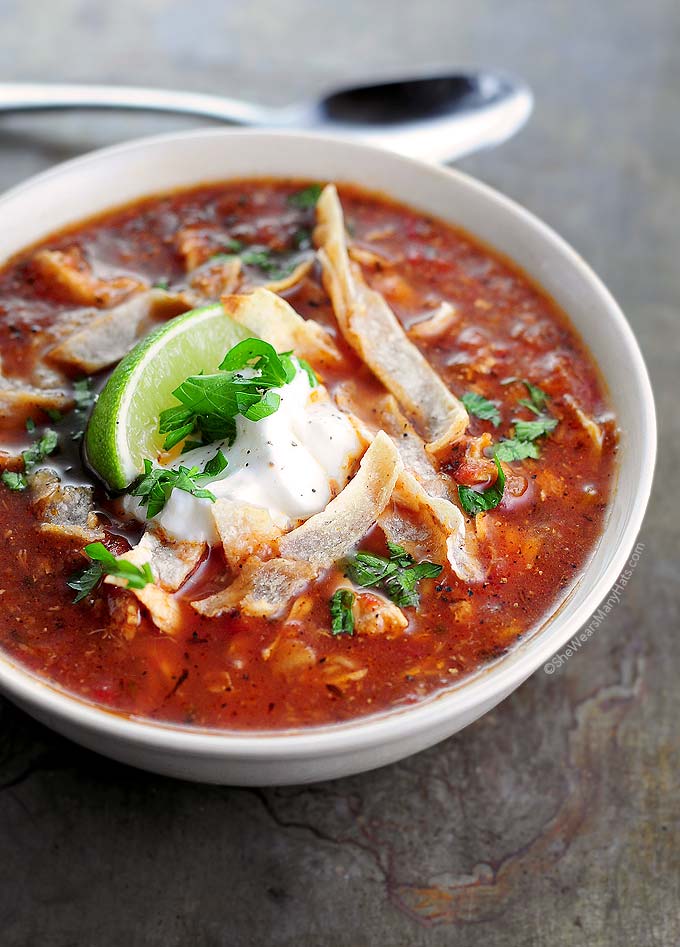 This Chicken Tortilla Soup can be made with roasted chicken, or, if you're short on time, grab a rotisserie chicken from the local grocer on the way home to shorten the prep time. Or roast the chicken the night before, debone it and keep it cover and refrigerated until ready to prep the soup. It's pretty easy to put together. Of course the soup could be put together and left to stew stovetop until everyone's ready to chow down.
Grab a spoon and enjoy!
You may also enjoy these flavor-filled soups:
Easy Chicken Tortilla Soup Recipe
A savory and spicy hearty soup made with chicken and corn tortillas.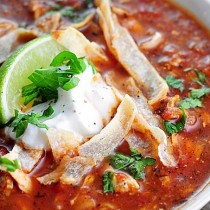 Ingredients:
3 tablespoons cooking oil
1 tablespoon dried oregano
2 teaspoons ground cumin
1 teaspoon ground coriander
1 teaspoon ancho chili powder (any chili powder may be substituted)
1/4 teaspoon ground red pepper
1 large onion, chopped
4 large cloves garlic
48 ounces canned chicken stock
28 ounces canned crushed tomatoes
2 1/2 teaspoons salt
6 (6-inch) corn tortillas, divided
1 1/2 pounds roasted or rotisserie chicken, cut into chunks or shredded
1/4 cup lightly-packed cilantro leaves, roughly chopped
salt and pepper to taste
Optional garnish/toppings: Serve with lime wedges, sliced/diced avocado, sour cream, greek yogurt, shredded cheese, crushed tortilla chips, additional chopped fresh cilantro.
Directions:
In a large heavy pot, heat the oil over medium heat.
Add herbs and spices (oregano, cumin, coriander, chili powder, red pepper) stir to toast, until fragrant, about 30 seconds.
Add onion, cook, stirring for about 3 minutes. Grate garlic directly into pot, continue to cook, stirring, for another 2 minutes.
Add stock, crushed tomatoes, and salt. Bring to a simmer.
Halve 2 of the corn tortillas, then cut into strips, add to stock. Cook uncovered, stirring occasionally, for at least 25 minutes.
Add the chicken and reduce heat to medium-low.
Halve remaining corn tortillas, then cut into strips. Heat a skillet over medium heat. Toss tortilla strips in warm pan to toast, about 3-5 minutes. Be watchful to avoid burning. Just before serving, stir toasted strips into soup.
Salt and pepper to taste. Serve with optional garnish or toppings.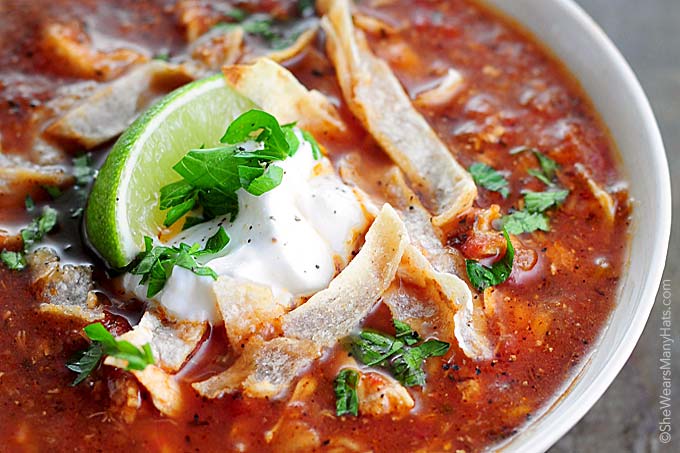 Originally published October 12, 2014.