Pumpkin Scones Recipe
Pumpkin Scones made with pumpkin puree and pumpkin pie spices and drizzled with a simple vanilla glaze have a light cake-like texture. The only thing missing is a hot cup of coffee or tea!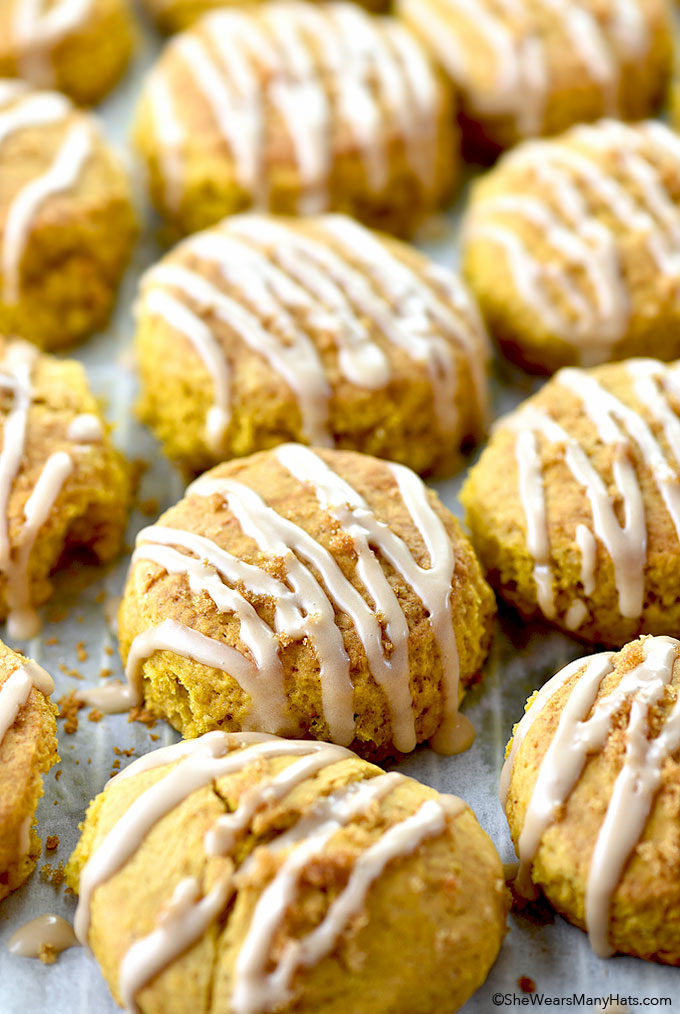 As I sat down to write about these Pumpkin Scones, I had a bit of writer's block so I asked my husband, Randy, what to write about these delicious pumpkin scones, other than everyone should make a batch. He asked me what my inspiration was. I told him a picture of a pumpkin scone in the Starbucks drive-through that I woke up thinking all about but I'm too lazy to drive all the way over there because Starbucks is at least a 15 minute drive which means I have to put pants on and at least a baseball hat plus a pair of sunglasses for camouflage and of course shoes of some sort and that's just a little bit too much to ask on certain days, especially for a simple scone that I can make right at home. You know?
So here they are, Pumpkin Scones, inspired by a drive-through, full of warm pumpkin spice and drizzled with a simple vanilla glaze. These delicious scones are subtly sweet so the vanilla glaze is a nice addition. (Of course, the glaze is optional.) These scones are easy enough to make right at home and a smart match for a cup of coffee or hot tea. Plus you can eat them with or without your pants on.
Pumpkin Scones Recipe
Made with pumpkin puree and pumpkin pie spices and drizzled with a simple vanilla glaze, these scones have a light cake-like texture.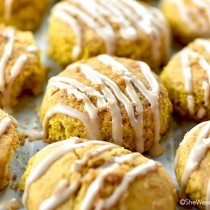 Ingredients:
For Scones:
2 1/4 cups all-purpose flour
1/2 cup brown sugar, divided (reserve 1 tablespoon separately)

1 tablespoon baking powder
1/2 teaspoon salt
2 teaspoons Pumpkin Pie Spice*
3 ounces chilled butter, diced or grated

1 cup canned pumpkin

3 tablespoons heavy cream
1 large egg
For Vanilla Glaze:
1 cup powdered sugar
2 tablespoons whole milk or heavy cream
2 teaspoons vanilla extract (or vanilla bean paste)
Directions:
For Scones:
Preheat oven to 425-degrees F. Line a baking sheet with baking parchment or lightly coat with cooking spray.
In a large bowl, whisk together flour, brown sugar, baking powder, salt, and Pumpkin Pie Spice.
Use a pastry knife or fork to cut in butter until mixture is crumbly.
In a separate bowl, whisk together pumpkin, cream, and egg. Fold wet ingredients into dry ingredients and combine until dough will hold together into a loose ball. Wrap in plastic and flatten dough slightly; chill for at least 20 minutes in the freezer.
On a lightly floured surface roll out dough to 1-inch thick. Use a floured round biscuit or cookie cutter (about 2 1/2-inches diameter) to cut out scones or use a large knife or a pizza cutter to cut into desired shapes.
Place scones on prepared baking sheet. Sprinkle remaining brown sugar on tops of scones.
Bake for 14 to 16 minutes, until slightly browned. Transfer to wire rack to cool.
For Vanilla Glaze:
Beat together all ingredients until smooth.
Drizzle glaze over scones.
*Make your own Pumpkin Pie Spice or substitute 1/2 teaspoon ground cinnamon, 1/2 teaspoon ground ginger, 1/4 teaspoon ground cloves, 1/4 teaspoon ground nutmeg.
This recipe makes about 20 (2 1/2-inch) scones.
 More pumpkin recipes you'll enjoy: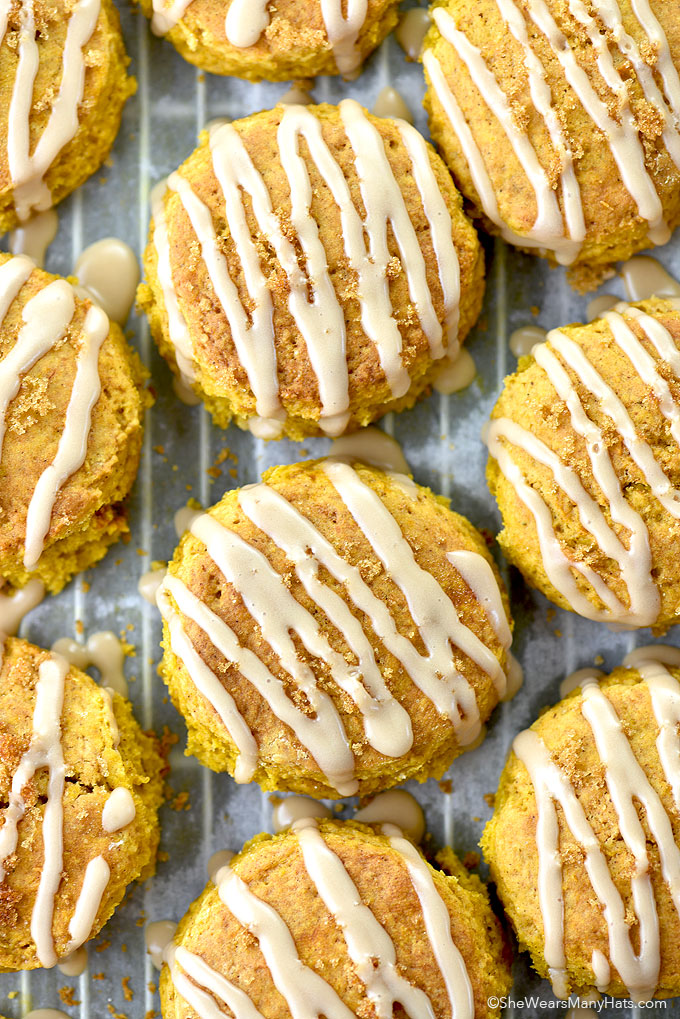 Originally published September 23, 2015.