Quick and Easy Tomato Soup Recipe
A quick and easy Tomato Soup Recipe seasoned with basil and thyme is the perfect comfort food. Make a batch early in the week then easily rewarm for comfort food every night.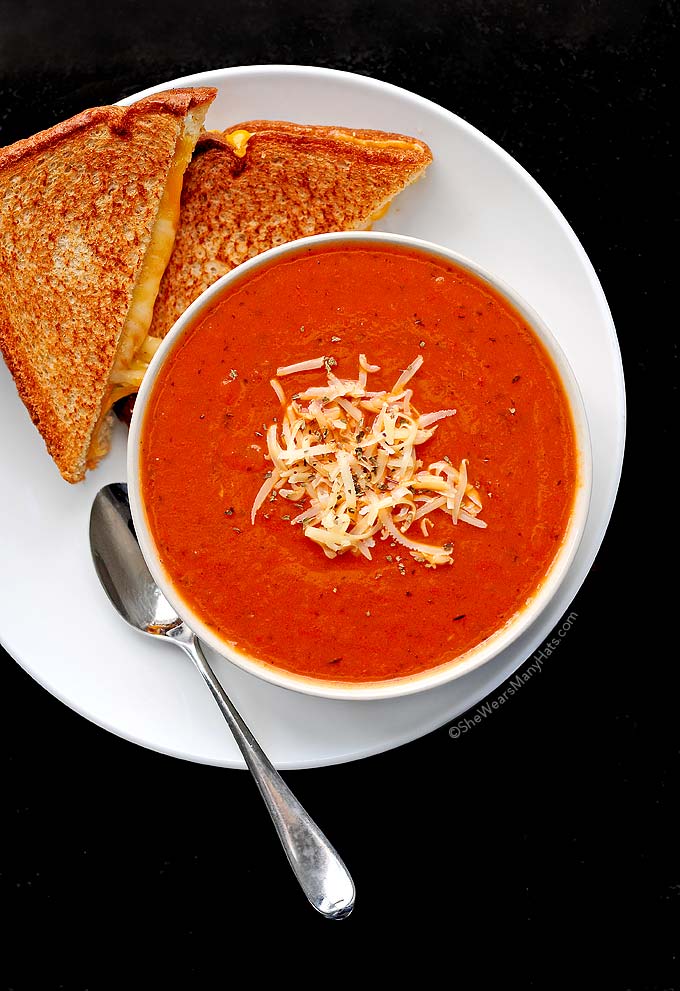 Few things rival comfort food more than a warm bowl of Tomato Soup with a grilled cheese sandwich. It's simple food, yet so hard to resist.
We were headed back home Saturday evening from a trip to the mountains. I was fighting a cold and Randy was pooped from a day of biking and working on building a bookshelf. It was cold, and windy … and cold. All we wanted was to be home that evening to rest and recoup. As we drove down the windy (and windy, as in blustery) road we chatted about what we could make for dinner without having to make a stop by the grocery store.
Tomato Soup and grilled cheese was Randy's request, and we just happened to have every single thing we needed in our pantry to make it. Even though our fresh basil had just been hit by the recent frost, we did have a good amount of dried on hand, and that coupled with dried thyme would work just fine.
As soon as I hit the door I began preparing the soup. It was quick makings. While the soup was left warming on the stove, waiting for our grilled cheese chef (aka Randy) to work his magic on the other very crucial part of the meal, I headed for the yoga pants. Warm Tomato Soup + Grilled Cheese + Yoga Pants = The perfect Saturday night. And it was.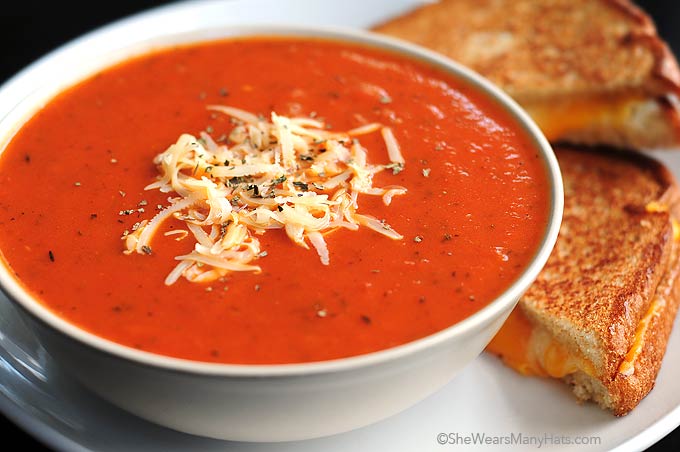 Tomato Soup Recipe notes:
When cooking Tomato Soup, it's best prepared in a non-reactive pan. What is a non-reactive pot or pan, you ask? A non-reactive pan is a pan that will not react chemically with certain foods (specifically, acids in tomato for this recipe) creating a metallic taste. When a recipe such as this calls for a non-reactive pan, look for stainless steel, enameled cast iron, glass, or clay. Particularly avoid aluminum or copper. Personally, I like to use enameled cast-iron (note: NOT cast-iron, but enameled cast-iron) or stainless steel pots when making soups and sauces as they conduct heat evenly and there is no concern for metallic taste.
For this recipe dried herbs are listed but if you have fresh basil or thyme available, they may be substituted in triple the amounts listed in the recipe. That rule works well for any recipe: 3x fresh to dried herb amounts.
For a smooth Tomato Soup, the soup will need to be pureed, but if that is not a concern, skip that step and enjoy!
Quick and Easy Tomato Soup Recipe
This classic tomato soup recipe, seasoned with basil and thyme, is the perfect bowl of comfort. Make a batch early in the week then easily rewarm for comfort food every night.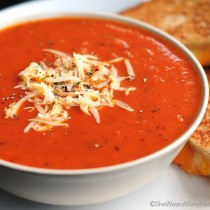 Ingredients:
3 tablespoons olive oil
2 tablespoons butter
1 large sweet onion, finely chopped
2 large cloves garlic, minced
2 tablespoons all-purpose flour
2 teaspoons dried basil
2 teaspoons dried thyme
4 cups chicken broth
56 ounces canned crushed tomatoes
2 teaspoons sugar
1/2 teaspoon kosher salt
1/2 teaspoon ground black pepper
optional garnish: chopped fresh basil, chives, or dill
Directions:
In a large nonreactive stock pot or Dutch oven, heat oil and butter over medium-low heat. Add the onion and cook, stirring occasionally, about 6 minutes. Add garlic and continue to cook, stirring for another 2 minutes until soft but not browned. Add flour and stir to coat onion and garlic for about 2 minutes.
Add basil and thyme and continue to stir to toast about 2 minutes, until fragrant.
Add broth, crushed tomatoes, sugar, salt and pepper. Bring to a simmer and stir to incorporate well. Cover, reduce heat to low and continue to cook for at least 30 minutes.
If you're okay with a thicker soup, skip the next step (pureeing), season to taste and enjoy!
If you prefer a smooth/pureed soup, allow soup to cool slightly, and using a blender, or food processor carefully purée the soup in small batches of about 3-4 cups at a time, OR use an immersion blender to completely puree directly in the pot. (If using a blender or food processor be sure to vent/crack the lid to avoid steam building up.) Return pureed soup to the pot.
Season to taste with additional salt and pepper if needed. Serve warm. If desired, garnish with chopped fresh basil, chives, dill, sour cream, and/or your favorite crumbled or grated cheese.
Soup may be frozen in an airtight freezer container for up to three months.
Adapted from Fine Cooking.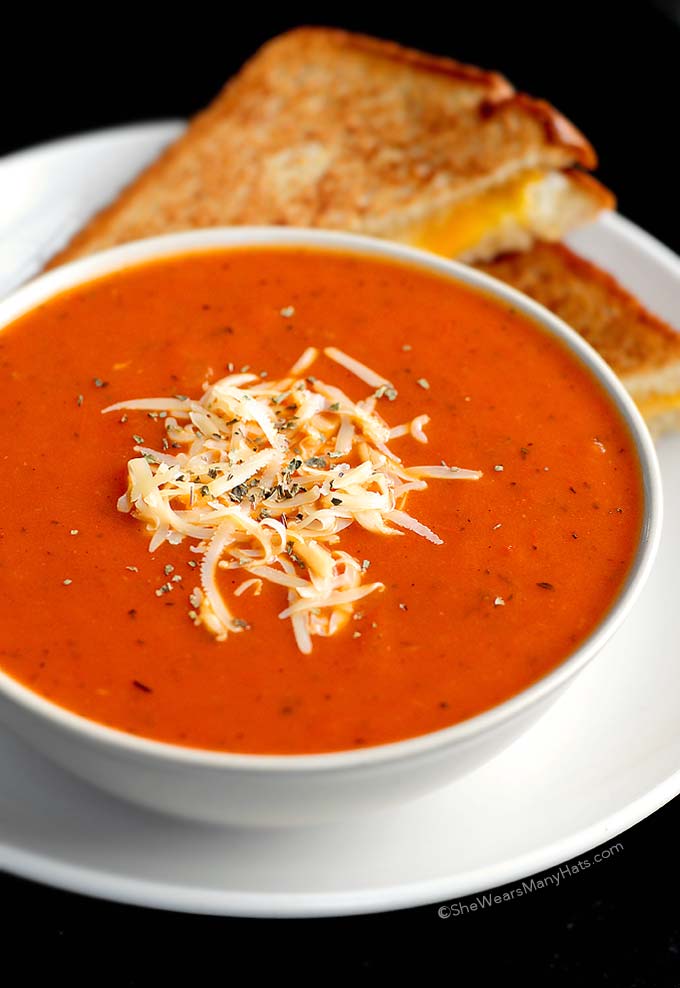 Originally published November 5, 2014.