Easy Garlic Lemon Green Beans Recipe
Tasty Garlic Lemon Green Beans are a light and delicious side dish to compliment just about any meal, or make a batch for a healthy and crunchy snack.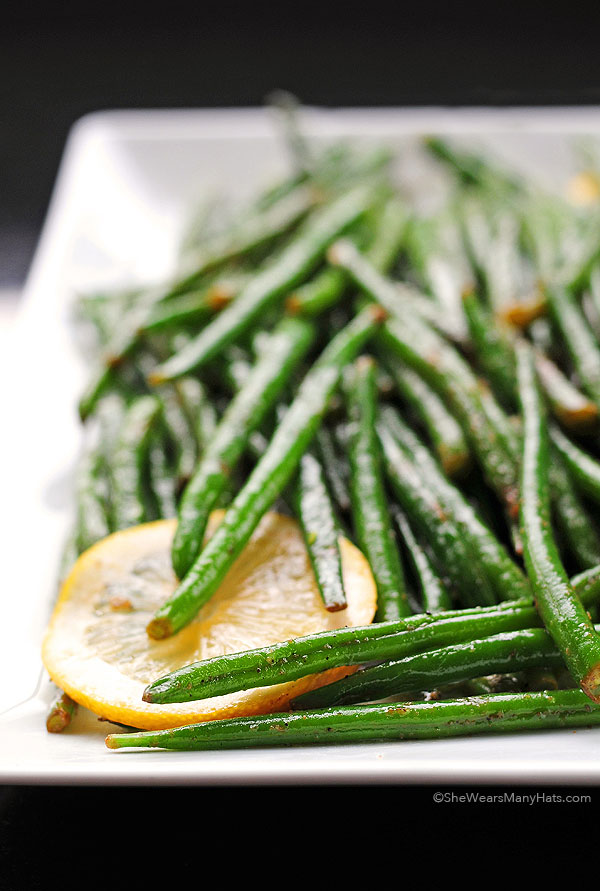 The past few weeks I've been trying to focus on having some non-carb options on hand. I'm always in the mood for potatoes. Like a bunch. But I need to focus on the green a little more. These Garlic Lemon Green Beans are just the ticket.
These tasty beans are the perfect side for steak. In fact, what triggered me to make these this week was a visit to our local steakhouse. They offer a similar green bean side to substitute instead of a baked potato. It actually hurts a little to order green beans instead of a baked potato. Just a bit. But once the initial pain subsides, honestly, I really do find these green beans ultimately satisfying, and without feeling like I'm going to bust.
Garlic Lemon Green Beans are fuss-free and something that can be served as a side, or enjoyed on their own as a lighter lunch or crunchy snack. These tasty green beans are a perfect compliment to steak, chicken (like Oven Fried Chicken from The Cookie Rookie), fish or pork. This recipe is seriously simple. I've made these beans no less than five times in the past two weeks. That's a lot of green beans.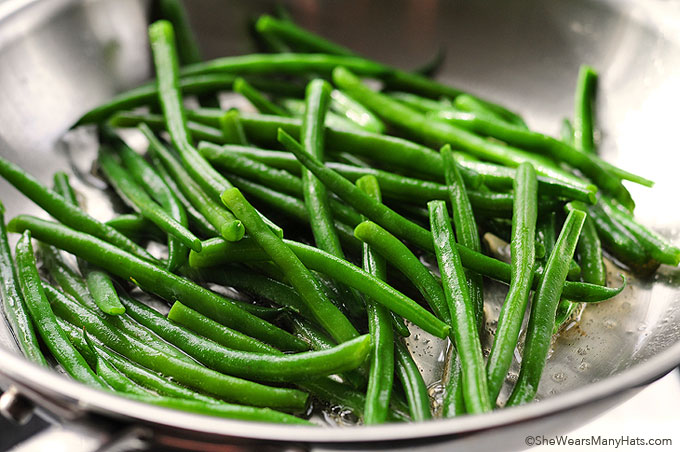 A couple of Garlic Lemon Green Beans recipe notes:
Easily change up the seasonings as you like to compliment any main dish.
Prep ahead of time. Par boil the green beans ahead of time and store in the refrigerator ready to toss in a pan for a few minutes before serving make it a super duper quick healthy option to have on hand.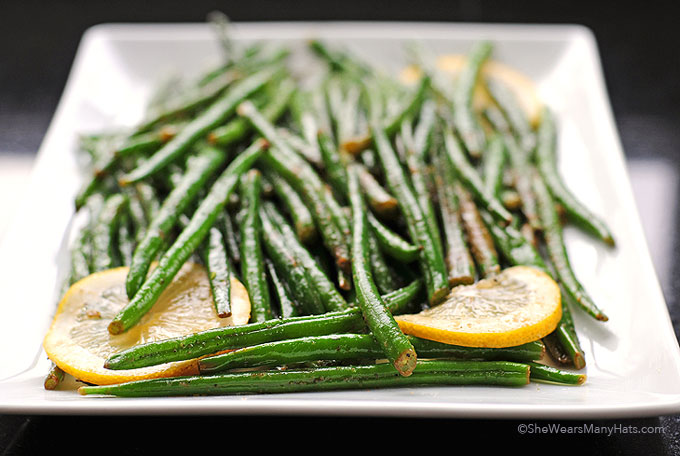 If you're looking for other easy side dishes that are sure to satisfy, check these out:
Easy Garlic Lemon Green Beans Recipe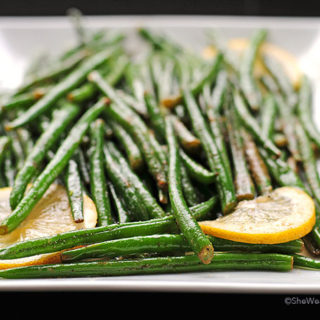 Garlic Lemon Green Beans Recipe
Yield: 4

Prep Time: 5 minutes

Cook Time: 10 minutes

Total Time: 15 minutes

These Garlic Lemon Green Beans are the perfect side dish, or healthy snack.
Ingredients
1.5 pounds green beans, cleaned and trimmed
1-2 tablespoons olive oil (depending on pan size; basically will need enough to cover pan and coat green beans)
4 tablespoons, butter, salted
4 teaspoons fresh lemon juice
1/2 teaspoon garlic powder (if you really like garlic, add more)
additional salt and pepper to taste
Instructions
Prepare a large bowl of ice water and set aside.
In a large pot of boiling, salted water cook green beans for about 3 minutes. Drain beans and transfer them to the bowl of ice water. Allow beans to cool completely. Once cool, drain beans, and proceed to next steps. Or store covered in refrigerator for up to a couple of days until ready to finish cooking.
Heat olive oil in a large skillet* over medium-high heat. Add green beans and butter to pan, tossing to coat with oil and butter. Add lemon juice, garlic powder, salt and pepper. Continue to toss, cooking for about 3 minutes.
Additional salt and pepper as needed to taste.
Notes
*Depending on skillet size, you may need to work in smaller batches, dividing lemon juice, garlic powder, salt and paper as you work through smaller amounts.

Originally published January 17, 2013.