Cucumber Dill Greek Yogurt Salad
This Cucumber Dill Greek Yogurt Salad recipe will surprise you at how easy and super tasty it is.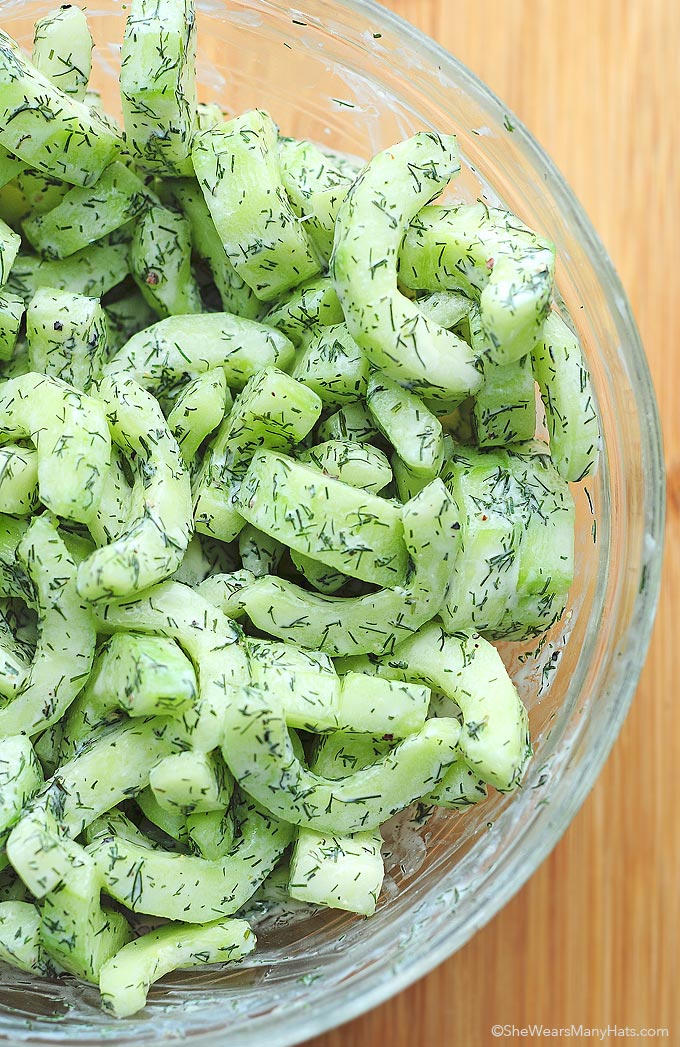 A local sandwich shop serves a cucumber dill salad that I just crave. I always feel like I'm choosing a healthy side when I order it. It's mostly cucumber after all. In an attempt to recreate it at home, I gave them a call to see what the creamy base was made out of it, hopeful that it was something healthy. The sweet lady told me that it was cole slaw dressing. Mayonnaise. Durn. Not that I don't like mayonnaise. I do. I like it very much. But bathing suits don't like it very much.
Instead of caving to the mayo, I used my typical cole slaw dressing ingredients, substituting 0% fat plain greek yogurt for the mayonnaise to create a lightened up version of this crunchy favorite. I was happy to find it mighty tasty. Crunchy, refreshing, and light … what's not to love?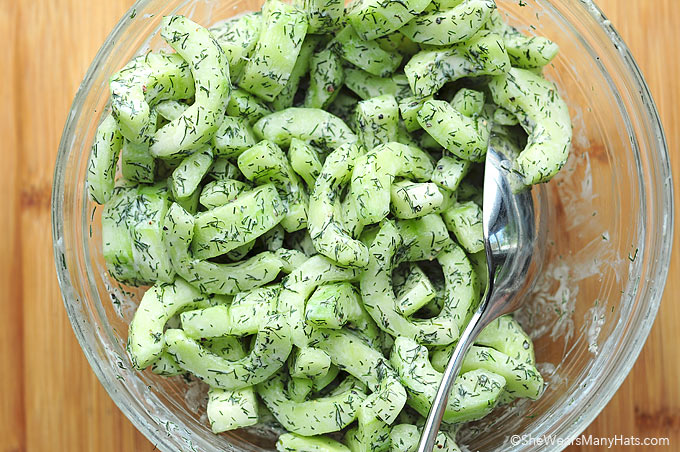 This Cucumber Dill Greek Yogurt Salad will be a new summer go-to for cookouts and picnics around here for sure. And I'm thinking it will be perfect for a cool afternoon snack too. Try this one soon!
You may also enjoy these easy cucumber salad recipes:
Cucumber Dill Greek Yogurt Salad
A light and refreshing side dish made with cucumber, dill, and greek yogurt.
Author: ©Amy Johnson | She Wears Many Hats
Recipe type: side dish
Serves: 6
Ingredients
4 large cucumbers (about 2 pounds)
4 tablespoon plain greek yogurt (I used 0% fat)
1 tablespoon dill
1 tablespoon rice vinegar (substitute red or white wine vinegar if needed)
½ teaspoon sugar
½ teaspoon salt
¼ teaspoon black pepper
¼ teaspoon garlic powder
Instructions
Peel, half, seed, and slice cucumbers.
In a medium bowl combine yogurt, dill, vinegar, sugar, salt, pepper and garlic powder.
Add cucumber to bowl and toss with yogurt/dill mixture until combined well.
Additional salt and pepper to taste, if needed.
Refrigerate covered until ready to serve.