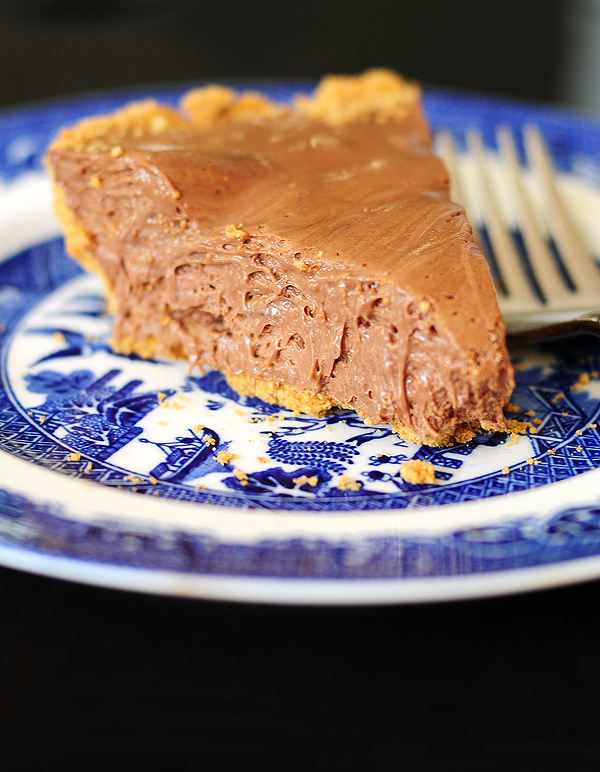 A couple of years back a friend brought this delicious pie over for a get-together. It was one dadgum good pie. After one bite, I inquired about its goodness. Come to find out, it was a very naughty pie. Naughty indeed. I tucked the recipe away in the back of my mind for later blackmail needs.
Recently, as I was looking through one of my aunt's cookbooks, I stumbled across this same pie recipe. I couldn't believe the recipe has been in my possession all this time. Probably a good thing for my hiney's sake.
Like I said, it's naughty, not just because of the ingredients, which we'll get to in a sec, but because it's too easy. It's like cheating.
No. It is cheating.
It's totally cheating.
I'm a cheater. So there.
This is naughty, cheatin' pie fixin' y'all. Let's get to it.
You'll only need 4 things: graham cracker/cookie pie shell (store bought or homemade), slivered almonds (optional), Hershey's chocolate candy bars (with or w/o almonds), and whipped topping.
The original recipe calls for Hershey's chocolate bars with almonds, but I goofed and bought the regular Hershey's chocolate bar without almonds. It was delicious anyway. Use either.
Begin by melting the chocolate bars over a double boiler. I don't own a double boiler, so I use a mixing bowl over a sauce pan. It works like a charm.
Stir the chocolate until smooth.
Once melted, if using the chocolate bars without almonds, you can add the chopped almonds if you're using almonds. Mix well.
Next, add the whipped topping.
Gently mix in whipped topping until smooth. Man, am I messy. Just look at that messy bowl.
Pour into the prepared pie shell.
I was instructionally challenged when I made this and forgot to add slivered almonds to the top of the pie. So, if you'd like, add slivered almonds to the top of the pie at this point.
Cover and refrigerate for about four or five hours or until firm. If needed, speed up the firming process by putting it in the freezer for an hour, then refrigerate for another two hours.
That's it. That's all. It's as easy as pie. Had to say it. Can't help it. I'm a cheeseball.
Anyway, here's some advice, if you have some persuading to do, have this on hand.
If you are trying to makeup with your man/woman, have this on hand.
If you are applying for a that job you've been pining for, have this on hand.
It freezes well, so just have this on hand for a backup.
Hope you enjoy!