Chocolate Bourbon Pecan Pie Recipe
This Chocolate Bourbon Pecan Pie recipe takes Pecan Pie to a new level with the addition to two flavorful ingredients.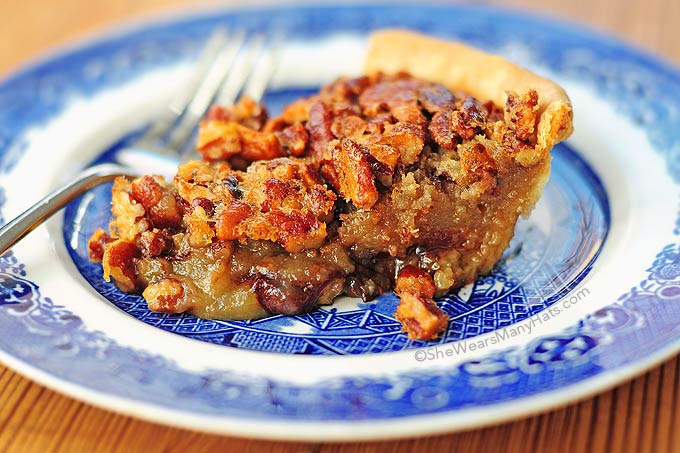 With the addition of chocolate and a splash of bourbon, this southern favorite takes a tasty twist that everyone will love. Make a Chocolate Bourbon Pecan Pie to add to your next dessert spread and watch it disappear!
This pie …
Oh my …
If you like pecan pie, and you like chocolate, for the love of all that is good, try this pie. Soon!
Pie making is easy.
All you do is take some pretty basic ingredients, then mix them all together.
Find an empty pie shell you may have lying around.
Fill it with all the good mixed up stuff.
Bake it up.
And shazam!
You've got a pretty darn tasty Chocolate Bourbon Pecan Pie, if I do say so myself.
And then hit the treadmill.
(A big shout out to Jennifer Perillo from In Jennie's Kitchen for the baking instructions. It worked perfectly!)
By the way, here's an excellent video I found for crimping pie crust 3 different ways.
And here are some pretty ceramic pie dishes if you're in the market:
Ceramic Pie Dishes
Chocolate Bourbon Pecan Pie Recipe
A southern favorite dessert pie with a twist.
Author: ©Amy Johnson | She Wears Many Hats
Recipe type: Dessert
Serves: Makes 10-12 servings.
Ingredients
1 – 9 inch deep-dish prepared pie crust, do not pre-bake/blind bake
3 large eggs
¾ cup light corn syrup
4 tablespoons butter, melted
¾ cup light brown sugar, firmly packed
2 tablespoons bourbon
2 tablespoons all-purpose flour
1 tablespoon vanilla
1¼ cup pecan, chopped
½ cup chocolate chips
Instructions
Preheat oven to 425-degrees F.
In a large bowl mix together eggs, corn syrup, butter, light brown sugar, bourbon, flour and vanilla until well combined.
Add the chopped pecans and chocolate chips and mix well.
Pour into prepared pie crust.
Bake pie on the bottom rack at 425-degrees F for 15 minutes.
After 15 minutes reduce heat to 350-degrees F and bake for another 40-45 minutes, be watchful for over-browning. Cover crust with aluminum foil if needed.
Let pie cool for at least 1 hour.
Notes
Recipe originally posted here on 11/18/2010.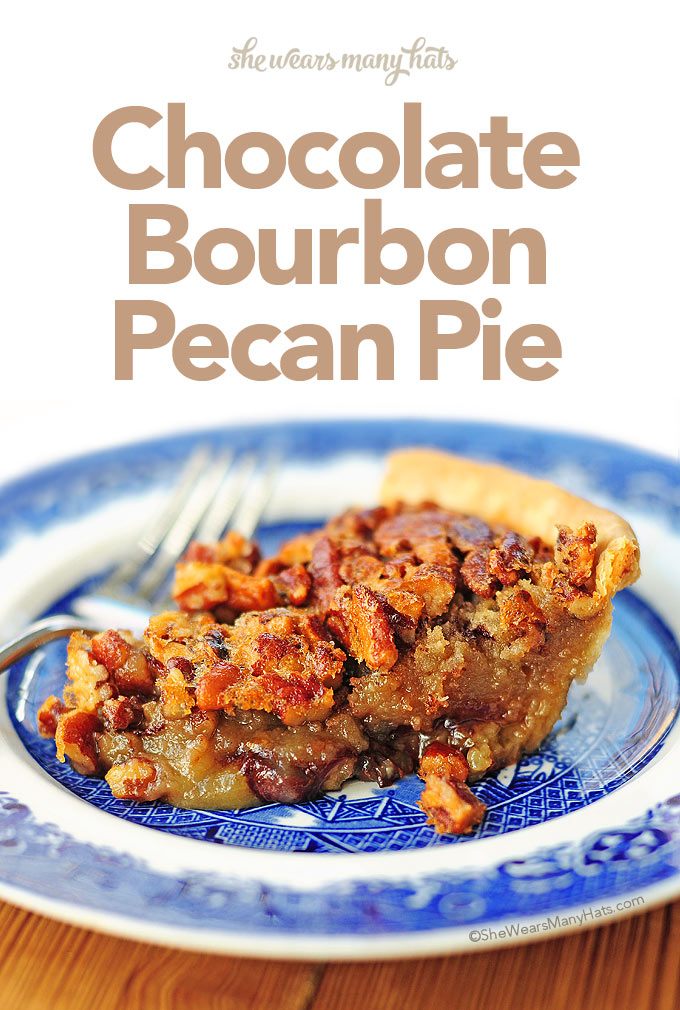 Updated November 15, 2014. Originally published November 18, 2010.