Fried Nectarines Recipe with Vanilla Mascarpone
Warm buttery Fried Nectarines or Peaches Recipe topped with a delicious vanilla mascarpone.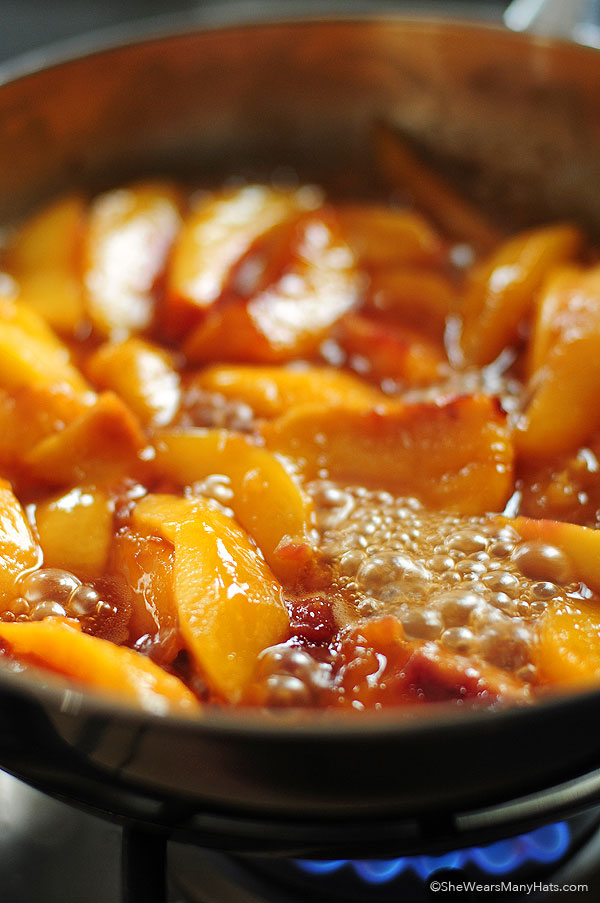 When I find ripe peaches or nectarines they are hard to pass up. Such an intoxicating fragrance they have, with fabulous colors. This time of the year, especially in upstate South Carolina, fresh peaches are plentiful. Any roadside produce stand have baskets upon baskets of the juicy fruit. Stone fruits like peaches or nectarines seem to ripen before we can get them home so having a purpose for them is important.
I reached for two of my favorite cookbooks for inspiration, Hospitality Southern Style and Hearts Go Home for the Holidays, both published years ago by my sweet Aunt Carole. Plenty of blood, sweat and tears, but mostly love, was poured into those cookbooks as she compiled recipes from family and friends near and far. My great-grandmother, Nannie, had 12 children and each of the 12 are represented in the books as well as many of their children, plus many family friends too. I can't tell you how often I've referred to these books, whether hunting for an old family favorite or tasty ideas for a get-together. The cookbooks are jam packed with great recipes and memories for me and my family. I'm thankful for Aunt Carole's effort and her joy of cooking that she has shared with us all throughout the years and for generations to come.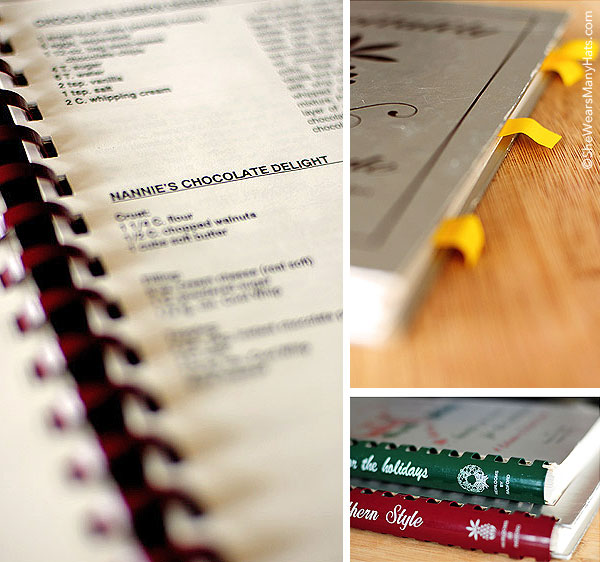 Years ago I was happy to find a recipe for Fried Peaches (or nectarines). Uh, yeah, not quite a fresh fruit, healthy kinda thing, but yummy nonetheless. Top the warmed fruit with a simple vanilla mascarpone cream and you're ready to go with a delectable, delightful dessert that's a breeze to whip up, Fried Nectarines are the perfect ending to a spring or summertime meal.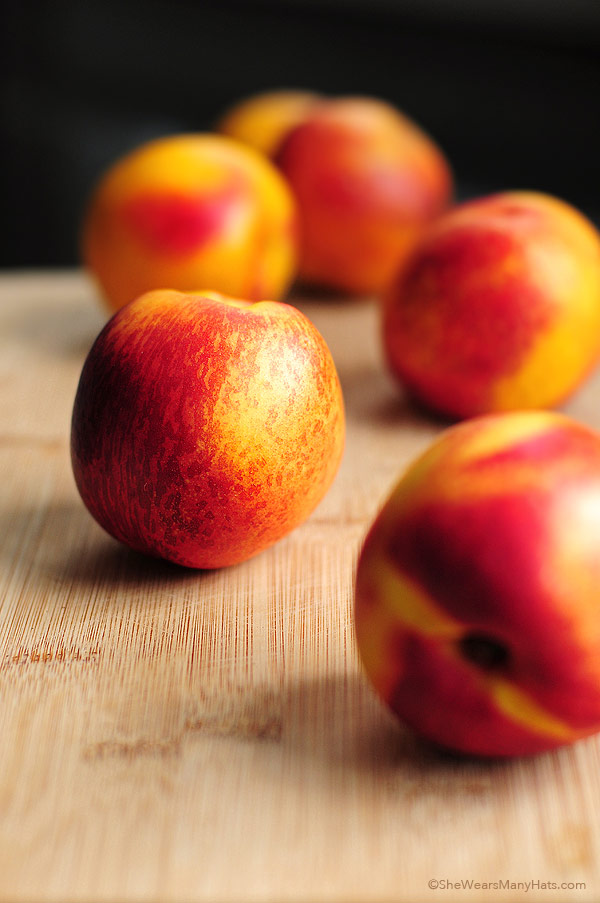 You'll need only a few ingredients: peaches or nectarines, brown sugar, butter and amaretto.
The process if fairly straightforward. Peel and slice the nectarines (or peaches), then mix the brown sugar with the nectarines. Melt the butter in a saute pan, add the brown sugar-coated nectarines and cook over medium heat for about 10-12 minutes, stirring occasionally. Stir in the amaretto and simmer over medium heat for about 3-6 more minutes, stirring occasionally.
The vanilla mascarpone cream is just as easy to make. Vanilla yogurt with a bit of vanilla extract is whipped with the mascarpone to create the perfect compliment to the stone fruit. The mascarpone is a nice creamy contrast to the sweetness of the nectarines, and easy peasy. Try avoid eating a whole spoonful of the yumminess. Save it for the fruit!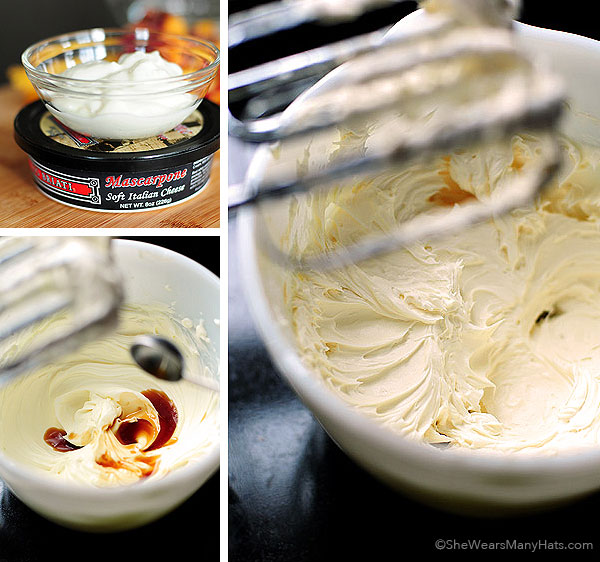 That's it. Yummy goodness awaits.
This recipe has been a nice one to use for large groups. I've also served it topped with toasted nuts, and vanilla ice cream, which is a nice addition to the warm, buttery fruit. Enjoy!
More stone fruit dessert recipes you'll enjoy:
Fried Nectarines with Vanilla Mascarpone Recipe
A delectable recipe for warm buttery nectarines or peaches topped with a vanilla mascarpone.
Author: Amy Johnson | She Wears Many Hats
Recipe type: Dessert
Serves: Serves 3-4
Ingredients
For fruit:
3 tablespoons butter
4 cups nectarines, sliced (about 6-7 nectarines)
¼ cup brown sugar
¼ cup amaretto
For mascarpone topping:*
8 ounces mascarpone soft cheese
4 ounces vanilla yogurt
1 teaspoon vanilla extract
*Makes a lot more than you'll need, but is that so bad? Halve the recipe if you'd like.
Instructions
For fruit:
Melt the butter in a saute pan.
In a small bowl combine the sliced nectarines and brown sugar.
Add the brown sugar coated nectarines and cook over medium heat for about 10-12 minutes, stirring occasionally.
Next add the amaretto and simmer over medium heat for about 3-6 more minutes, stir occasionally.
For mascarpone topping:
Mix together the mascarpone and yogurt with a hand mixer.
Add the vanilla and mix well.
Serve over warm nectarines.
Notes
Nectarine recipe inspired by Hospitality Southern Style by Carole Radford.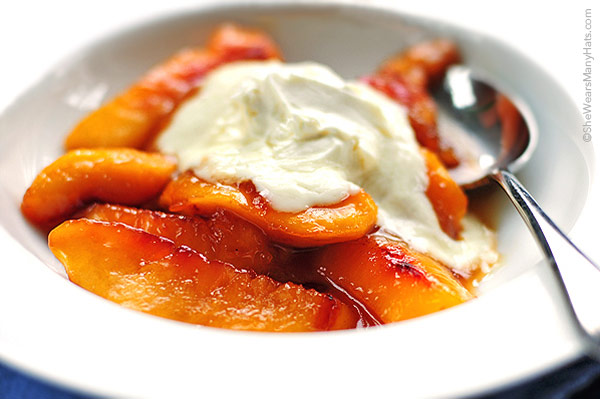 Originally posted March 30, 2010. Updated July 12, 2015.