Berry Crumble Recipe
A warm Berry Crumble Recipe is the perfect place to use fresh berries.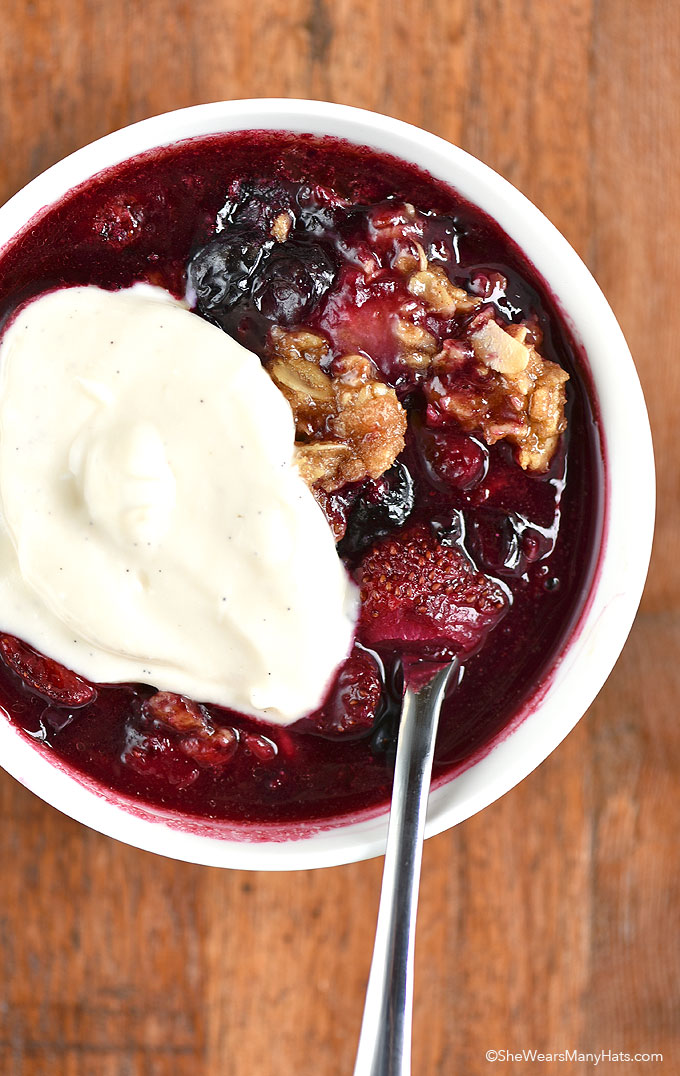 When summer berries are in season there's only one thing to say, "Let's get ready to CRUUUUUUMBLE!" Couldn't resist. Apologies to fight announcer Michael Buffer.
For summer dinner parties there's no sense in fussing over a complicated dessert when you can make something so delicious with seasonal berries and then get right back to enjoy the evening with your guests. This Berry Crumble Recipe is just the thing.
Preparations are easy. Fill a lightly buttered baking dish with with washed berries of choice, mix together the topping, crumble it (thus the name) and spread evenly atop berries. Bake in a 350-degree F oven for about 30-35 minutes and that's it! You're all done. Well, except for the topping. Serve warm and top with fresh whipped cream or vanilla ice cream with an over the top dessert not just for summer, but any time of the year you can get your hands on fresh berries.
More delicious warm fruit desserts you'll enjoy:
Berry Crumble Recipe
An easy warm berry dessert that is delicious served with fresh whipped cream or vanilla ice cream.
Author: ©Amy Johnson | She Wears Many Hats
Recipe type: Dessert
Serves: 6
Ingredients
6 cups fresh mixed berries (cored/sliced strawberries, blueberries, blackberries)
¼ cup all-purpose flour
¾ cup old-fashioned or quick-cooking oats
¾ cup brown sugar
6 tablespoons butter, softened
1 teaspoon ground cinnamon
½ teaspoon salt
Instructions
Butter approximately 11x7-inch baking dish
Preheat oven to 350-degrees F.
Spread berries in buttered baking dish.
Mix together remaining ingredients until totally incorporated. Crumble dough evenly spreading over berries.
Bake for 30-35 minutes.
Serve warm. Top with fresh whipped cream or vanilla ice cream.