Pear Crisp Recipe
This recipe for a delicious Pear Crisp is the perfect dessert for using fresh pears. It's easy to make too!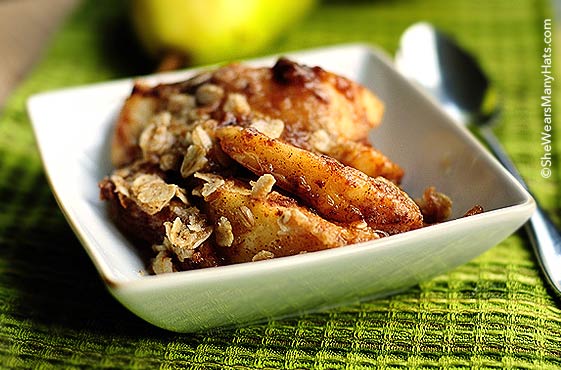 "Pears For Sale" read the sign posted in the front yard down the road. Instantly I knew I needed to bake something. After a quick search, a recipe for Pear Crisp was the first one I had all ingredients for on hand.
I wish we had a pear tree. My husband speaks of a pear tree in his grandmother's yard that grew the best tasting pears. I guess I'll have to continue to dream of the day we can walk out in our own yard one fine fall day and pick a pear. Until then, our local grocer, or the guy down the street, is as good as it gets. Maybe this fall will be the time to plant one?
Whether you have your own pear tree, or like me have to find them elsewhere, this Pear Crisp (or cobbler), is as yummy as it gets. Adapted from my SC homeboy, Tyler Florence, this crisp is full of warm fall flavors that will leave your home smelling nice and cozy. It's the perfect way to usher in fall y'all.
Just like any cobbler, or crisp, the ingredients are basic. And the process couldn't be easier; chop, mix, bake. Much, much too easy to pass up. And tasty too.
Pear Crisp Recipe
Adapted from Tyler's Ultimate: Brilliant Simple Food to Make Any Time by Tyler Florence.
Author: ©Amy Johnson | She Wears Many Hats
Recipe type: Dessert
Serves: Makes about 4-6 servings.
Ingredients
4 Bartlett pears
2 teaspoons vanilla extract
¾ cup brown sugar; divided
½ cup + 2 tablespoons all-purpose flour; divided
2 teaspoons ground cinnamon; divided
½ teaspoon ground nutmeg
¼ teaspoon ground ginger
½ cup butter (I used salted, but Tyler's called for unsalted)
½ teaspoon kosher salt
½ cup oatmeal
Instructions
Preheat oven to 350° F and butter preferred baking dish.
Peel the pears and cut in half, the use a spoon or a melon baller to remove core/seeds. Slice lengthwise into smaller pieces; approximately eighths or smaller.
Place cut pears in a bowl and toss with the vanilla extract.
To the bowl of pears, add ¼ cup brown sugar, 2 tablespoons all-purpose flour, 1 teaspoon cinnamon, nutmeg and ginger, toss again to coat pears well. Place coated pears in baking dish.
In a bowl combine the butter, the remaining ½ cup brown sugar, the remaining ½ cup all purpose flour, the remaining 1 teaspoon cinnamon, salt and oatmeal together. Use your hands if you need to in order for the butter to be incorporated well with the other ingredients.
Spread mixture over the pears in the baking dish and bake for 35-45 minutes, or until pears are very tender, and the top has browned. Be sure to check pears for tenderness and increase cook time by a few minutes at a time.