Blueberry Cobbler Recipe with Biscuit Topping
This easy Blueberry Cobbler Recipe, topped with a biscuit crust, is the perfect dessert to serve to when entertaining a group.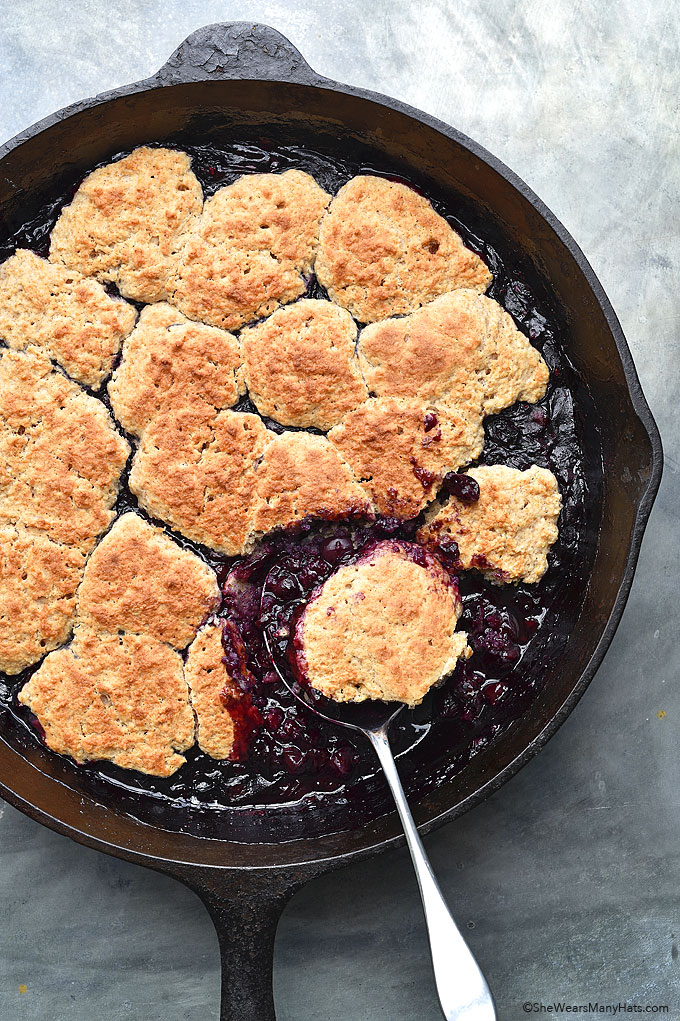 Around here our cast iron skillets get a workout. They are such a versatile tool in the kitchen and perfect for so many dishes like fried chicken, cornbread, biscuits, pot pies, roasted chicken, fried fish, pork roast, steak, and even desserts like this delicious skillet Blueberry Cobbler.
Even though blueberries are usually stocked year round in our fridge, when summer rolls around and the blueberries are busting out in season, we can hardly pass up buying even more with each grocery visit. We eat them daily, fresh or frozen, in greek yogurt or cereal at breakfast, in smoothies for a snack or light lunch or just a handful for a quick, healthy snack. We do like blueberries.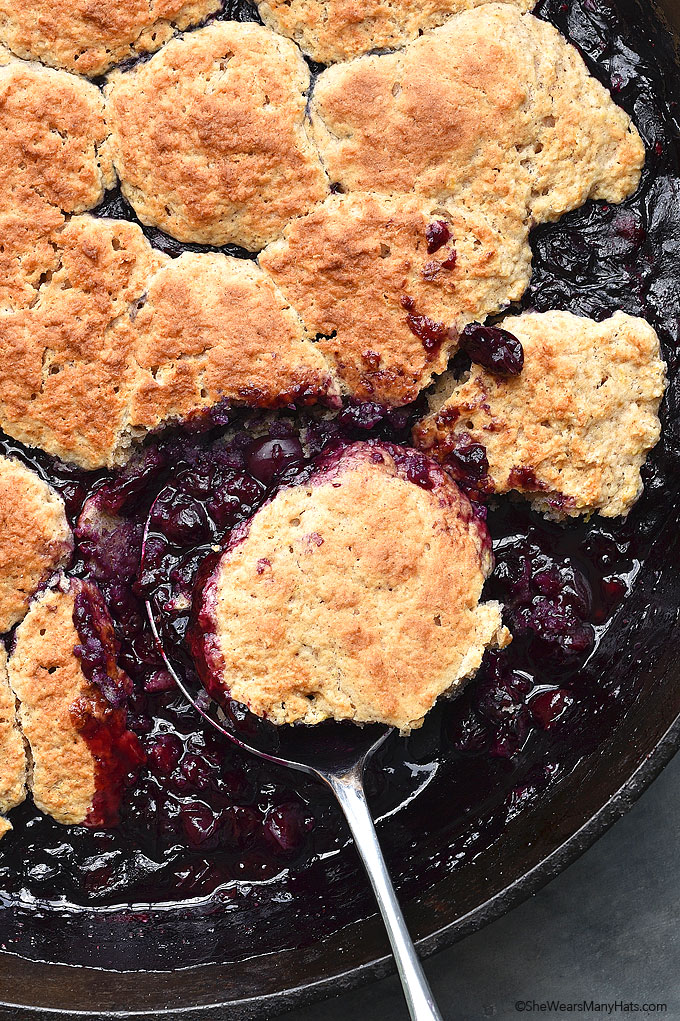 Of course, blueberry desserts are a favorite way to use blueberries. This Blueberry Cobbler with a lemony biscuit topping is no exception. This easy cobbler recipe is scrumptious and is a terrific tasty dessert to make for a large group. The berry filling can be made ahead a day or so, then topped with the simple biscuit topping before popping it in the oven to bake until bubbly and golden. Serve this cobbler with fresh whipped cream or vanilla ice cream for an over-the-top summer treat.
Blueberry Cobbler Recipe with Biscuit Topping
This easy cobbler made with blueberries and a biscuit topping is perfect for serving a crowd. Top with vanilla ice cream for a delicious extra.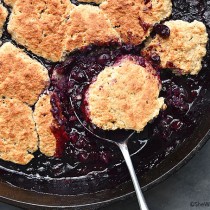 Ingredients:
Blueberry Filling:
1/2 cup packed brown sugar
6 cups blueberries
1 tablespoon lemon juice
2 tablespoons all-purpose flour
1/4 teaspoon ground cinnamon
1/4 teaspoon salt
Biscuit Topping:
1 1/2 cups all-purpose flour
4 tablespoons brown sugar
1  1/2 teaspoons baking powder
1/4 teaspoon baking soda
1/2 teaspoon ground cinnamon
1 teaspoon lemon zest
3/4 cup milk
2 teaspoons lemon juice
1/2 teaspoon vanilla extract
3 tablespoons butter, melted and cooled
Directions:
For blueberry filling:
In a 12-inch skillet over medium-high heat, add sugar, blueberries and lemon juice bring to a simmer, simmer for about 3 minutes, stirring occasionally. Sprinkle in flour, cinnamon, and salt. Stir to combine blueberries; continue to simmer for another 3 minutes to thicken. Remove from heat.
Preheat the oven to 350-degrees F.
For biscuit topping:
In a mixing bowl, whisk together flour, sugar, baking powder, baking soda, cinnamon and lemon zest. In measuring cup stir together milk, lemon juice, vanilla extract and cooled melted butter, stir into flour mixture until combined.
Drop rounded tablespoons of the biscuit dough onto blueberries, leaving a bit of space in between.
Place skillet on baking sheet in preheated 350-degree F oven and bake until biscuits are golden on top, about 20 minutes. Remove from the oven and let cool for 15 minutes; serve warm.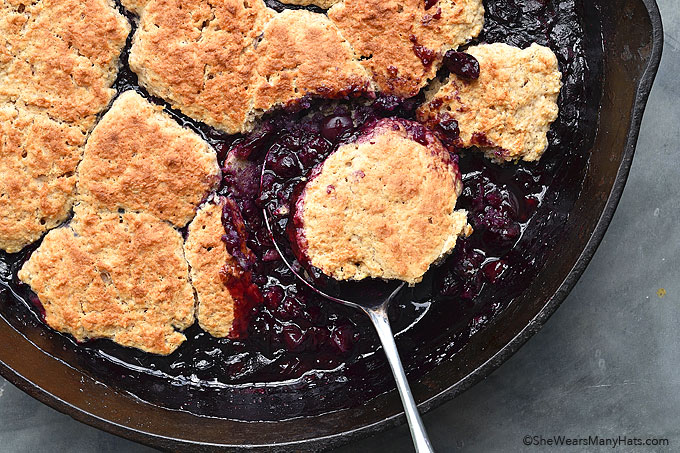 Originally published June 4, 2015.