Lime Pie Dip Recipe
An easy Lime Pie Dip Recipe that is the perfect sweet treat to serve for dessert or as a summery poolside snack.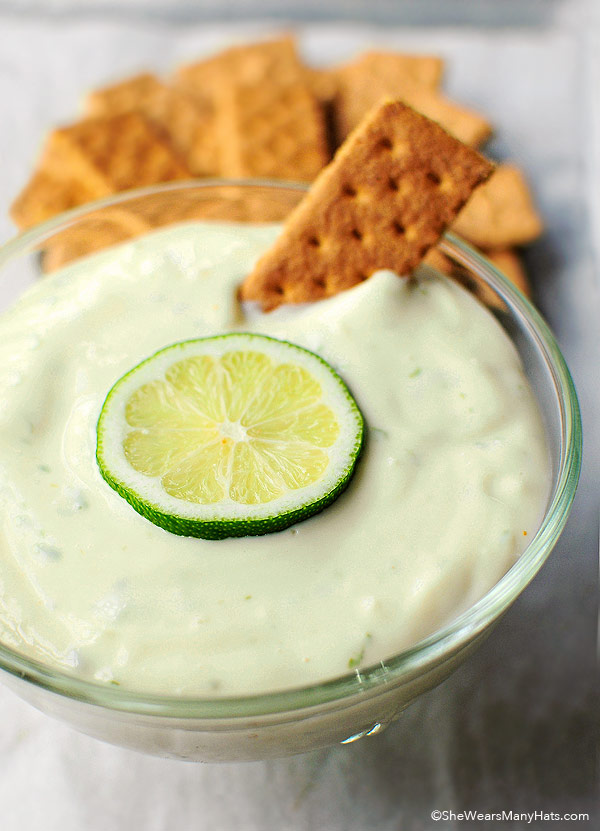 While on the hunt for a recipe that I scratched down years ago, I found a slew of recipe pages torn from magazines crammed in between my cookbooks. A slew, I'm telling ya. I am nothing if not well-intentioned.
I flipped through the pile of ripped and wrinkled pages of recipes. That was pre-Pinterest. Pages ripped from magazines was where it was at, y'all. I perused through the pages of what had caught my attention years before, when one recipe for a perky and simple lemon pie dip from Southern Living magazine caught my eye. With no lemon on hand, but always plenty of lime, I decided to adapt and create a Lime Pie Dip recipe. The original recipe called for sweetened condensed milk plus lemon juice, but I added a bit of cream cheese to thicken it up, as well as some fresh lime zest, and just a pinch of salt, because a pinch of salt always adds something special to a sweet treat. Always.
Serve this sweet and tart dip with graham crackers, or fresh strawberries. This Lime Pie Dip makes for the perfect perky little addition to a dessert menu, or an afternoon snack on a hot summer's day. It would be easy to pack along for a picnic too! And if you're watching your intake, this dip is also a great way to enjoy a smaller portion of a sweet treat without caving in for a whole piece of pie. That's always a great option for us around here.
A few notes for this easy Lime Pie Dip recipe:
Be sure to use freshly squeezed lime juice. I think freshly squeezed juice is so much better than prepackaged. Fresh squeezed makes a world of difference.
This recipe calls for cream cheese. I used reduced fat cream cheese, but use what you prefer.
This Lime Pie Dip can be quickly made a few days ahead, then kept covered and refrigerated until ready to serve, which makes this recipe excellent for entertaining. I do like a recipe that can be made ahead, don't you?
Lime Pie Dip Recipe
A few simple ingredients are all that is required to create this perky dessert dip.
Author: Amy Johnson | She Wears Many Hats
Ingredients
14 ounces sweetened condensed milk
4 ounces cream cheese (I used reduced fat)
1 teaspoon lime zest
½ cup freshly squeezed lime juice (takes about 3 limes)
¼ teaspoon salt
Instructions
Mix all ingredients together until smooth.
Cover and refrigerate for at least an hour.
Serve with graham crackers, sliced apples, or pears.
Notes
Adapted from Southern Living.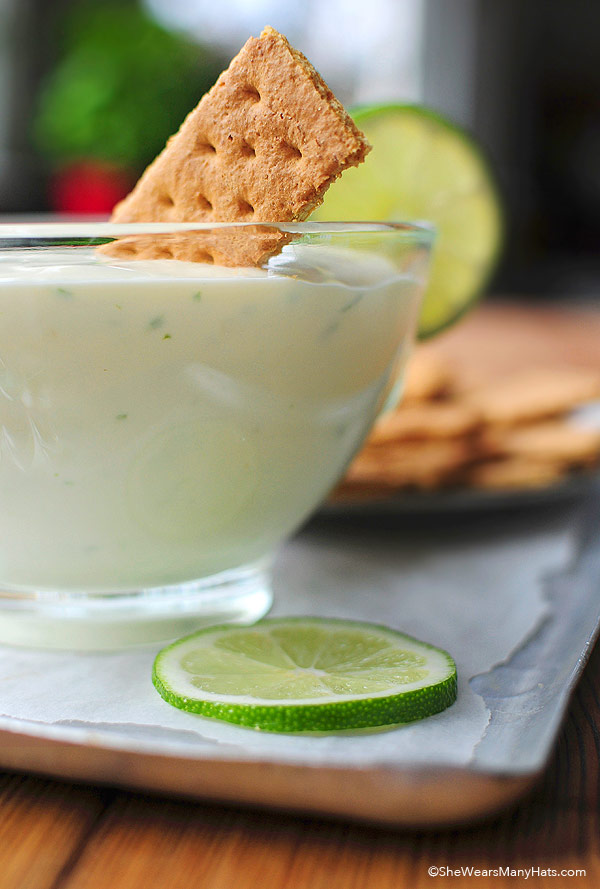 Originally posted April 4, 2013. Updated July 13, 2015.