Chocolate Peanut Butter Cheesecake Bars Recipe
If you know of a peanut butter fan in your life, these Chocolate Peanut Butter Cheesecake Bars is a dessert that they will cheer for again and again.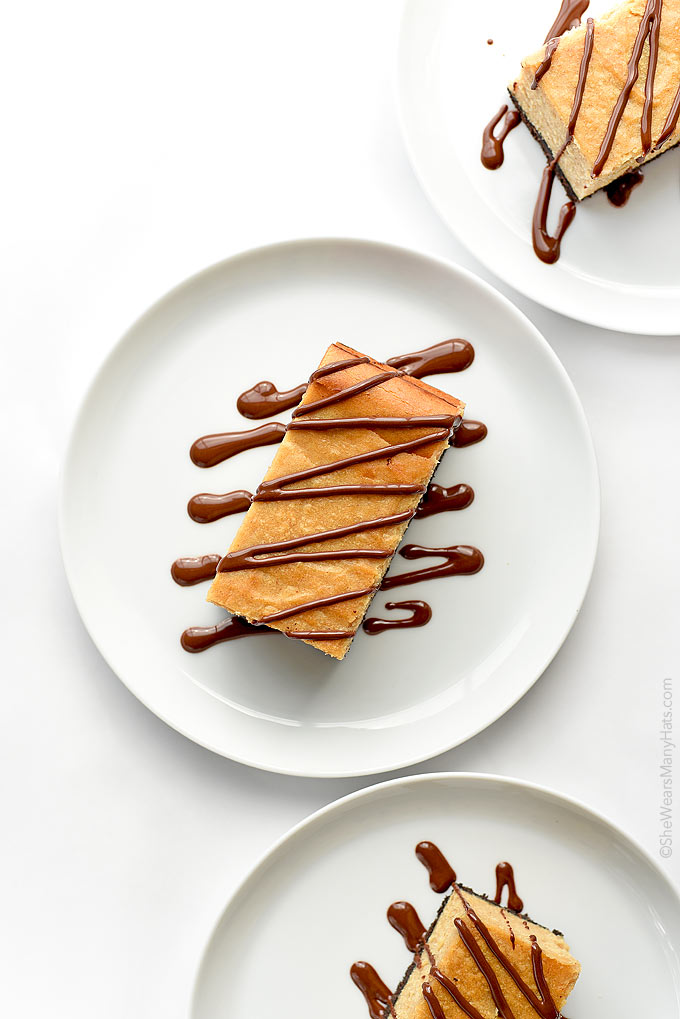 These Chocolate Peanut Butter Cheesecake Bars with a chocolate cookie crust are similar to the Pumpkin Cheesecake Bars and just as easy. It really is such an easy dessert recipe. One of the things I like about this cheesecake dessert being made in a square (or rectangle pan) is that it can be cut into smaller bite size servings if needed, or larger ones for a main dessert.
These cheesecake bars were inspired by a dessert my sister and I enjoyed on a cruise a . It was our first (and hopefully not last!) sister trip. We dove int a chocolate peanut butter bar and our first night on the ship. It was peanut buttery mousse-like dessert combined with chocolate topped with fancy chocolate shavings on top. Boy, was it delicious! This is a much simplified version of that dessert, but just as satisfying.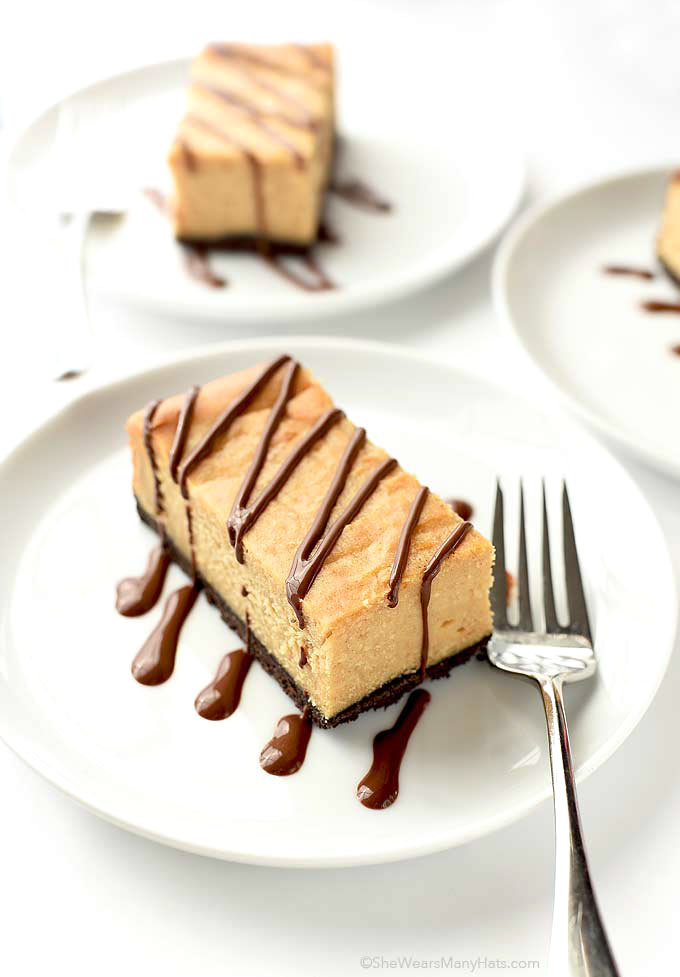 Chocolate Peanut Butter Cheesecake Bars can be made ahead by a few days then kept covered and refrigerated until ready to serve. Warm some chocolate for drizzling on top or serve with a dollop of fluffy whipped cream OR both!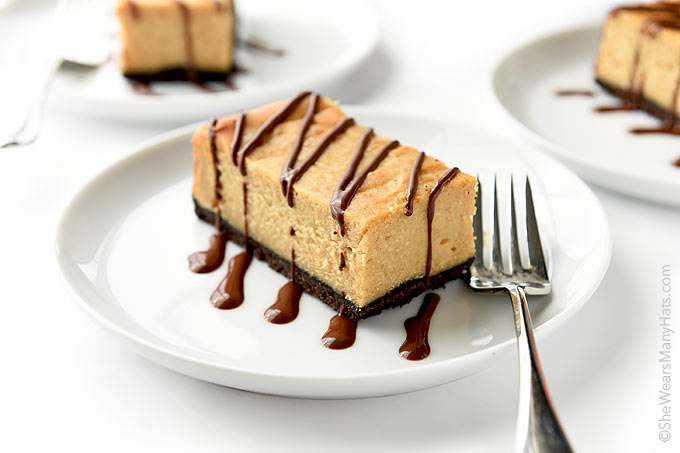 A few more delicious peanut butter recipes you may enjoy:
Chocolate Peanut Butter Cheesecake Bars Recipe
A decadent cheesecake dessert perfect for any peanut butter lover.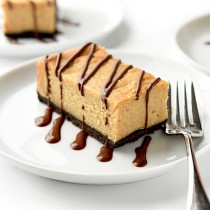 Ingredients:
Crust:
20 creme-filled chocolate sandwich cookies (like Oreos)
2 1/2 tablespoons butter, melted
Filling:
16 ounces cream cheese, room temperature
1 cup granulated sugar
1 cup peanut butter
3 large eggs, room temperature
1 teaspoon vanilla extract
1/4 teaspoon salt
3 tablespoons all-purpose flour
hot water
Directions:
Preheat oven to 350-degrees F. Line 8×8-inch baking pan with baking parchment or aluminum foil allowing overhang. Lightly coat with cooking spray.
For crust: Pulse cookies in food processor until fully ground, continue pulsing while gradually streaming in melted butter until incorporated. Press mixture evenly into prepared baking pan. Bake 10 minutes. Set aside and allow to cool about 10 minutes.
For filling: Using an electric mixer on medium speed, beat together cream cheese and sugar until smooth. Mix in peanut butter, then eggs, one at a time; beat together until smooth. Add vanilla, salt, and flour, beat until just combined.
Pour evenly over prepared crust. Place pan on large rimmed baking sheet, and place in oven on center rack. Pour hot water into baking sheet until almost full. Bake at 350-degrees F for about 40-45 minutes, until set around edges, but still slightly jiggly in middle.
Remove 8×8-inch pan and cool completely on rack. Once cool cover and chill until firm, at least 3 hours.
Using the parchment or foil overhang, lift cheesecake out of pan and cut to desired size.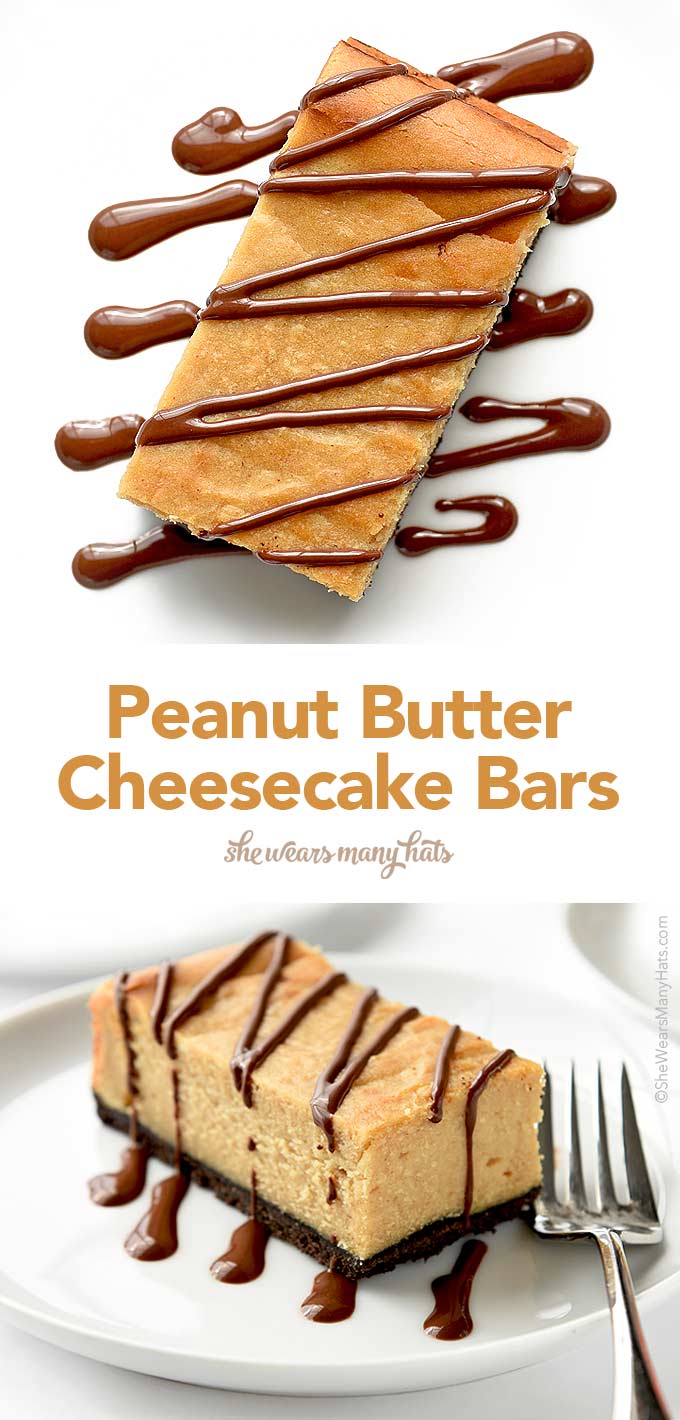 Originally published December 29, 2014.