Classic Spaghetti and Meatballs Recipe
A classic Spaghetti and Meatballs recipe adapted from the fabulous Lidia Matticchio Bastianich.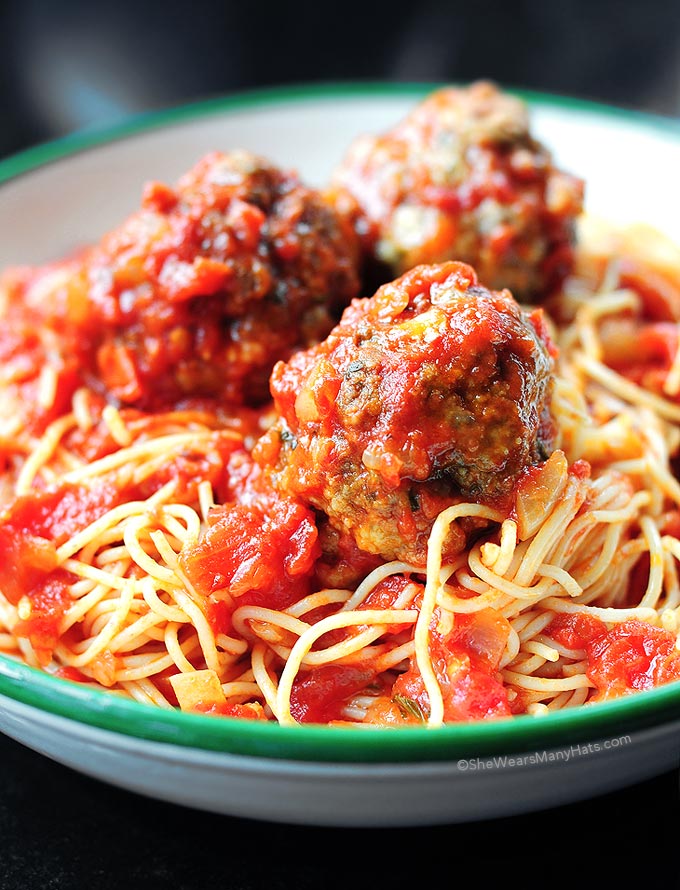 It turns out, not everyone thinks of the spaghetti and meatballs version of "On Top of Old Smokey" when they think of spaghetti and meatballs. Certain people who I live with (I even took his name), say they've never even heard of the song. What?!? How can that be?
Of course I had to change that. So after enlightening Randy early this morning with my rendition of "On Top of Spaghetti," he said, "I never fail to marvel at the wonders of what is Amy."
Whatevs …
How can he not know the song? And how can we be married almost 20 years and me not know that he doesn't know the song? Crazy is what it is.
Anyways, after craving Italian meatballs for a few months, I finally got around to making my first batch of Spaghetti and Meatballs ever two weeks ago. Yes. My first batch. Yes, ever. I've done lots of things in the kitchen, but never the meatball. But now I have. And I have to say, it is a darn good thing. The whole family enjoyed them too. I'll be making them regularly now that I know how easy and satisfying a truly well-made Italian meatball can be. With help from Lidia Matticchio Bastianich, and her daughter, Tanya Bastianich Manuali's new book, I was soon in meatball bliss.
And no, not one single meatball met it's fate by rolling on the floor and out the door from someone sneezing. It was all good, happy meatball eating, y'all. Try these soon. I think you'll be pleased.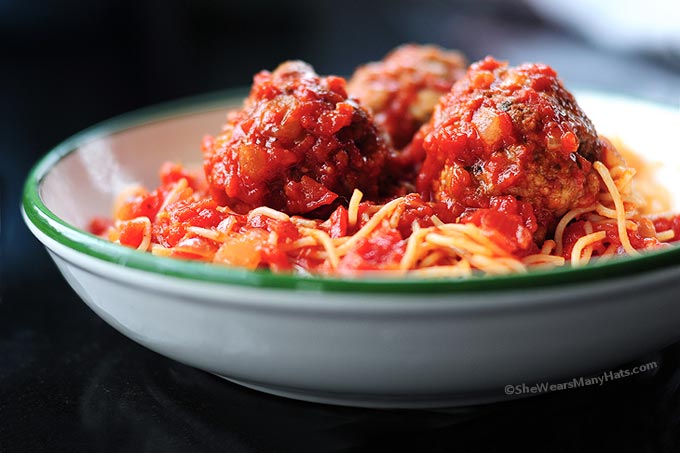 Please note: The recipe below was adapted from "Spaghetti and Meatballs" from Lidia's Favorite Recipes. Lidia's original meatballs called for both ground pork and beef. I used beef only. I also cut back on the red pepper flakes in the sauce recipe below, but if you like to live on the spicy side, kick it up a notch by adding more.
You may also enjoy these other delicious pasta favorites:
Classic Spaghetti and Meatballs
A classic spaghetti and meatballs recipe adapted from Lidia's Favorite Recipes by Lidia Matticchio Bastianich.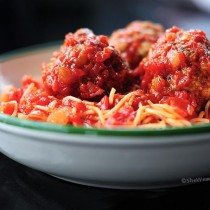 Ingredients:
Ingredients for the sauce:
1/4 cup extra virgin olive oil
1 medium onion, chopped (about 1 cup)
Two 35-ounce cans plum tomatoes with their liquid (or two 28-ounce cans + one 14-ounce can; just make sure you total 70 ounces in canned plum tomatoes)
1/2 teaspoon red pepper flakes
3 dried bay leaves
salt and pepper to taste
Ingredients for the meatballs:
1 pound ground beef
1 cup dry breadcrumbs, finely crumbled
1 cup freshly grated parmesan
1/4 cup chopped fresh Italian parsley
2 cloves garlic, minced
1 teaspoon salt
1/4 teaspoon black pepper
1 large egg, beaten
all-purpose flour for dredging
Additional ingredients:
1/4 cup olive oil
1/4 cup vegetable oil
1 pound spaghetti (or favorite pasta)
Directions:
To prepare the sauce, heat 1/4 cup olive oil in heavy bottomed pot over medium heat. Add onion and sauté for about 4 minutes.
Pour in tomatoes (with their liquid), along with the red pepper flakes, bay leaves. Stir together. Bring to barely a simmer, and using a potato masher or fork, mash the heck out of the tomatoes. Stir. Salt and pepper to taste.
Bring to a full simmer and let cook for about 30 minutes, stirring occasionally. Taste and adjust seasonings to preference. Continue to cook over low heat.
To prepare the meatballs, loosely crumble the beef into a large bowl. Sprinkle the breadcrumbs, 1/3 cup grated parmesan, chopped parsley, garlic, salt and pepper over the beef. Add the beaten egg, and using clean hands, GENTLY combine ingredients. Try not to mash the ingredients together. I think the meatball texture is much better when they are not mashed to death.
Shape the mixture into 1 1/2 inch meatballs.
Lightly dredge the meatballs in the flour until evenly coated, and place on a baking sheet or plate.
In a heavy skillet over medium-high, heat 1/4 cup olive oil and 1/4 cup vegetable oil.
Cooking in batches, add meatballs into the skillet without crowding. Fry each batch for about 6 minutes, turning to brown all sides of each meatball. Adjust heat to prevent over-browning. Place browned meatballs on paper towel lined surface.
Once all meatballs are browned, add to prepared sauce, gently stirring to coat meatballs with sauce. Continue to cook for about 30 minutes until meatballs are cooked through (no pink remaining in center).
Cook spaghetti or preferred pasta according to package directions. Drain pasta and serve topped with sauce and meatballs.
Garnish with grated parmesan.
Originally published January 24, 2013.