Mushroom Florentine Pasta Recipe
This creamy Mushroom Florentine Pasta Recipe may seem like a fancy dish, but it's oh so quick and easy to make. It's easy enough for a weeknight meal, but elegant for entertaining or enjoying as a celebration dinner, and it's a terrific meatless option.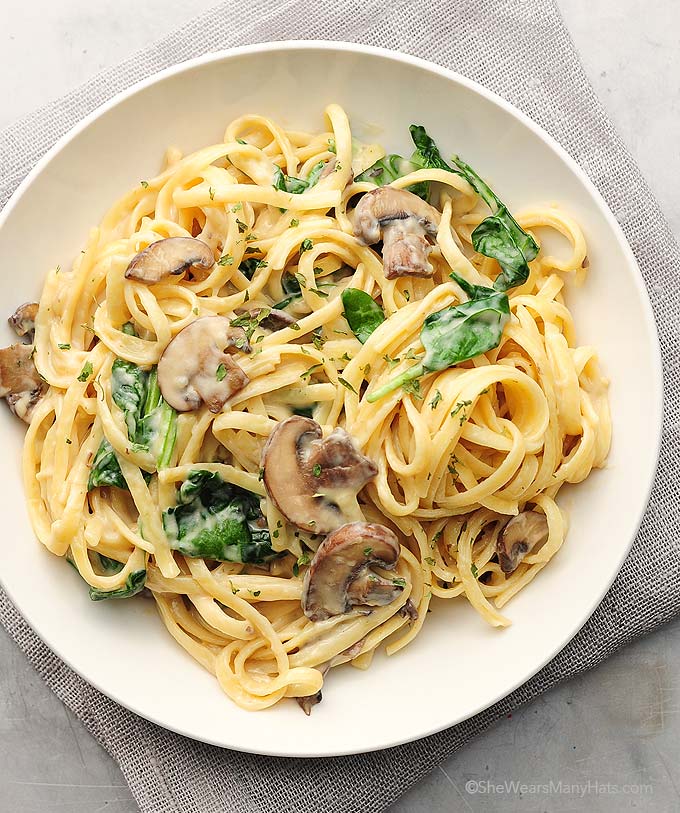 Pasta and me, we go way back. I could easily eat it everyday. Easily. Although it's something I've had to learn to eat in moderation. So when I do enjoy a pasta dish, I really want it to be worth it. This Mushroom Florentine Pasta Recipe is so worth it. I promise.
While this creamy Mushroom Florentine Pasta Recipe may look sophisticated it couldn't be easier to make. This rich pasta dish is full of flavor and cheesy goodness and is perfect for a special occasion meal or if you're craving comfort food. It's a great meatless option too! Plus, this delicious pasta recipe can easily be prepared and ready to enjoy in less than 30 minutes. Which beats having to drive to a restaurant and having to wait any day in my book.
Begin by cooking linguine (or a pasta of your choice). While the pasta cooks, you'll be able to prepare the mushroom, garlic, and spinach cheese sauce. If the pasta is ready before the sauce is done, just drain the pasta and keep it covered until ready to toss with the creamy sauce. It really is quick to make. Once you see for yourself how quick and easy this Mushroom Florentine Pasta Recipe is you'll be adding this tasty meal to your regular routine. It's a keeper for sure!
Mushroom Florentine Pasta Recipe
A classic and easy creamy pasta dish made with mushroom, garlic, cheese and spinach.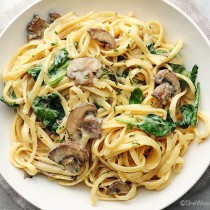 Ingredients:
8 ounces linguine pasta, uncooked (same amount of other pasta may be substituted)
3 tablespoons all-purpose flour
1 cup chicken broth
1 cup whole milk
1/2 teaspoon salt
1/2 teaspoon black pepper
3 tablespoons olive oil
8 ounces sliced mushrooms
2 garlic cloves, minced
3 ounces Gruyere cheese (or Gouda), shredded
2 cups fresh baby spinach leaves
Directions:
Begin cooking pasta according to package instructions.
Whisk together flour, chicken broth, milk, salt and pepper. Set aside.
While pasta cooks, in a large skillet heat olive oil over medium-high heat. When oil begins to ripple add sliced mushrooms, sauté for 6 minutes. Add minced garlic, sauté for 2 more minutes until garlic just begins to brown.
Whisk flour, chicken broth, milk, salt and pepper mixture into mushrooms and garlic, bring to a simmer and cook, stirring occasionally until thickened, about 3-4 minutes.
Add shredded cheese, stir until cheese has melted.
Mix in spinach, allow to wilt.
Add drained pasta to skillet, toss to coat.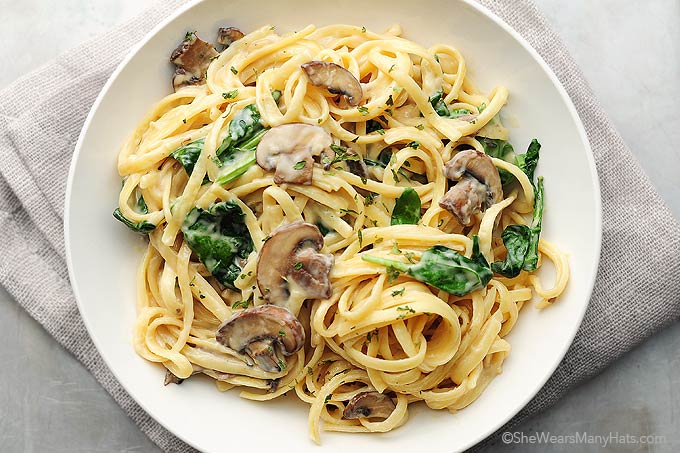 Originally published September 4, 2014.