Chicken Cacciatore Recipe
This easy classic Chicken Cacciatore Recipe made with chicken, onions, garlic, mushrooms, peppers, tomato and herbs with a bit of wine is perfect for any night of the week.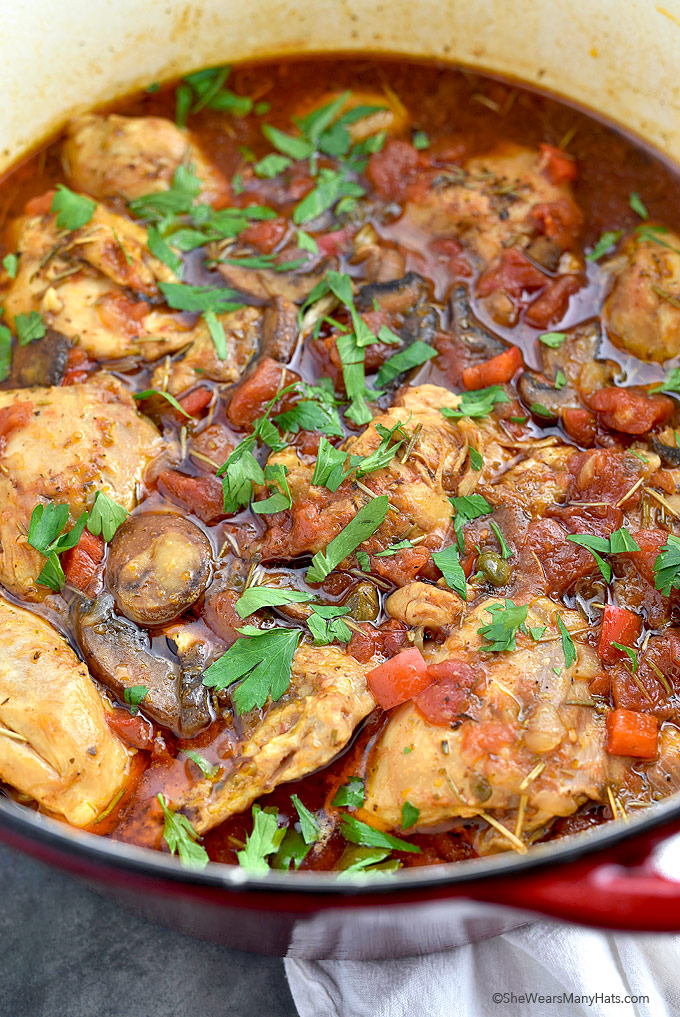 Chicken Cacciatore is a classic Italian dish that will quickly become one of your favorite go-to meals for feeding a crowd or when you're craving comfort food. This dish sounds so much fancier than it really is. Cacciatore, which means "hunter" in Italian, is basically a savory rustic one pot stew made with vegetables and meat. While basic in the technique, the ingredients come together to create a flavorful meal. This dish really elevates a stew to something so much more. This cacciatore is an excellent example of how you can take basic ingredients and turn them into a fabulous meal. There is nothing much more gratifying than that.
The preparation of this one pot dish reminds me so much of how Coq au Vin comes together and equally as satisfying. If you've never prepared a cacciatore dish, once you make it a time or two it will easily become second nature and be part of your regular menu repertoire. A little browning of the chicken and sautéing of other ingredients is about as technical as this Chicken Cacciatore recipe gets. Once everything is combined, all of the ingredients are left to meld together into one savory, and oh so satisfying meal. This is perfect comfort food for sure!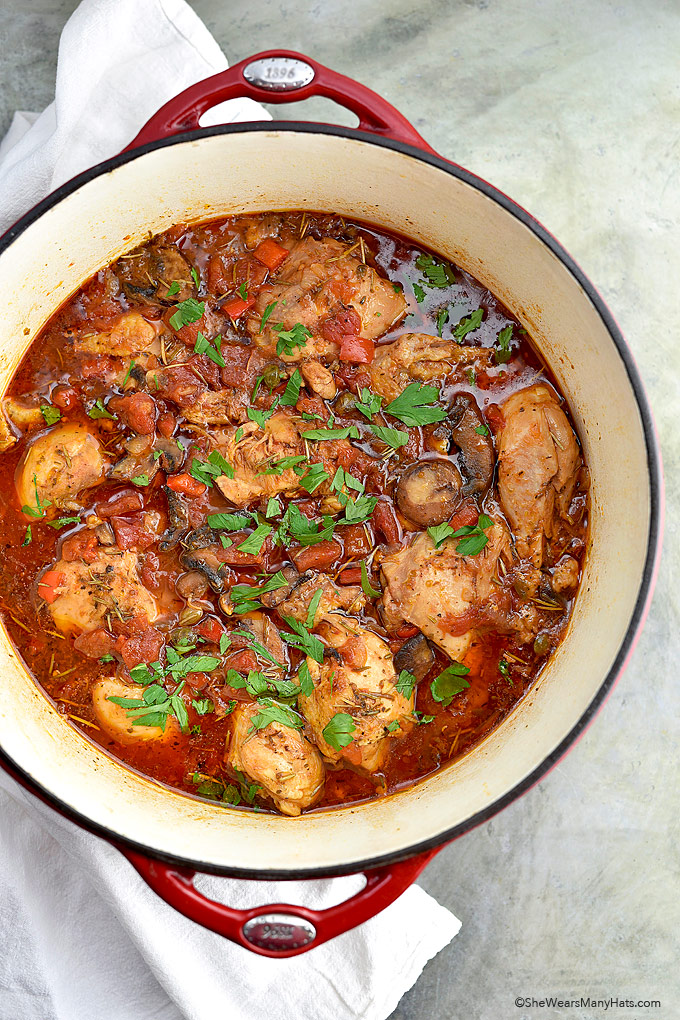 Chicken Cacciatore is perfect for making ahead of time by a day or so. It reheats very well and is great served as leftovers. Serve this dish warm with roasted veggies, mashed potatoes, pasta or rice for a hearty meal. For a lighter option serve as a stew with a tossed salad for a lighter option.
More favorite Italian comfort food recipes you'll enjoy: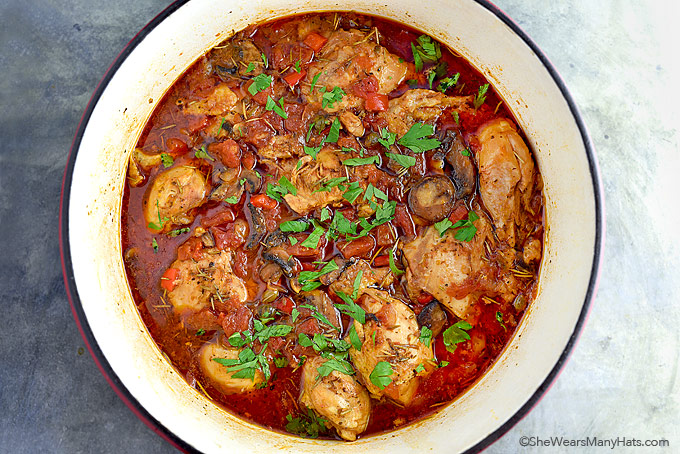 Chicken Cacciatore Recipe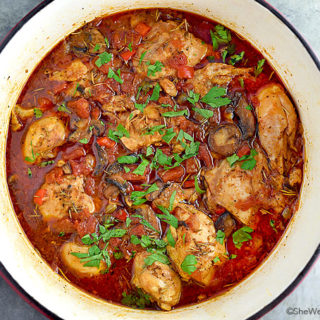 Chicken Cacciatore
Yield: 4-6

Prep Time: 15 minutes

Cook Time: 1 hour 15 minutes

Total Time: 1 hour 30 minutes

An easy classic Chicken Cacciatore Recipe made with chicken, onions, garlic, mushrooms, peppers, tomato and herbs with a bit of wine. The perfect comfort food!
Ingredients
4-4 1/2 pounds bone-in, skin-on chicken pieces, trimmed
salt and black pepper
4 tablespoons extra-virgin olive oil
1 cup diced onion
4 garlic cloves, minced/grated
8 ounces sliced mushrooms
1 cup diced red and/or yellow bell pepper (about 2 bell peppers)
1/2 cup dry red wine
2 tablespoons capers
2 teaspoons dried oregano
2 teaspoons dried rosemary
28 ounces canned diced tomatoes with liquid
1 cup chicken broth
1 bay leaf
Instructions
Season chicken pieces with salt and pepper.
Heat a dutch oven or large braising pan over medium heat. Add olive oil to the pan and heat until rippling. Working in batches, brown chicken pieces about 3 minutes each side. Remove chicken from pan; set aside.
Add diced onion and pepper to pan and saute for 5 minutes. Add mushrooms and continue to saute for another 3 minutes. Push all vegetables to one side of pan. Add grated garlic, capers, oregano and rosemary; stir constantly for 1 minute.
Stir in wine, cook for 3 minutes scraping up any brown bits from bottom of pan.
Add diced tomatoes (with liquid), chicken broth and bay leaf; bring to a low boil. Salt and pepper to taste.
Tuck browned chicken into sauce, bring to a simmer, reduce heat to low; cover and cook for a minimum of 45 minutes or up to 2 hours.
Optional garnish: chopped fresh parsley; grated parmesan.
Serving suggestions: serve warm over mashed potatoes, roasted vegetables, pasta or rice.
Notes
Fresh herbs may be substituted. If substituting fresh herbs, triple the amounts called for in recipe for dried version. Easy prep a 1-2 days ahead of time: chop vegetables, cover and refrigerate; measure herbs and cover.

Originally published September 16, 2016.