Cheeseburger Soup Recipe
Forget the drive-thru! Grab a spoon (and a fork!) for this hearty Cheeseburger Soup right at home! It's an American classic reimagined in soup form and it is oh so easy to make.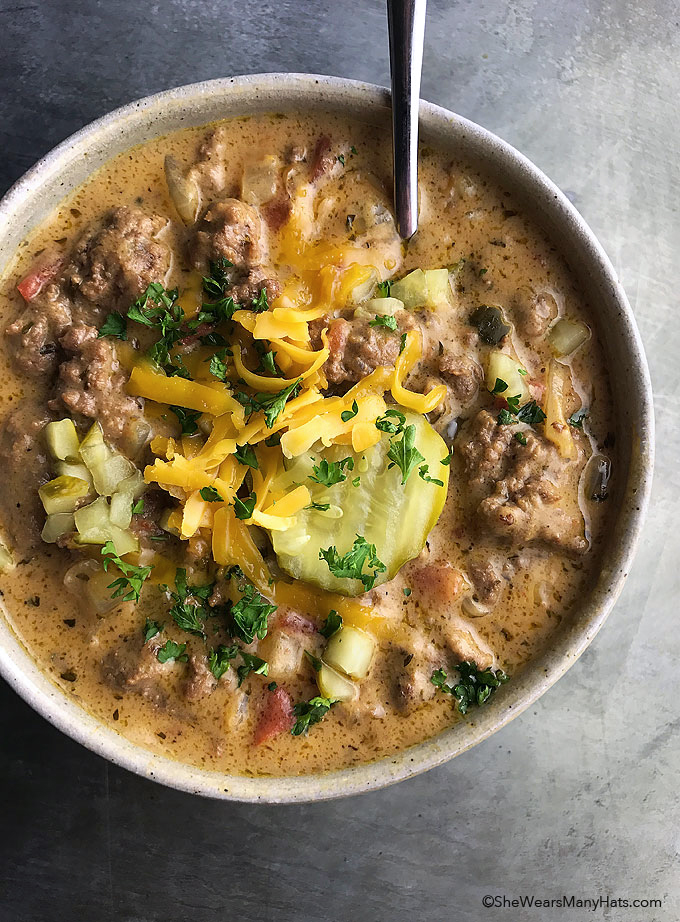 Whether you are entertaining for the Super Bowl, serving a crowd of teenagers or just have a hankering for a cheeseburger, this Cheeseburger Soup is perfectly pleasing! This easy satisfying soup is made with ground beef, cheddar cheese, onions, garlic, tomatoes, a bit of mustard, plus a hint of pickles, because what cheeseburger is complete without pickles? Just be sure to make plenty because this cheesy bowl of goodness will have everyone going back for seconds!
This soup could not be easier to make. Begin by browning ground beef in a large stock pot. Once browned, transfer the beef to a bowl or plate to wait. Saute diced onion, then in goes garlic, along with salt and pepper to saute for a quick minute before adding the flour. The flour is sprinkled over top, stirred in and cooked for a couple of minutes.
In this soup, flour is used as a thickener. Cooking it for a couple of minutes before adding the liquid helps to remove that flour-y flavor. It may even become slightly browned. That's okay! Next, add dried parsley, pickle juice, mustard, beef broth, diced tomato and the browned hamburger. Stir it all together and bring everything to a simmer. Cover and let the soup simmer for about 10 minutes. Lower the heat, then stir in half and half and the shredded cheddar cheese. Stir to combine and to melt the cheese. Cook on low for at least 10 more minutes and you're done. You're ready to dig in!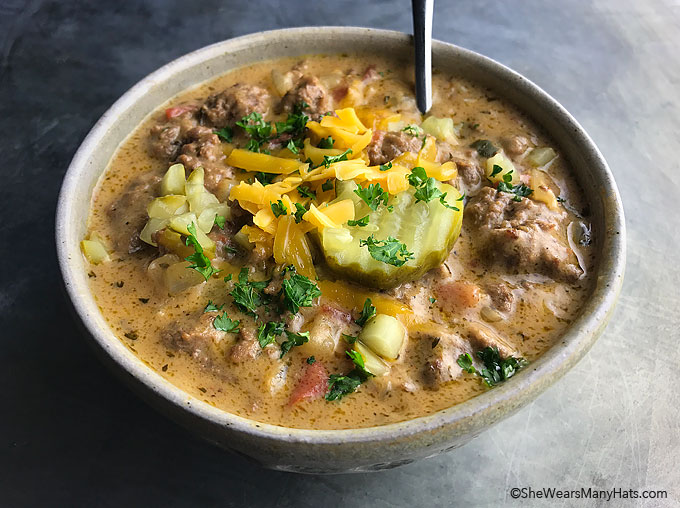 This Cheeseburger Soup reheats very well. It could be made ahead by a day or two, covered and refrigerated until ready to rewarm before serving. Serve warm with a variety of garnishes like more shredded cheese, sour cream, hot sauce, diced pickles, croutons or jalapenos.
More soup recipes perfect for entertaining:

Cheeseburger Soup
A hearty soup that tastes just like a cheeseburger.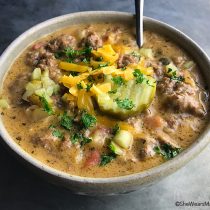 Ingredients:
2 pounds ground beef
2 tablespoon butter
2 cups diced onion
4 garlic cloves, grated/minced
1 teaspoon kosher salt
1 teaspoon ground black pepper
1/3 cup all-purpose flour*
1 tablespoon dried parsley flakes
1/2 cup dill pickle juice
2 tablespoons yellow mustard
24 ounces beef broth
14.5 ounce can diced tomatoes, drained
1 cup half and half
8 ounces shredded cheddar cheese
optional garnish: shredded cheese, sour cream, hot sauce, diced pickles
Directions:
In a large stockpot over medium heat, add ground beef. Break apart beef and cook until browned. Use a slotted spoon to transfer ground beef to a bowl or plate; cover and set aside.
Add butter to pan. Once butter has melted, add the diced onion; cook stirring occasionally for 3-4 minutes. Add garlic, salt and pepper; continue to cook stirring constantly for 1 minute.
Sprinkle flour over and cook, stirring constantly for 2 minutes. Mixture will be dry and flour may become slightly browned.
Stir in parsley, pickle juice, mustard, beef broth, diced tomatoes and browned hamburger; stir to combine well. Bring to a simmer. Cover and let simmer for 10 minutes.
Lower heat, add half and half and shredded cheese; stir until melted. Continue cooking on low heat for another 10 minutes. Salt and pepper to taste. Keep warm until ready to serve.
*If needed, substitute a gluten-free thickener.