Cheeseburger Frittata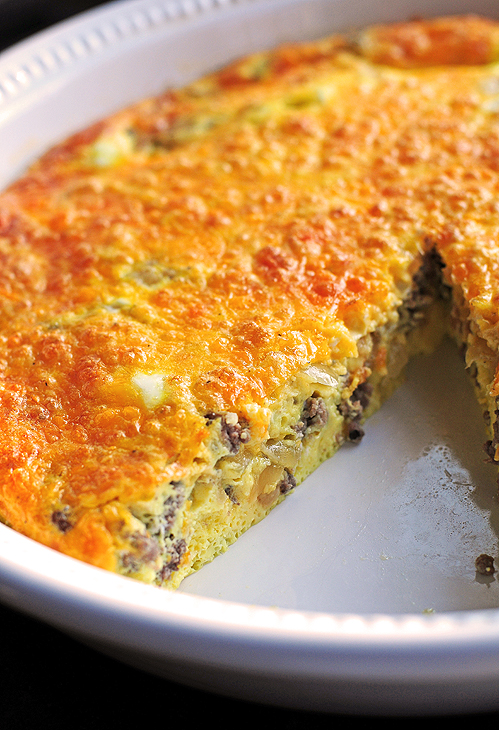 Pin It

The frittata is one of those dishes that often get overlooked as a go-to. Frittatas are quicker cooking and a tad lighter than their fancy cousin, the quiche, having no crust, or heavy cream. And similar to an omelet, they're the perfect no carb vehicle for a variety of flavor combinations, which is a good thing since I was in the mood for a cheeseburger, without the carbs along for the ride. Hence the Cheeseburger Frittata.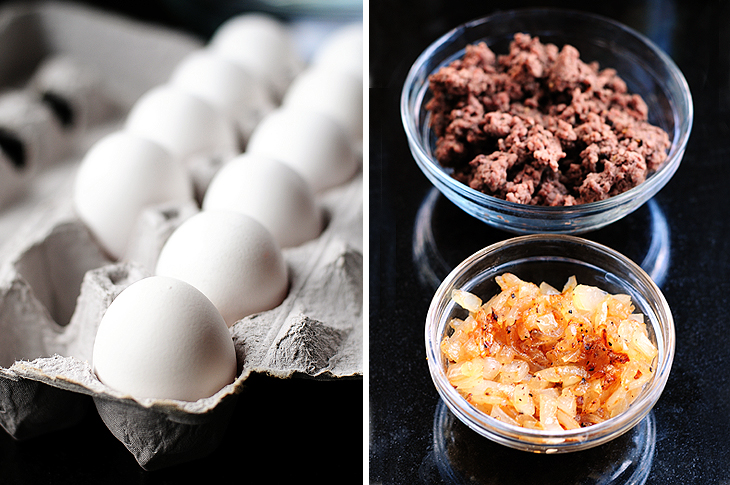 For this Cheeseburger Frittata, cheddar, sautéed onions, and browned hamburger, seasoned with salt, pepper and our favorite hamburger addition, garlic powder were added. But create your Cheeseburger Frittata your way. Bacon, tomatoes, and/or sautéed mushrooms would be great additions too.
Frittatas are commonly cooked in a skillet stovetop, then finished in the oven, but I baked this one in a pie pan in the oven for the whole cook time. It worked fine and I liked the lighter texture a little better than the more firm bite with most frittatas that I've made stovetop.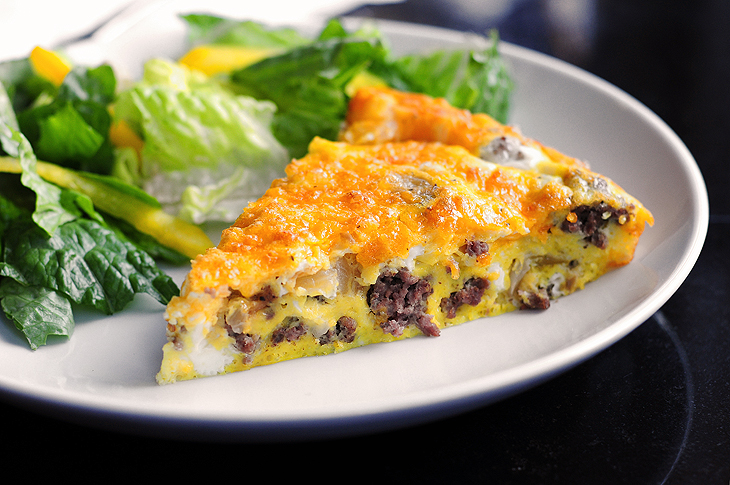 It's not only a great option for breakfast, but served with soup or salad, Cheeseburger Frittata would be perfect for brunch, lunch or supper. (And if you wanna enjoy it with a squirt of ketchup, I won't tell.)
Enjoy!

Cheeseburger Frittata
Serves: Makes one 10\" pie pan.
Ingredients
12-16 ounces (weight) ground beef
¼ teaspoon + dashes salt, divided
¼ teaspoon + dashes pepper, divided
¼ teaspoon + dashes garlic powder, divided
1 tablespoon olive oil
1 medium-large onion, chopped
10 large eggs
3 tablespoons milk
4 ounces (weight) cheddar cheese, shredded, divided
optional additions: bacon, sautéed mushroom, sliced/diced tomatoes
Instructions
Preheat oven to 400°F.
Butter or coat with cooking spray pie pan. (I used a 10" pie pan for this recipe, but a 9" deep dish should work as well.)
Brown hamburger with a few pinches/dashes of salt, pepper and garlic powder.
Heat olive oil over medium heat and sauté onion with a pinch of salt and pepper until translucent.
Beat together eggs, milk, ½ of shredded cheddar cheese, and ¼ teaspoon of each: salt, pepper, and garlic powder.
Evenly distribute the browned hamburger on the bottom of the pie pan, then top with sautéed onions.
Pour the egg mixture over the top of hamburger and onion. Top with remaining cheese.
Bake in 400°F oven for 15-20 minutes until set. (I used a 10" pie pan, so adjust cooking time accordingly for different size.)