Eggs in Purgatory Recipe
Eggs in Purgatory is a spicy savory dish that is perfect for brunch.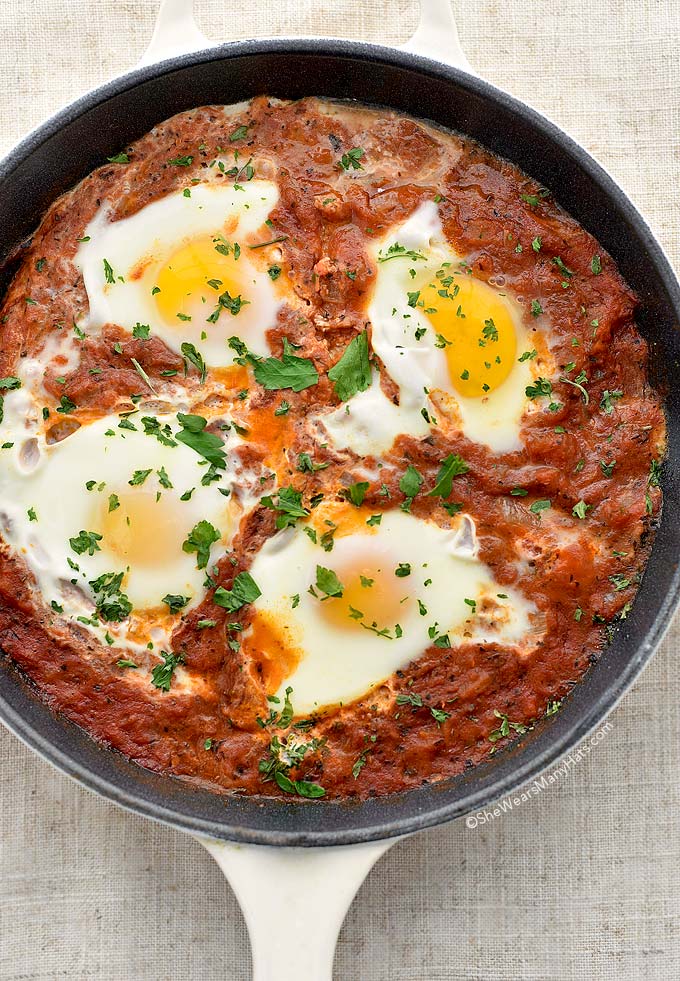 Brunch has come to be one of my favorite meals to prepare. What's not to like? All the foods are acceptable brunch fare, plus I like casual. And brunch is usually casual. The perfect brunch begins with a lazy morning, maybe a cup of coffee or tea, some extra lollygagging time allowed to wake up enough to see straight, perhaps peruse the news, then get to cooking. There's no other meal quite like it. 
Lately my favorite brunch dish (and lunch and dinner dish too) has been Eggs in Purgatory. I've made it weekly, sometimes twice in a weeks time. Yes, it's that good. Savory and spicy, Eggs in Purgatory is such a satisfying dish, and it's very easy too which makes it that much better! Eggs in Purgatory can be served just as is with a side of crispy toast, or serve it over polenta or grits for an even more filling meal.
I spend quite a bit of time on Pinterest and my Brunch board is by far one of my favorite food boards. It never ceases to trigger my appetite. If you're a fellow pinner be sure to check it out. I'm sure you'll find all sorts of dishes to fill a brunch menu and then some!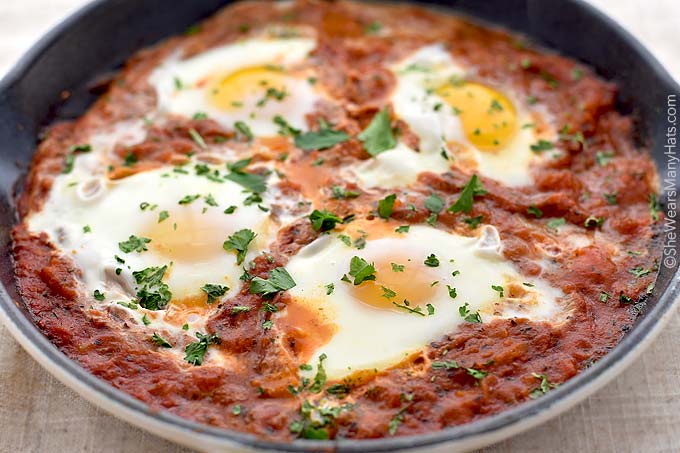 A few Eggs in Purgatory recipe notes:
For a heartier meal, serve over polenta or grits.
The recipe below calls for cooking the eggs directly in the tomato sauce. If cooking for a crowd or if eggs of different doneness are preferred, the eggs may be cooked separately then served over the tomato sauce. Poached eggs may even be made ahead and rewarmed to serve with this dish.
This recipe is fairly spicy. If spiciness is a concern, adjust to taste accordingly.
Here are some other breakfast or brunch recipes to start your day with:
Eggs in Purgatory Recipe
This spicy savory breakfast or brunch dish is totally satisfying way to start the day. Serve over polenta or grits for a heartier meal.
Author: ©Amy Johnson | She Wears Many Hats
Recipe type: Breakfast
Serves: 2-4
Ingredients
3 tablespoons extra virgin olive oil
½ large onion, small dice
2 garlic cloves, peeled and minced
1 tablespoon dried oregano
¼ teaspoon ground turmeric (if needed, curry powder would be the closest substitute)
¼ teaspoon cumin
¼ teaspoon paprika
⅛ (a pinch or two) teaspoon ground red pepper
¼ teaspoon ground black pepper
½ teaspoon kosher salt
15 ounces canned diced tomatoes (fire-roasted are delicious if you can find them)
4 large eggs
for garnish: fresh parsley or cilantro
Instructions
Heat oil over medium heat in a 10-12-inch skillet.
Add onion and cook, stirring occasionally, until golden, about 4-5 minutes; add the garlic and cook for an additional 1-2 minutes more. 
Lower the heat to medium-low. Add oregano, turmeric, cumin, paprika, red pepper, black pepper and salt. Cook about 1 minute to toast spices.
Add tomatoes, bring to a boil, reduce to a simmer and continue to cook for a few minutes, stirring occasionally, until thickened. Using a potato masher or back of large spoon, crush the tomatoes a bit.
Crack the eggs into the sauce and cover. Simmer gently until the whites are set and the yolk is still runny.
Salt and pepper to taste. (See other options for cooking eggs in notes.)
To serve spoon sauce over prepared polenta or grits, top with egg(s). Sprinkle with fresh parsley or cilantro. Serve with toasted bread.