Polenta Pizzas Recipe
Delicious Polenta Pizzas with herbed goat cheese, and sautéed mushrooms and peppers are fantastic served as an appetizer as well as an option for a lighter meal. These can be easily prepped ahead too, which make them the perfect party food for entertaining.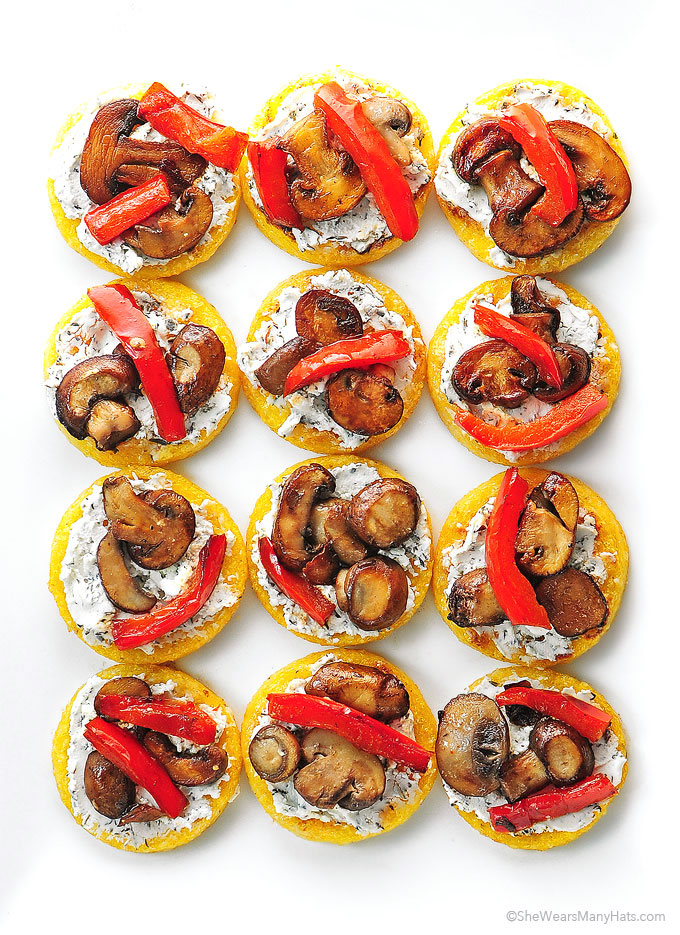 As a Southern girl raised on grits, these easy Polenta Pizzas are right up my alley. Polenta rounds are topped with with herbed goat cheese, sautéed mushrooms and bell peppers. They're delicious and totally filling for an appetizer or main entree.
While these are topped with goat cheese, mushrooms and peppers, other toppings can be substituted. Try a different combination of herbs, cheeses and roasted vegetables for an endless variety of flavors. Havarti with sautéed sweet onions perhaps? Or Gouda with sun dried tomatoes? Yummy!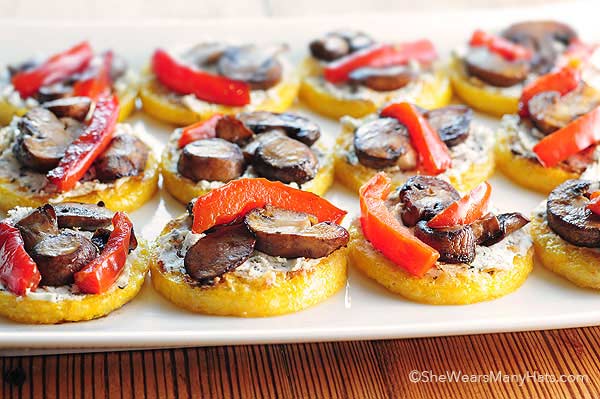 What I like about these (other than their taste!) is that they are perfect for entertaining. These Polenta Pizzas can easily be prepped ahead of time. Toast them ahead of time, and refrigerate covered. When ready to serve, place back on a baking sheet, add toppings and rewarm in oven.
More easy appetizer recipes you'll enjoy:
Polenta Pizzas
Simple and filling appetizers.
Author: ©Amy Johnson | She Wears Many Hats
Serves: Makes 24.
Ingredients
5 ounces goat cheese, chèvre
1 teaspoon McCormick® Gourmet Collection Basil Leaves
1 teaspoon McCormick® Gourmet Collection Thyme Leaves
1 tablespoon olive oil
2 cups sliced mushrooms
1 red bell pepper, cut in ¼-inch strips and halved
24 ounces ready-to-eat polenta in a roll
Instructions
In a small bowl, mix tougher goat cheese, basil and thyme until well blended. Set aside.
Heat oil in large skillet on medium-high heat. Add mushrooms and bell pepper and sauté about 8 minutes, or until peppers are tender. Remove from heat; keep warm.
Cut polenta into 24 (1/4-inch) thick slices. Place slices on large baking sheet coated with no stick cooking spray. Broil 5 to 7 minutes per side.
Spread herbed cheese mixture on each broiled polenta slice. Top with mushrooms and peppers. Serve warm.
To keep warm return to baking sheet, cover lightly with aluminum foil and keep in warm oven up to one hour, until ready to serve.
Notes
Slightly adapted from McCormick.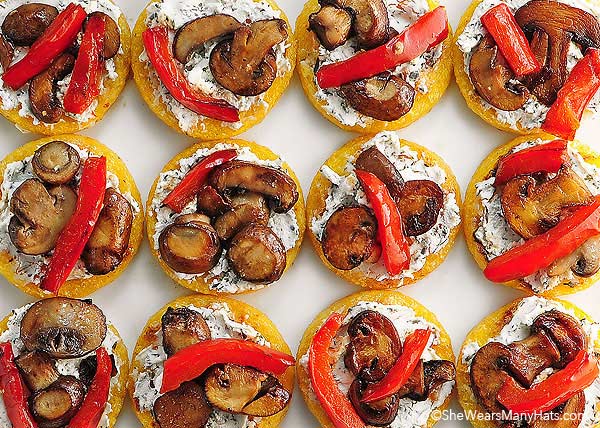 Originally posted December 30, 2013. Updated September 29, 2015.