Spinach Artichoke Dip Recipe
Make a batch of this Spinach Artichoke Dip for your next get together and watch the smiling faces crowd around with a chip in hand.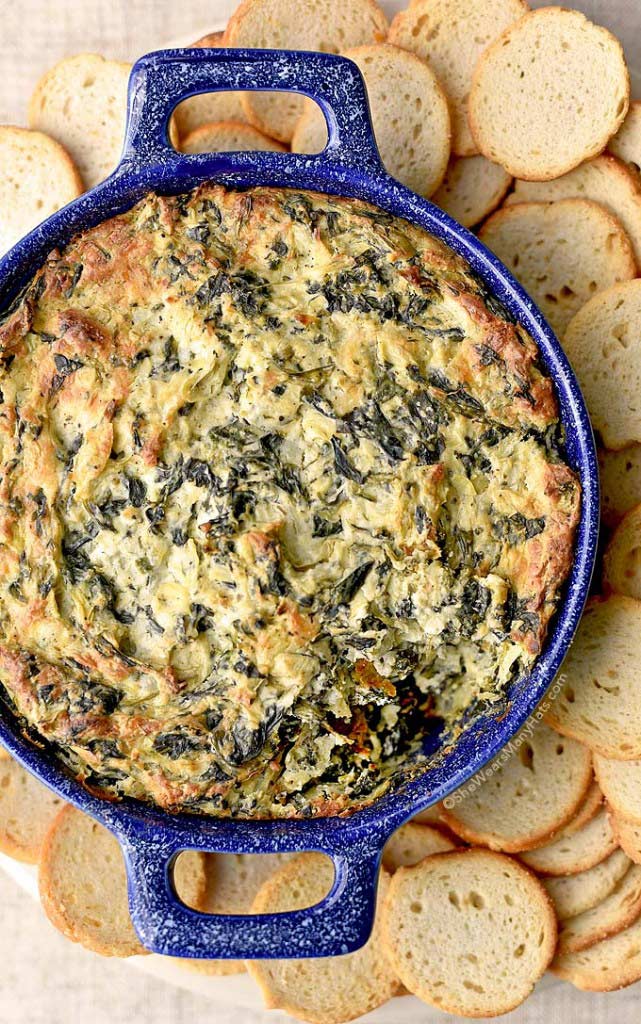 This Spinach Artichoke Dip recipe, slightly adapted from Perfect One Dish Dinners by Pam Anderson (one of my favorite cookbooks, by the way), is warm and cheesy and full of great flavor. This dip is an excellent party food, and a favorite for so many. Plus there is spinach involved so you can sorta count it as partially healthy. It will disappear very quickly so you might want to go ahead and make a double batch. It's the perfect appetizer to take to parties, gatherings, or tailgating. or here's a handy dandy tip, spring it on some toast for a yummy snack.
This scrumpdilicious Spinach Artichoke Dip can easily be prepared a day or two ahead of party time. Just mix all the ingredients together and refrigerate covered until ready to bake and it has reached bubbly gooeyness. Once it is baked it can be kept in a warm oven until ready to serve.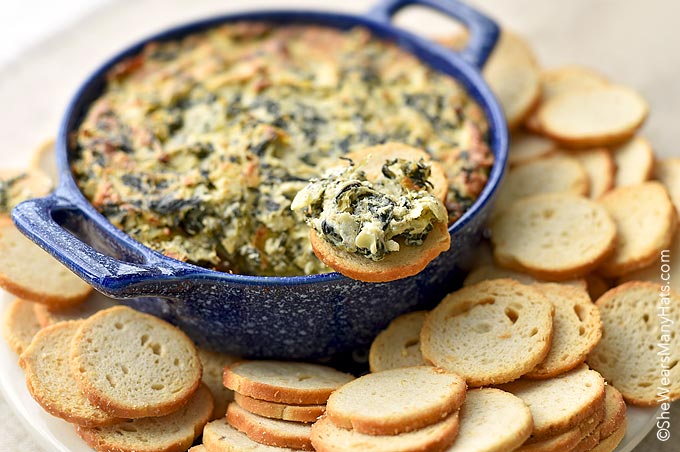 Spinach Artichoke Dip Recipe
This favorite dip is made with spinach and artichoke hearts and is a delicious addition to any party food menu.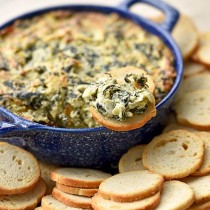 Ingredients:
8 ounces cream cheese, slightly softened
1/4 cup mayonnaise
1/4 cup sour cream
1/4 cup grated Parmesan
3/4 cup shredded mozzarella
1/2 teaspoon Italian seasonings
1/2 teaspoon garlic powder
1/2 teaspoon ground black pepper
1/4 teaspoon salt
1 (10-ounce) package frozen chopped spinach, thawed and drained (squeeze out excess water)
1 (14-ounce) can artichoke hearts, drained and roughly chopped
Directions:
Preheat oven to 400-degrees F.
Combine cream cheese, mayonnaise, sour cream, Parmesan, mozzarella, Italian seasonings, garlic powder, black pepper and salt together in a mixing bowl until incorporated. Add in spinach and chopped artichoke hearts and mix to combine.
Transfer mixture to a baking dish and bake until heated through and bubbly, about 20-25 minutes.
More tasty party dip recipes:
Originally published January 9, 2015.
Products Used in this Recipe: (contains affiliate links)