Peach and Goat Cheese Bruschetta Recipe
A summery bruschetta recipe made with fresh peaches and goat cheese.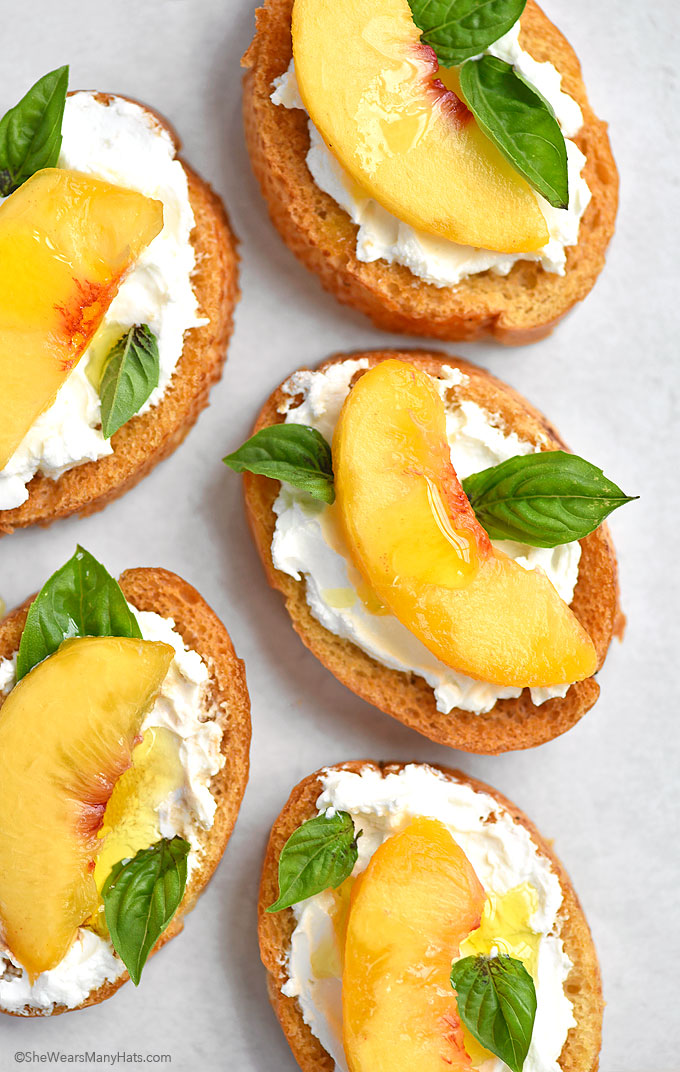 Fresh peaches are busting out in bushel loads around here and I couldn't be happier. We're fortunate to benefit from them being grown locally, something we would truly miss if we ever moved away from South Carolina. We use them in all kinds of recipes like Peach Cobbler, Peach Smoothies, Peach Salsa, Peach Ice Cream, and Fried Peaches. This time of the year in South Carolina it's like being the Forrest Gump of peaches. Of course one of the very best ways to enjoy a ripe peach is to peel it, slice it up, and eat it fresh all by itself. Goodness!
Last week we had a few very ripe peaches and some leftover bruschetta toast on hand so I combined them with a slathering of goat cheese, fresh baby basil leaves from the garden and a drizzling of good olive oil to make this irresistible sweet and savory Peach and Goat Cheese Bruschetta recipe. And irresistible it was! It was an excellent use for those ripe peaches. Excellent indeed! I think you'll enjoy this one very much. Happy peach season, y'all!
Bruschetta toast tip:
One tip I've found for making the best toast for bruschetta is to use Olive Oil Spray. Originally I purchased it to use with grilling chicken or vegetables and misting on salads but I've found it quite perfect for making the best toast. I lightly mist both sides of thinly cut slices of Italian bread, place them on a baking sheet and bake them at 350-degrees F until toasted on both sides. Flipping them halfway through. Takes maybe about 10-15 or so. It's perfect every time and not overly greasy.
Peach and Goat Cheese Bruschetta Recipe
A perfect summer appetizer made with fresh peaches and goat cheese.
Author: ©Amy Johnson | She Wears Many Hats
Recipe type: Appetizer
Serves: 4
Ingredients
8 slices Italian bread, toasted
3 ounces goat cheese
8 slices fresh peach
small bunch of fresh basil leaves
1-2 tablespoons good olive oil
pinches of salt and pepper
Instructions
Spread goat cheese on toast. Top each with a slice of fresh peach, basil leaves, and a light drizzling of olive oil. Salt and pepper to taste.
servings.