Homemade Bird Dog Pizza Recipe
Craving pizza? Plan a pizza night at home. This homemade Bird Dog Pizza recipe will become your new favorite for pizza night. Watch it disappear right before your eyes quicker than you can slice it up!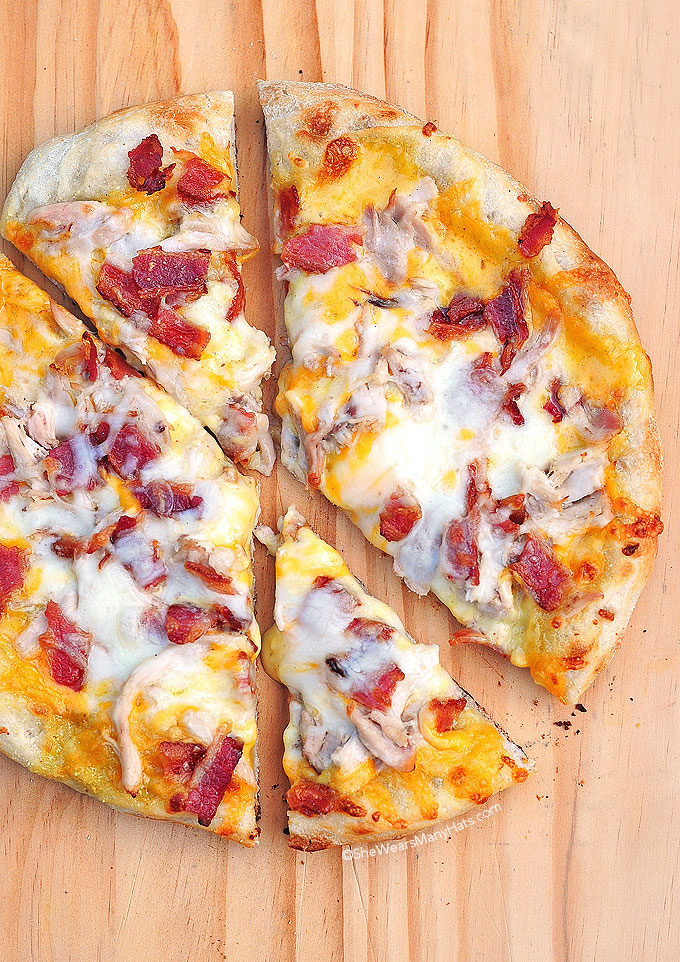 In the scheme of all things pizza, I have my regular favorites, mushroom and hamburger come to mind. I can tend to get pretty stuck on the same thing, especially when it comes to food. A few weeks ago we had homemade pizza night, and set out to make a variety of our favorites. Three combos made the final cut, a basic, yet hard to beat, Magherita Pizza (another one of my favorites), BBQ Chicken Pizza, and this sneaky good (and good is quite the understatement) Bird Dog Pizza.
Recently our daughter shared a recipe for a local favorite, The Southern Bird Dog: a fried chicken tender snuggled in a hot dog bun, along with some bacon, honey mustard, and a bit of cheese. It sounds odd enough, for sure, but the combination is quite satisfying: a soft bun contrasted with crispy bacon and a crunchy chicken tender, mingling with zesty honey mustard, and melty cheese … so very good indeed!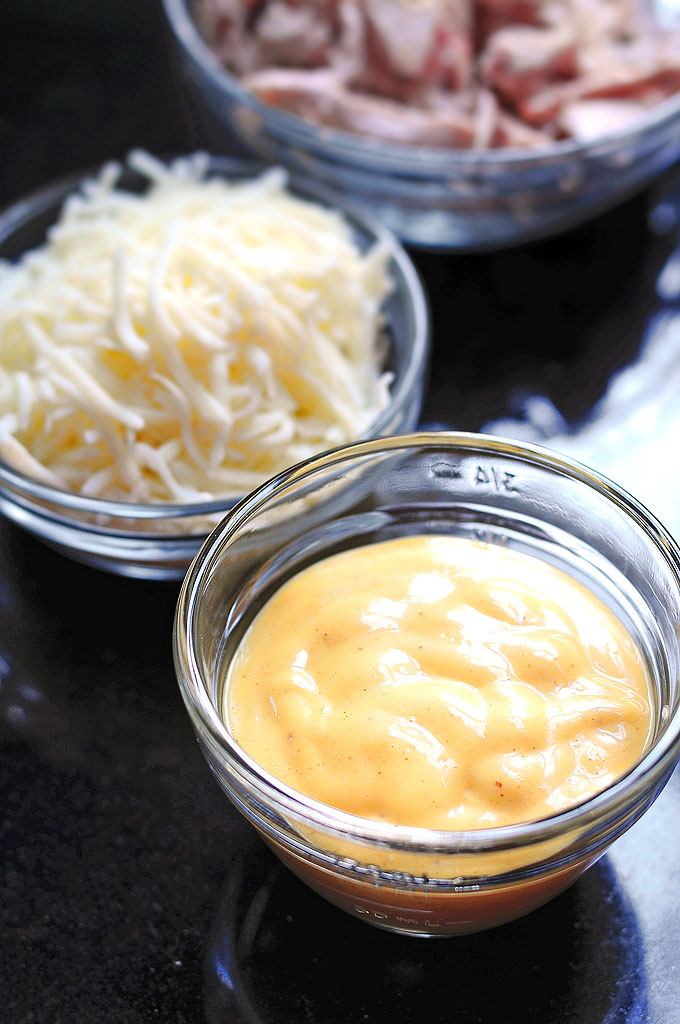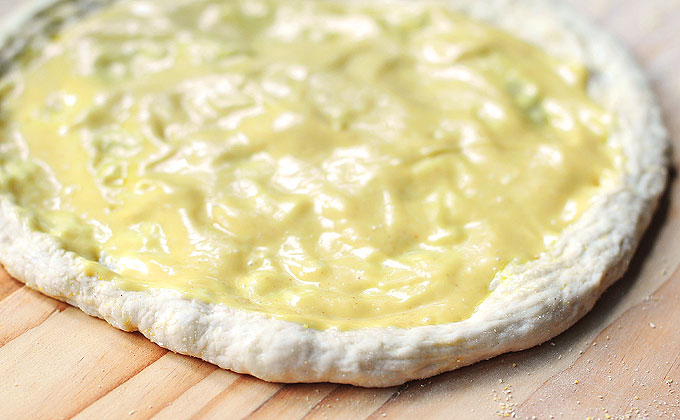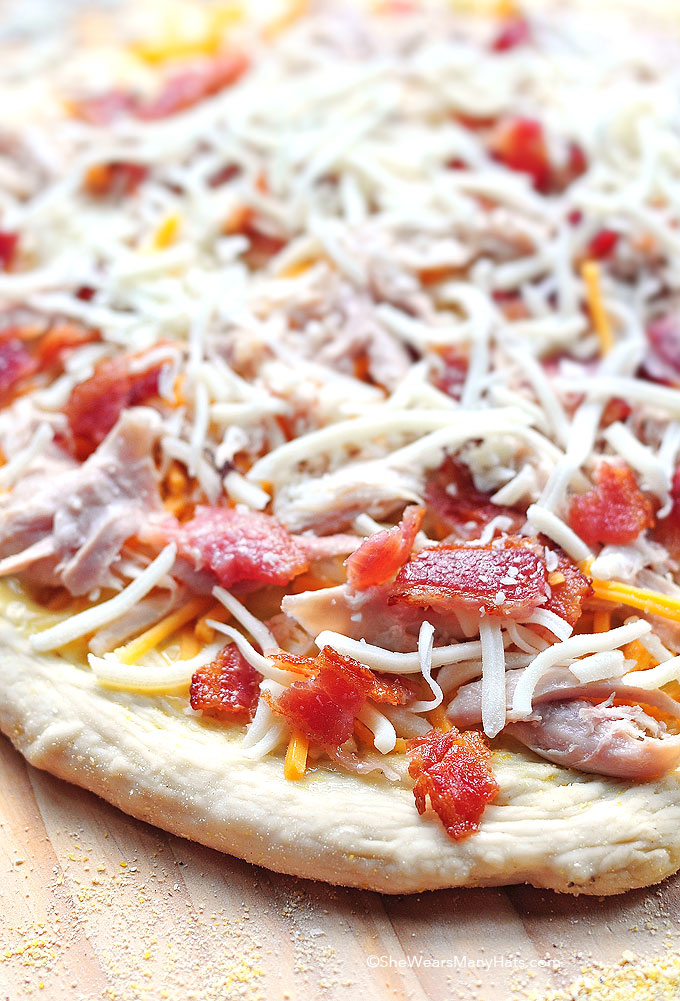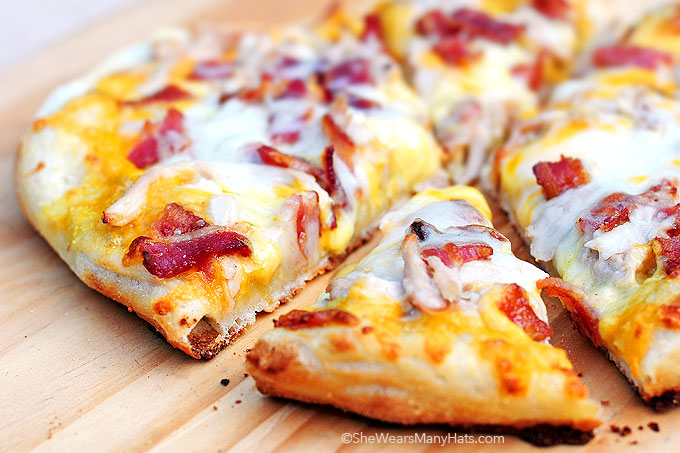 This Bird Dog Pizza recipe is the basic Bird Dog recipe in pizza form. The Bird Dog pizza is also available from a local pizza restaurant. It's our son's favorite one to order. He orders it every single time we get take out, and every single time I sort of cringed thinking how odd it must be. That is until I tried it myself during that one very satisfying homemade pizza night a couple of weeks ago. No more cringing from me. No sirree bobtail. I couldn't believe how unbelievable the combination was in pizza form. We were all fighting for the last piece.
Since then we've made this crazy tasty pizza a couple of more times right at home. I guarantee it will be a regular feature for our future homemade pizza nights. Definitely. Try it yourself. I think it'll become a favorite for your crowd too! Plan a homemade pizza night soon and make this easy and totally satisfying Bird Dog Pizza part of the lineup. But be prepared, you may have orders for take out.
Making pizza at home is so much fun to do, especially with a group of friends or family, but there are a few simple tools that can help make it much easier:
Pizza Peel: A wooden pizza peel makes it easy to slide pizza on and off and on to the grate.
Pizza Stone: A sturdy pizza stone will help the crust cook evenly. It can be used in an oven or grill.
Pizza Cutter: A good pizza cutter OR multi-purpose kitchen shears are handy when it comes to cutting pizza.
Corn Meal: Even though corn meal really isn't a tool, we have found it handy dandy when making pizza crust. With a bit of corn meal sprinkled on the peel, the crust easily slides off to bake, plus it adds a little bit of crunch too.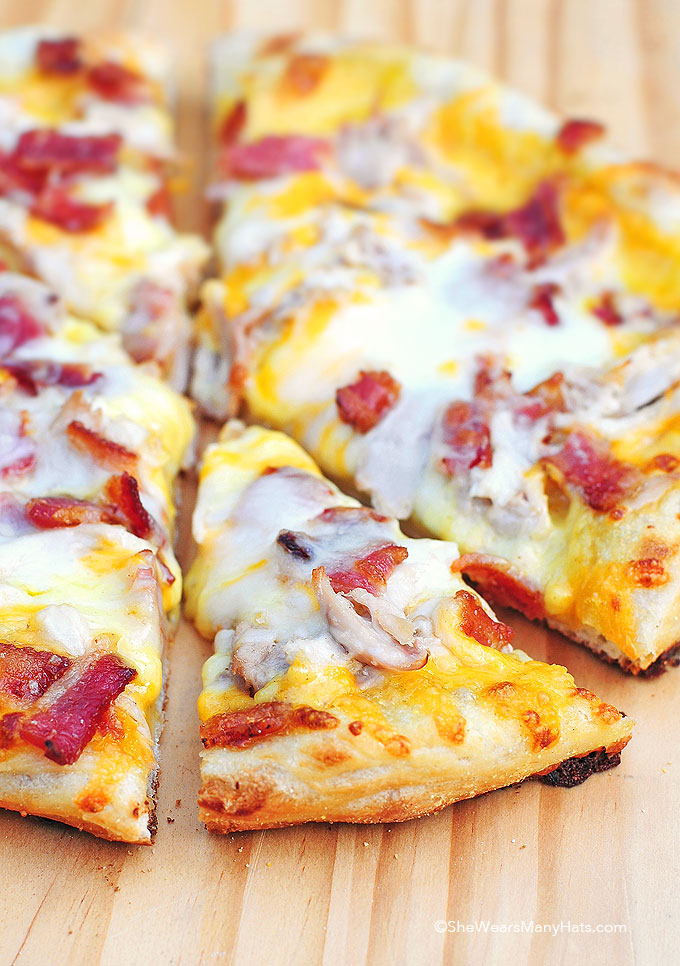 Homemade Bird Dog Pizza Recipe
This tasty pizza may surprise you! It's a crowd pleaser and can be made right at home.
Author: ©Amy Johnson | She Wears Many Hats
Recipe type: Main
Serves: 4
Ingredients
pizza dough, enough for 2 crusts, approximately 10-inches each
about 2 teaspoons olive oil (just enough to brush on crusts)
½ cup honey mustard
1½ cup shredded mozzarella, divided
½ cup shredded cheddar cheese
4 pieces fried bacon
4 ounces roasted chicken, shredded and/or cut up (about ¾ cup)
Instructions
Preheat grill or oven to 600-degrees F.
Prepare pizza crusts.
Brush pizza crusts with olive oil.
Divide honey mustard between crusts and spread evenly. Repeat with 1 cup of the cheeses, bacon, and chicken. Evenly spread the remaining ½ cup cheese on top of pizzas.
Place pizzas on a pizza stone or directly on grate and bake for 600-degrees F for about 8 minutes or until done.