Hummus Olive Goat Cheese Flatbread Recipe
This is a Sponsored post written by me on behalf of Sabra Dipping Co, LLC. for SocialSpark. All opinions are 100% mine.
This post is sponsored by Sabra.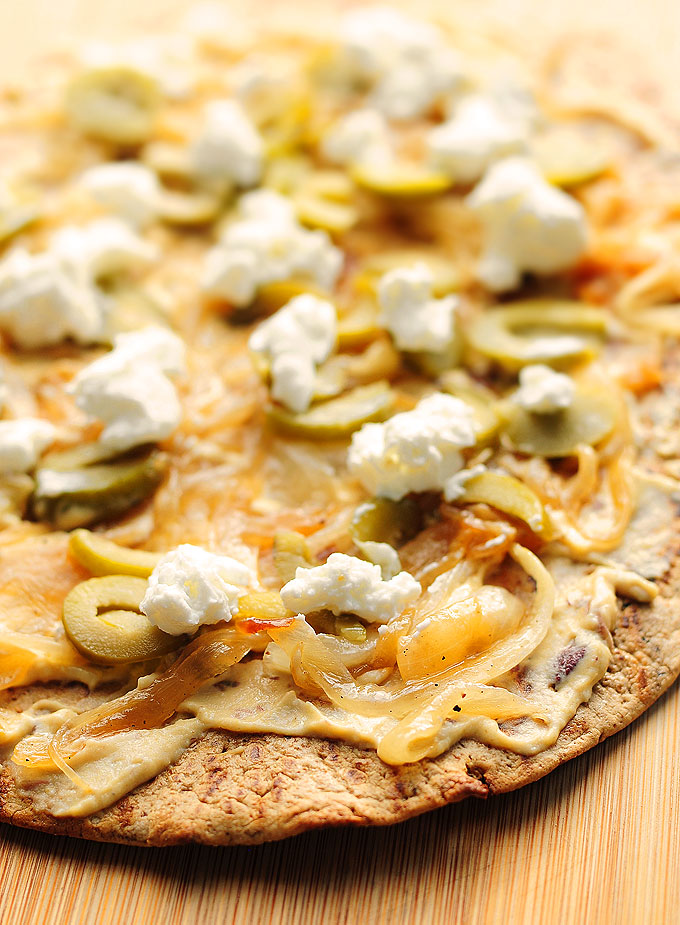 This Hummus Olive Goat Cheese Flatbread Recipe makes an easy option for lunch, snack-time, or dinner.
I know I've said it before, but it's worth repeating: a simple, flavor, and texture-filled recipe is hard to beat when it comes to busy weeknight meals. Or a short lunch hour. Or a lazy Saturday evening.
While we usually enjoy hummus as a dip, with chips or veggies, this protein- packed, universally loved food, can also be used as the basis for many simple recipes. It works as the perfect foundation for this easy Hummus Olive Goat Cheese Flatbread Recipe. These flatbreads are quick to make and would be great for serving as a party appetizer, lunch, or a light dinner.
If you're an olive fan, you're really going to love this Hummus Olive Goat Cheese Flatbread Recipe flavor combination: olives, sautéed onions, goat cheese, with hummus spread on top of a crispy flatbread. Yum! I was even able to find one of our favorite Sabra Hummus flavors to use in this recipe, Olive Tapenade Hummus. Of course any hummus flavor can be used for these flatbread, but if you're an olive fan, do try to hunt down this Sabra Olive Tapenade Hummus. I think you'll like it.
As I said before, the recipe prep for these flatbreads is easy. After grill or toasting the flatbreads (or tortillas) to crisp them up, spread a layer of hummus, followed by the sauteed onions, and sliced olives, then topped with crumbled goat cheese. You can eat it right away, or warm it a little more in the grill or oven to melt the cheese a bit if desired. It's such a satisfying savory bite, with the perfect crunchy base.
Like Sabra on Facebook to keep up with recipes featuring tasty Sabra products.
Enjoy!
Hummus Olive Goat Cheese Flatbread Recipe
Author: ©Amy Johnson | She Wears Many Hats
Serves: 2-4
Ingredients
3 tablespoons olive oil, divided
1 large onion, sliced
salt
pepper
2 (7-8 inch) flatbreads or tortillas
6 tablespoons Sabra Hummus
1½ ounces sliced olives
2 ounces goat cheese
Instructions
Heat 1-2 tablespoons olive oil in a skillet over medium heat to just coat bottom of pan, add sliced onions with a few pinches of salt and pepper and sauté for about 6-8 minutes, until softened.
Heat grill or oven to 325-degrees F.
Lightly brush flatbreads with olive oil on both sides and and place on grill or oven grate, grill on each side for about 1-2 minute, being watchful not to burn.
Spread half of hummus on one side of each flatbread, divide and spread olives and onions evenly across hummus. Sprinkle with crumbled goat cheese and a few pinches of salt and pepper.
Grill for an additional 3-5 minutes or until cheese is melty.