Easy Caprese Pasta Salad Recipe
Easy Caprese Pasta Salad is the perfect, Italian-inspired dish to bring along to any of your fun, warm-weather get togethers.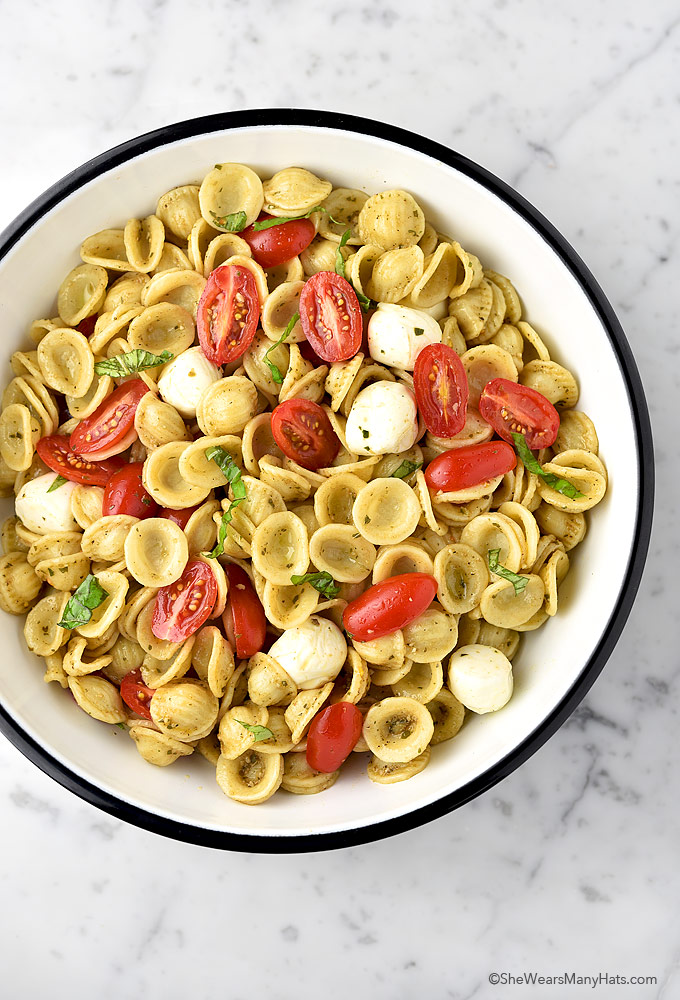 When the weather turns warmer, pasta salad becomes a staple for all of our potlucks, cookouts and family dinners. I think we all know the great merits of a pasta salad, it is filling but not too heavy, perfect for sharing, it can be made ahead of time, and the leftovers are sublime. This easy Caprese Pasta Salad is a delicious way to mix up our favorite cookout classic. The flavors are so fresh with a zesty Italian spin, you might have a hard time finding any leftovers.
Over the years I've made this pasta salad several times, never measuring the ingredients, just combining our favorite Caprese flavors, plus a bit of basil pesto until it tastes just right. I finally got around to measuring the ingredients to share with you, and our daughter, who has become quite the Caprese salad fan.
This Caprese Pasta Salad recipe could not be easier to prepare. All of the ingredients are pretty basic, maybe with the exception of pesto. Although if you have never made pesto, you will find it super simple and will soon be adding it to all kinds of dishes. Of course, you can also buy pre-made pesto from most grocery stores. There are some that are quite nice without a bunch of preservatives.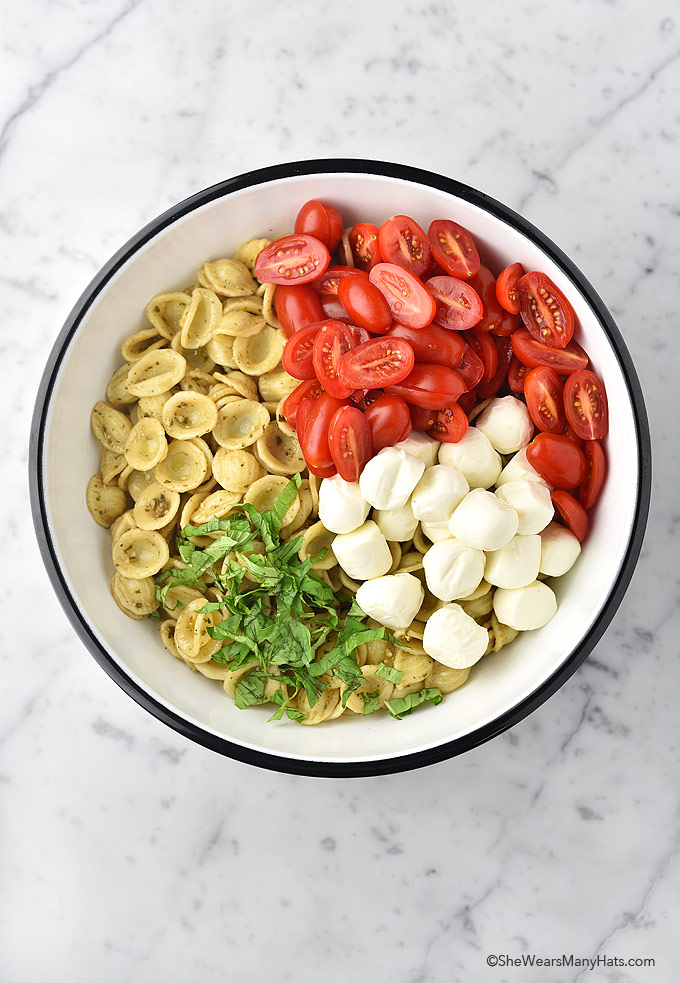 As with most pasta salads, this one can be made ahead of time by a couple of days which makes it perfect for entertaining or making a batch to have ready for lunch during the week. Just keep covered and refrigerated.
More easy pasta salad recipes to try: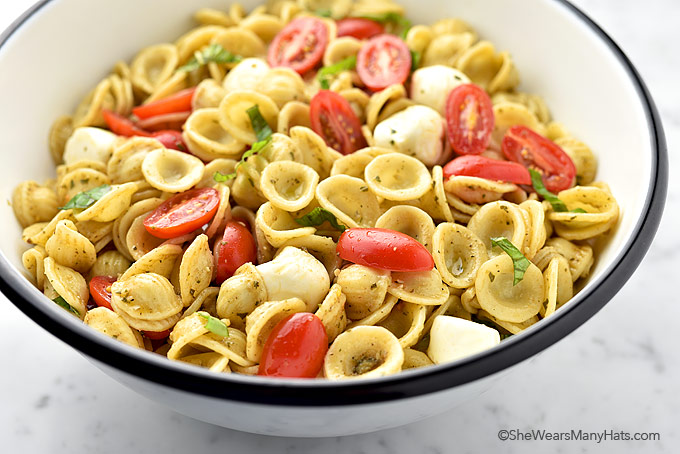 Easy Caprese Pasta Salad
This easy Caprese Pasta Salad is the perfect, Italian-inspired dish to bring along to any of your fun, warm-weather get togethers.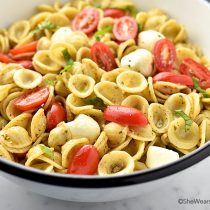 Ingredients:
1 pound orecchiette pasta (or substitute your favorite pasta)
1/4 cup basil pesto
2 tablespoons olive oil
2 tablespoons balsamic vinegar
1/2 teaspoon salt
1/2 teaspoon ground black pepper
8 ounces (weight) grape or cherry tomatoes, halved
8 ounces small fresh mozzarella balls (or fresh mozzarella cut into bite-sized pieces)
5 large fresh basil leaves, finely chopped
Directions:
Cook pasta according to package instructions.
While pasta is cooking, in a large bowl, whisk together pesto, olive oil, balsamic vinegar, salt and black pepper in a bowl. Drain pasta, add warm pasta and toss to coat. Add additional salt and pepper to taste. Let cool for at least 10-15 minutes, before adding remaining ingredients.
Stir in tomatoes, mozzarella, and fresh basil.
Cover and refrigerate until ready to serve.