Vanilla Cheesecake Recipe
This Vanilla Cheesecake Recipe is a classic favorite that is delicious all by itself or topped with a myriad of delectable toppings.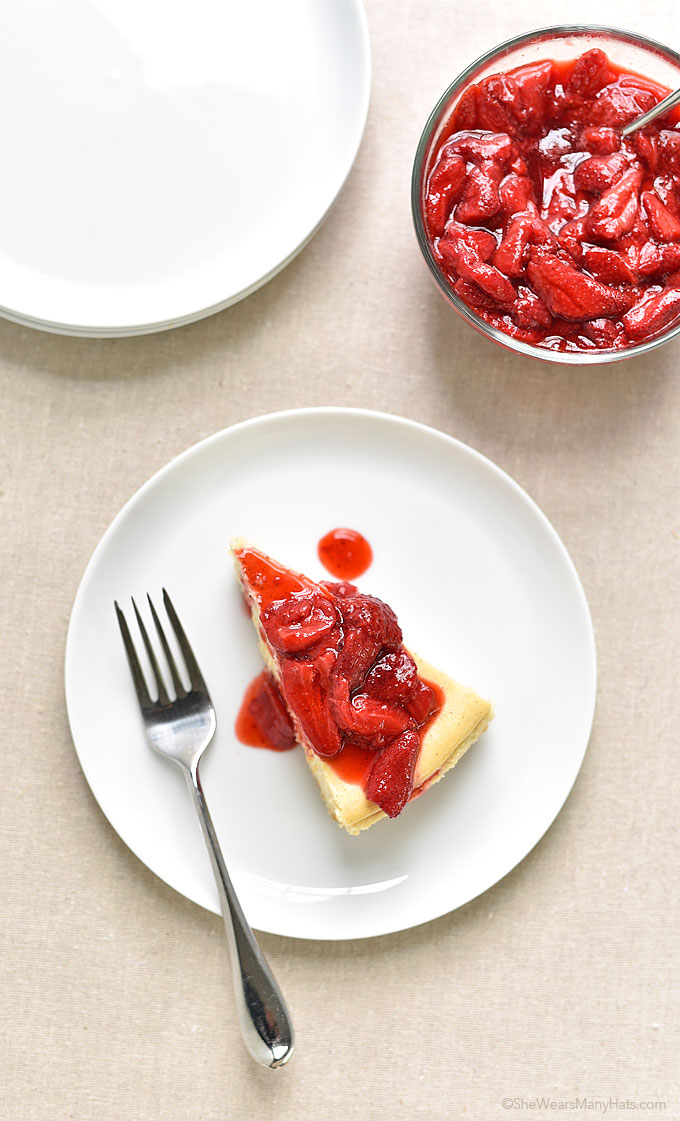 Is it just me or did the name "cheesecake" throw anyone else off? For a long time I remember not caring to try cheesecake because I just didn't like the way it sounded. When I thought cheesecake I thought of cheese, like cheddar or Swiss. The thought of that in a cake? Not so much.
Come to think of it there are other really good foods with with not so good names. Doughnuts, for example. What do nuts have to do with it? How about hot dogs? Disturbing. Consider aspic? Or not. Black eyed peas? For goodness sakes. Then there's red eye gravy or sawmill gravy. Neither of which sound the least bit appealing.
Thankfully, eventually I learned that names don't necessarily do anyone or anything justice. Especially cheesecake. Just think if we missed out on the rich, creamy deliciousness that is cheesecake because of the name? That would be very sad. Very sad, indeed. Still, I think "creamilicious pie" or something of the sort would be much better.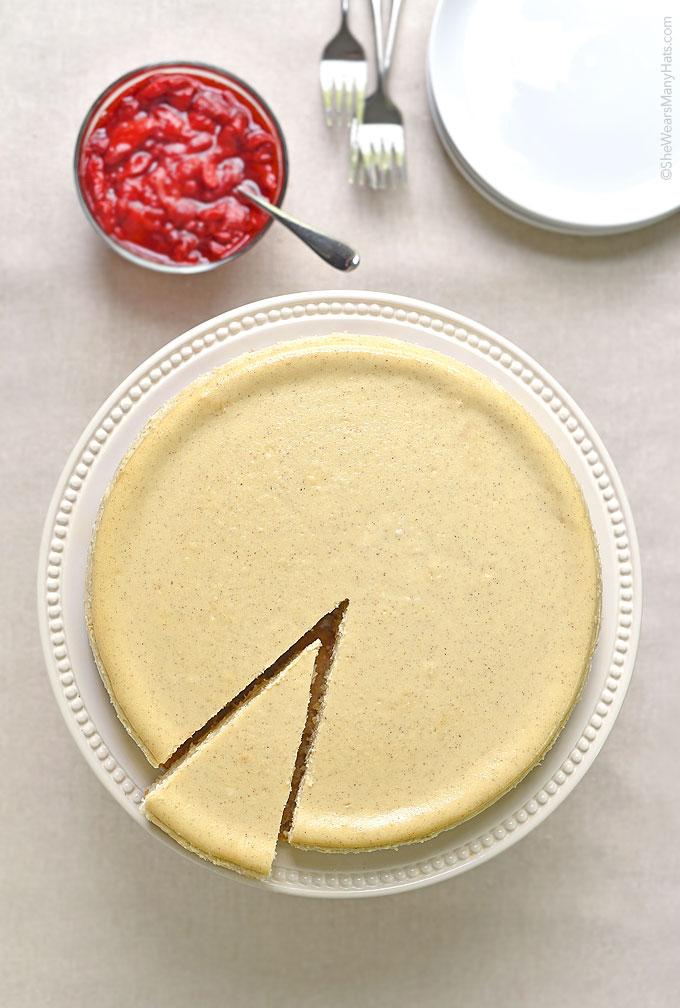 Despite the name, cheesecake should not be missed. This Vanilla Cheesecake Recipe is a classic favorite. Top with a sauce of berries, caramel or chocolate for a dessert that everyone will enjoy.

Vanilla Cheesecake Recipe
This delicious classic vanilla cheesecake is delicious served topped with berries.
Author: ©Amy Johnson | She Wears Many Hats
Recipe type: Dessert
Serves: 12
Ingredients
For the crust:
1¾ cups almond flour
¼ cup sugar
¼ teaspoon ground cinnamon
4 tablespoons butter, melted

For the filling:
2 pounds cream cheese, softened
1 cup sugar
4 teaspoons vanilla bean paste (or extract)
½ teaspoon ground cinnamon
4 large eggs, at room temperature
½ cup heavy cream
Instructions
For crust:
Preheat oven to 350-degrees F. Coat a 10-inch* springform pan with butter or cooking spray. Whisk together almond flour, ¼ cup sugar and ¼ teaspoon cinnamon in a bowl. Stir in melted butter to incorporate. Press mixture evenly into the bottom of the pan. Bake for about 12-13 minutes, or edges are slightly browned. Set aside.

For filling:
Reduce oven temperature to 300-degrees F.
In a large mixing bowl, use an electric mixer to beat the cream cheese on low speed, slowly add sugar, vanilla bean paste (or extract), and cinnamon, beating until just combined. Beat in eggs, one at a time; scrape down the bowl. Slowly pour in the cream; beat until smooth.
Pour batter over prepared crust; bake for 65-70 minutes; top will be lightly golden, center will be set but slightly jiggly.
Transfer to cooling rack; cool to room temperature.
Once cool, leave cake in pan, loosely cover top of pan with foil. Refrigerate for at least 6 hours before serving. Remove from pan by running a thin-bladed knife around the edge of cake and carefully remove springform ring. Serve topped with berries, caramel or chocolate sauce.
Any leftover cheesecake should be covered and refrigerated.
Notes
*9-inch springform pan may be used with the same amounts; cook times will need to be adjusted.