Shrimp Creole Recipe
A savory blend of seasonings mingle together to create this easy Shrimp Creole Recipe.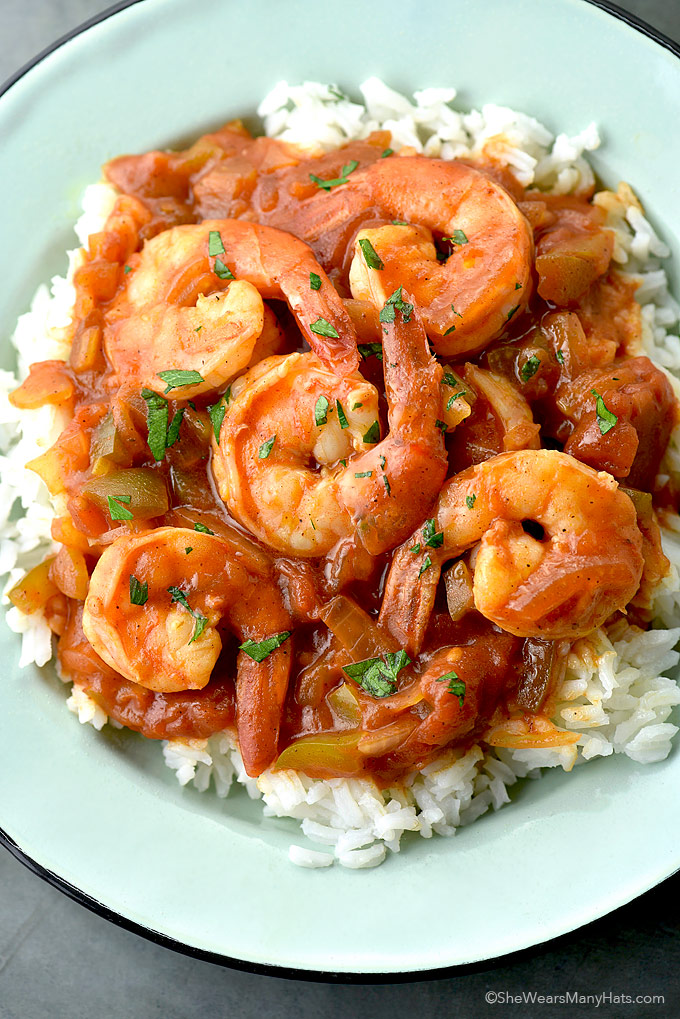 Shrimp Creole is one of the recipes I remember from a very young age. My Nana used to make it regularly. It's a dish that I remember fondly, a comfort food of sorts. Once the aroma of the savory seasonings mingling together started to build, it wasn't so easy to wait patiently for dinnertime. The only solution was to head outside and play until it was time to eat.
Shrimp Creole is not a fancy dish, but it's always so satisfying. The preparation for this recipe is simple and it's a easy delicious dish to serve for a crowd, one that I think is perfect for serving large groups during the holidays.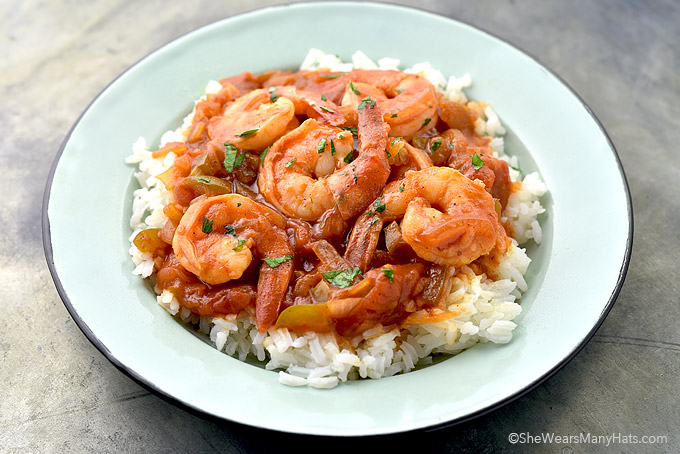 A few Shrimp Creole recipe notes:
The sauce can be made ahead of time, rewarmed, then the shrimp added toward the end. Or make the sauce and let it stew for hours until closer to serving time, then add the shrimp and proceed with the recipe as written.
Easily double or triple all ingredients to accommodate a larger crowd.
I like to leave the tails on the shrimp. It adds so much flavor, but if you prefer to peel the whole shrimp that is totally fine too.
Don't toss those leftovers! Turn it into a lovely soup. Toss in any extra rice, and add a bit of water, or broth to thin the soup to desired thickness, as well as crushed tomatoes and/or tomato sauce.
More delicious easy shrimp recipes you'll enjoy:
Shrimp Creole Recipe
This satisfying savory dish is easy to prepare and perfect for entertaining.
Author: ©Amy Johnson | She Wears Many Hats
Recipe type: Main
Serves: 4-6
Ingredients
3 tablespoons olive oil
1 medium onion, roughly chopped
1 cup thinly sliced celery
1 cup large diced green bell pepper
32 ounces stewed tomatoes
8 ounces tomato sauce
2 bay leaves
1 tablespoon salt
1 tablespoon sugar
1 tablespoon chili powder
1 teaspoon hot sauce
1 pound large shrimp, peeled, deveined (I leave tails on)
2 tablespoon all-purpose flour
⅓ cup cold water
Instructions
In a large skillet or Dutch oven, heat oil over medium heat. Add onion, celery and green bell pepper. Saute for 5 minutes, until just tender.
Stir in stewed tomatoes, tomato sauce, bay leaves, salt, sugar, chili powder and hot sauce. Combine well. Bring to a simmer; cover and simmer for 30 minutes. Stir in shrimp; simmer for 10 more minutes.
Whisk together flour and cold water until smooth. Stir into pot until smooth until slightly thickened, about 5 minutes. Salt and pepper to taste, and add more hot sauce if desired.
Serve warm over rice.