Mint Lime Grilled Chicken Breasts Recipe
Mint Lime Grilled Chicken Breasts recipe turns blah chicken into amazing chicken with an easy summertime twist.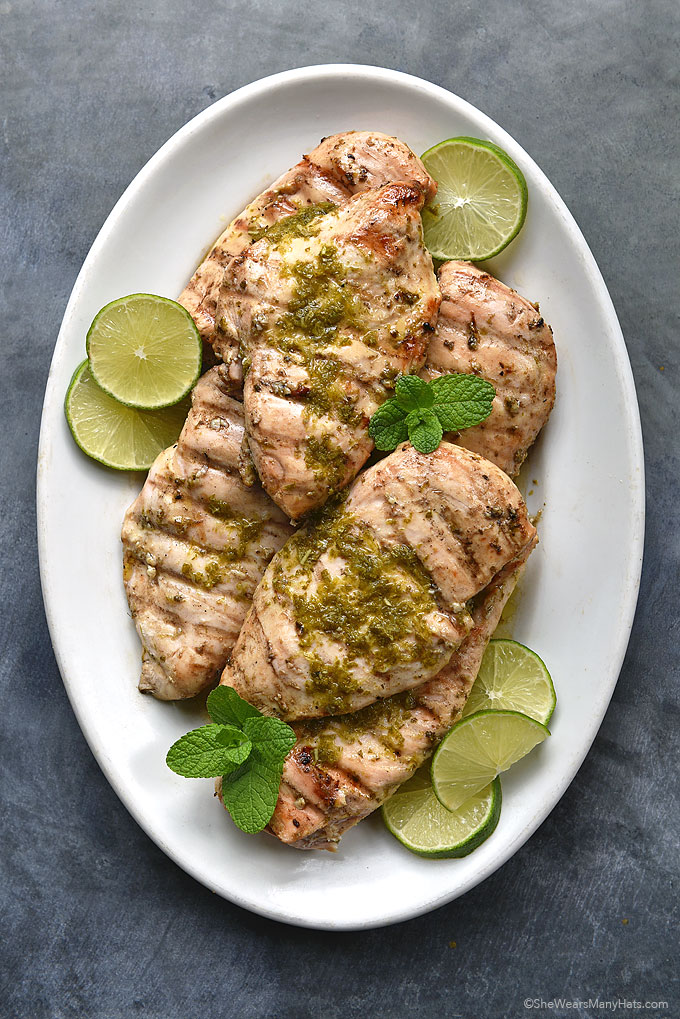 Boneless, skinless chicken breasts are a super convenient dinner option but they can often be a bit bland in the flavor department. The good news, boneless chicken breast can be like a blank canvas that you can paint different flavors on because they take marinades very well. And marinades can be a great vehicle for carrying seasonal flavors, like this mojito inspired Mint Lime Grilled Chicken Breasts.
To me, lime and mint taste like a bright, fresh, sunny summer day. The flavors really do wake up otherwise sleepy bland chicken breasts in this recipe. These grilled chicken breasts would pair very well with a Mint Melon Salad and yummy broccoli salad with sunflower seeds. While you are at it, go ahead and cook some extra so you can use it over a healthy mixed green salad for lunch tomorrow. Grilled chicken breasts are just perfect for making ahead for a week of lunches. Lunchtime doesn't get better than this!
Mint Lime Grilled Chicken Breasts Recipe
Easy and flavorful grilled chicken recipe that is perfect for a summertime menu.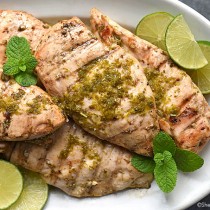 Ingredients:
zest of 3 limes
juice of 3 limes (about 1/4 cup)
1/4 cup extra virgin olive oil
1/2 teaspoon kosher salt
2 tablespoon finely chopped fresh mint
1  1/2 pound boneless skinless chicken breasts (5-6 breasts)
Directions:
In a measuring cup or small bowl, whisk together lime zest, lime juice, olive oil, salt and mint.
Place boneless skinless chicken breasts in a heavy duty one gallon zip top bag. Pour marinade into the bag.
Seal the bag, removing as much air as possible. Place bag on a large plate in refrigerator. Let chicken marinade for a minimum of 2 hours (or as long as overnight) flipping bag a couple times to ensure good coverage on all sides.
Preheat grill to medium (about 325-degrees F). Place marinated chicken breasts on the grill; pour or brush on the remainder of marinade onto the chicken breasts. Cook about 7 to 10 minutes per side. Check for doneness with meat thermometer.
Remove from grill, let rest 10 minutes before slicing.
 Originally published May 25, 2015.