Limeade Cake with Vanilla Frosting and Toasted Coconut
This delicious Limeade Cake topped with Vanilla Frosting and Toasted Coconut is the perfect dessert for any summer occasion.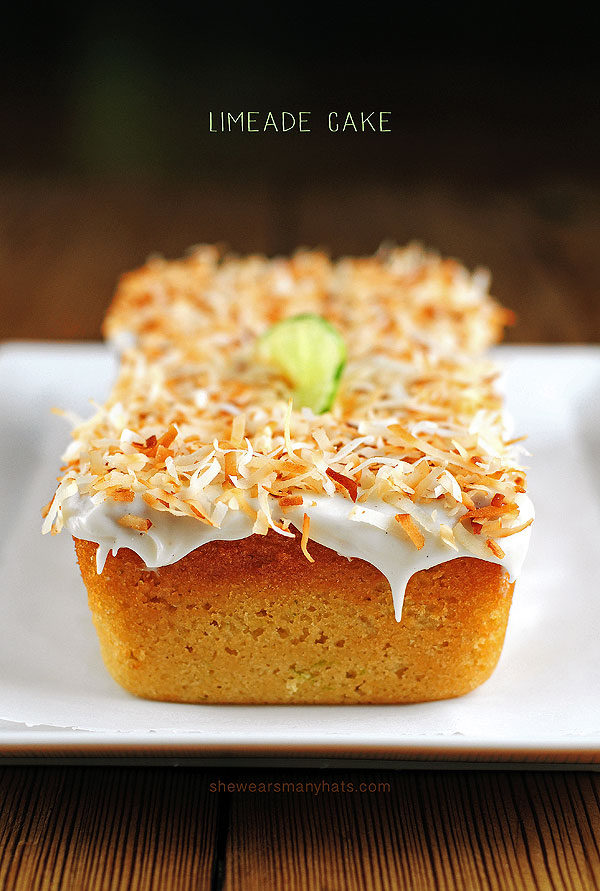 A local restaurant serves up cake from the coffee shop next door. Giant cake. Giant 3 layer cake. Just about every time Randy and I go there, I cave. There always seems to be a unique cake combination on the menu that is tempting. If it were a classic chocolate cake or Carrot Cake (which I do enjoy so very much), I could probably muster the willpower to pass it up. But when Strawberries and Cream Cake, or Limeade Cake are taunting me … willpower? What does that even mean?!?
Thank goodness salad is on the menu to balance my weakness.
The Limeade Cake incident occurred a few weeks back. I've been thinking about it ever since. I'm a big fan of lime anything. And of course, when I think "lime" my mind instantly thinks "coconut" too. You put the lime in the coconut and all of that … only in this case you put the toasted coconut on top of the limeade cake.
I found a great recipe from Cooking Light for Lemonade Cake that worked well as a starting place, then topped it with delicious vanilla frosting and then nutty toasted coconut. The cake turned out quite nice: not too sweet, not dry at all, with a lime flavor that isn't overpowering like some lime desserts can be. Don't skip the toasted coconut. Toasted coconut is always a good idea.
This recipe works perfect for a layer cake, but I made a pair of cakes in loaf pans. One to keep, one to share, because sharing is a good thing.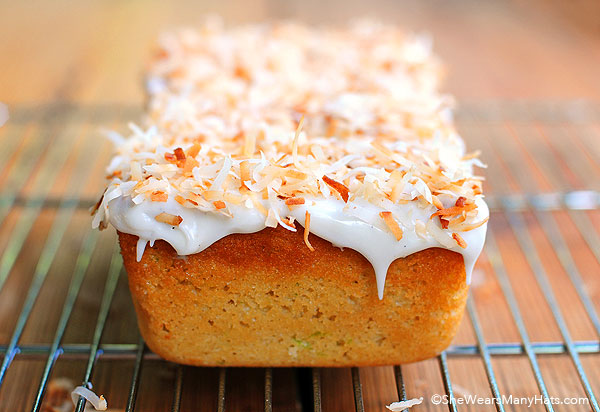 Bright and tangy, this Limeade Cake is perfect for summer parties and backyard cookouts. Or maybe in the dead of winter when you need a reminder of what's to come?
A few Limeade Cake recipe notes:
The recipe works for a layer cake, but I decided to make two loaf cakes instead. They're easier to work with AND easier to share. A layer cake in this house, when there isn't a party going on, isn't a good thing.
As I mentioned, the recipe below will work for a layer cake. Adjust cook times for different size pans. As always with cake, check for doneness with a cake tester or wooden pick that comes out clean.
The frosting amount is also for a layer cake. Frosting the cakes as shown in the photos here will obviously not require the full amount of frosting. Halve the recipe if needed. But I can think of all kinds of ways to use extra frosting, can't you?
The cake is dense, and not in a bad way. I can't use the word that means opposite of "not dry" because it bothers me, but it's not dry. Quite the opposite. With that said, if building a layer cake be aware and prepared for working with heavier layers.
For the frosting I used coconut milk. Easily substitute another milk for the coconut milk if needed.
I used vanilla bean paste in the frosting. Regular vanilla extract is fine. If vanilla bean paste is new to you, consider trying it out in your next recipe. It's very nice.
I used about 3/4-1 cup of toasted coconut for topping the two loaf cakes, but if you're a toasted coconut fan, go ahead and toast more while you're at it. It's super for adding to greek yogurt or ice cream!
Cake recipe was adapted from Cooking Light April 2002.
A few more cake recipes you'll also enjoy:
Limeade Cake with Vanilla Frosting and Toasted Coconut
Bright and tangy, this Limeade Cake is perfect for summer parties and backyard cookouts. Or maybe in the dead of winter when you need a reminder of what's to come?
Author: Amy Johnson | She Wears Many Hats
Recipe type: Dessert
Ingredients
For cake:
2¼ cups all-purpose flour
1 teaspoon baking powder
½ teaspoon baking soda
½ teaspoon salt
1⅓ cups granulated sugar
6 tablespoons butter, softened
1 tablespoon lime zest (from about 2 limes)
4 tablespoons thawed limeade concentrate
2 teaspoons vanilla extract
2 large eggs
2 large egg whites
1¼ cups buttermilk


For frosting:
2 tablespoons butter, softened
1 teaspoon vanilla extract
8 ounces cream cheese (I used ⅓ less fat.)
4 tablespoons coconut milk
4½ cups powdered sugar (more may be needed for correct consistency)
¾-1 cup sweetened shredded coconut, toasted
Instructions
Preheat oven to 350-degrees F and coat baking pans with cooking spray (or butter and flour).
For cake:
In a medium bowl, whisk together flour, baking powder, baking soda, and salt. Set aside.
In a large bowl, mix together the sugar, butter, lime zest, limeade concentrate and vanilla extract on medium for about 5 minutes, until combined.
Add eggs and egg whites, one at a time. Beat well after each addition.
Alternately add flour mixture and buttermilk to sugar/butter mixture, beginning and ending with flour. Beat well after each addition.
Pour batter into prepared cake pans. Bake at 350-degrees F until wooden pick inserted comes out clean.
(Suggested approximate cook times: about 20 minutes for 2 (9") round cake pans; about 30-35 minutes for 2 loaf pans.)
Cool in pans for about 10 minutes on a wire rack, then remove from pans and let cake cool completely on wire rack.
For frosting:
Mix butter, vanilla, cream cheese and coconut milk together until combined.
Add powdered sugar a little at a time until desired consistency is reached. Add more coconut milk or powdered sugar, as needed, to reach desired consistency. Beat until combined well. Refrigerate until ready to frost.
Frost cooled cake, then top with toasted coconut.
Notes
Frosting amount is for a layered cake.
Cake recipe was adapted from Cooking Light April 2002.