Pineapple Cake Recipe
This Pineapple Cake Recipe will soon become a family favorite, perfect for celebrating the best of life's special moments.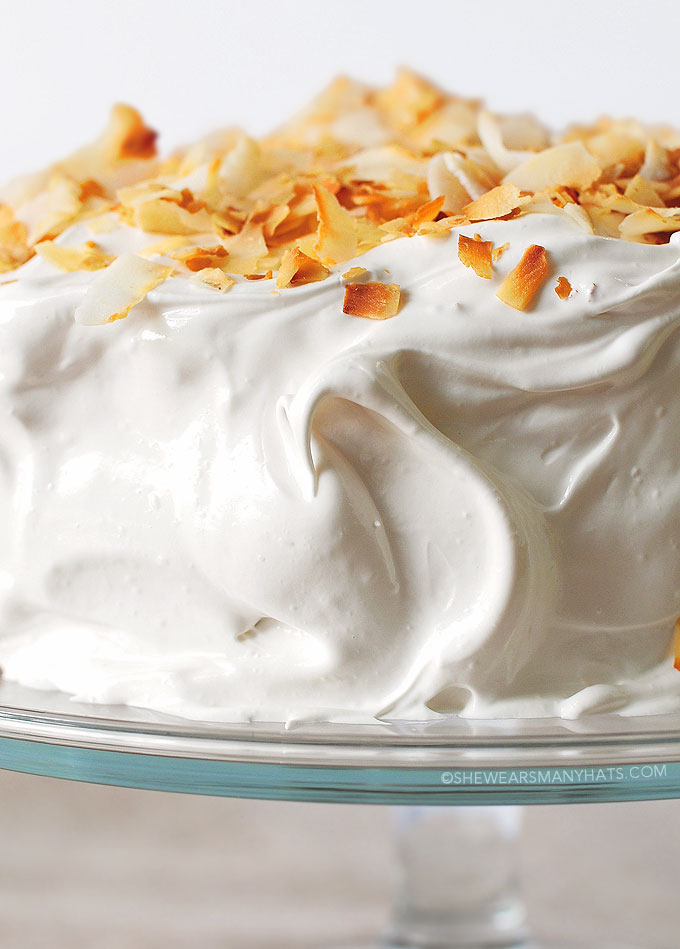 The salty air wafted through the screened back door and marked another warm summer day at Folly. Family was gathered at our beach to celebrate another milestone. Food was being prepared in the muggy kitchen by many hands. Sweet and savory aromas mixed with the salty breeze.
Barely able to see over the counter top, the cake was right there, just within arm's reach. Frosting effortlessly applied with a butter knife as if it had been done a thousand times. A quick sneak of a taste may go unnoticed if I moved quick enough. A small fingertip amount would hardly be missed. Perhaps a second or third for good measure? It was white, the frosting. Maybe cream cheese, or a simple vanilla buttercream? I don't remember, and it didn't much matter to me. It was all the same sweet goodness in my book.
As a child a homemade cake with homemade frosting was magical. A bowl of ingredients mixed, divvied up into pans, followed by a brief stay in a hot oven to emerge as cake was amazing. As an adult it still is. How such basic ingredients can become so wonderful when combined just the right way. It really is like magic.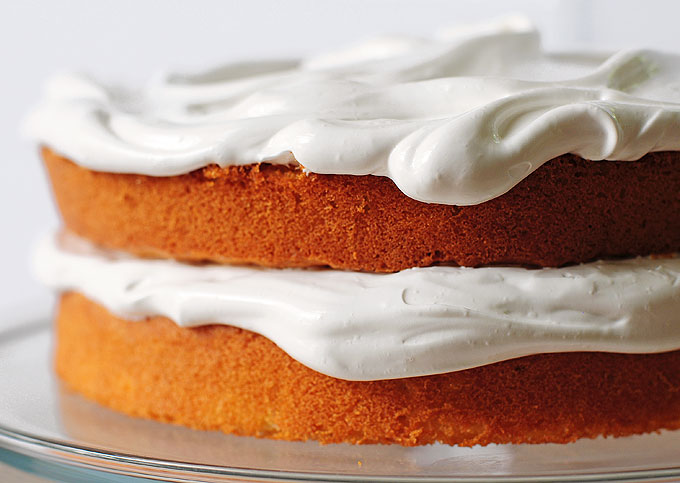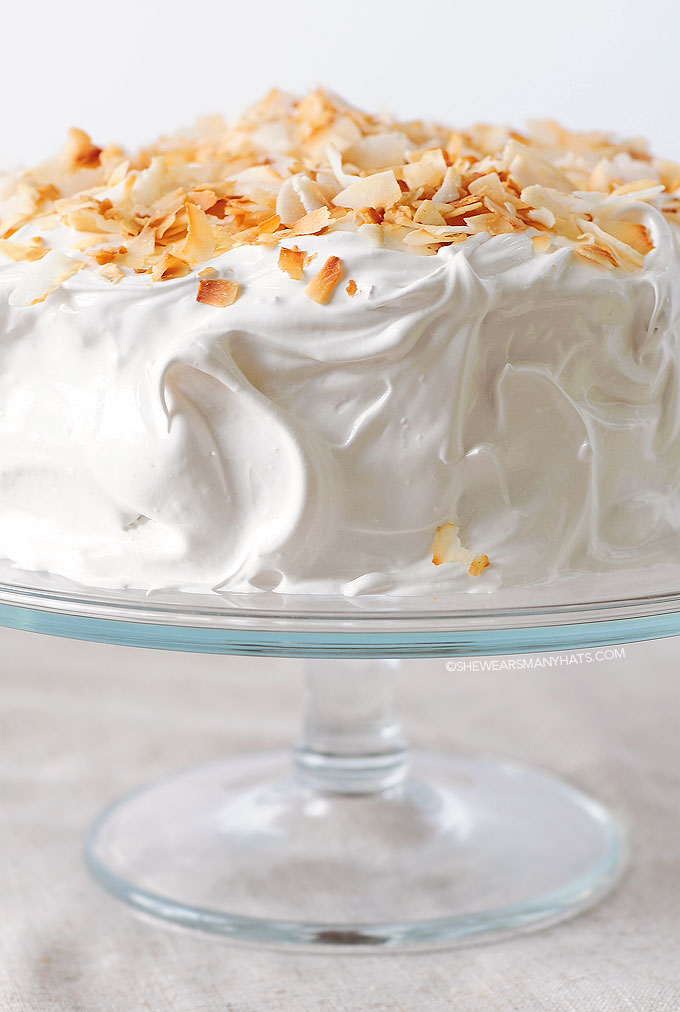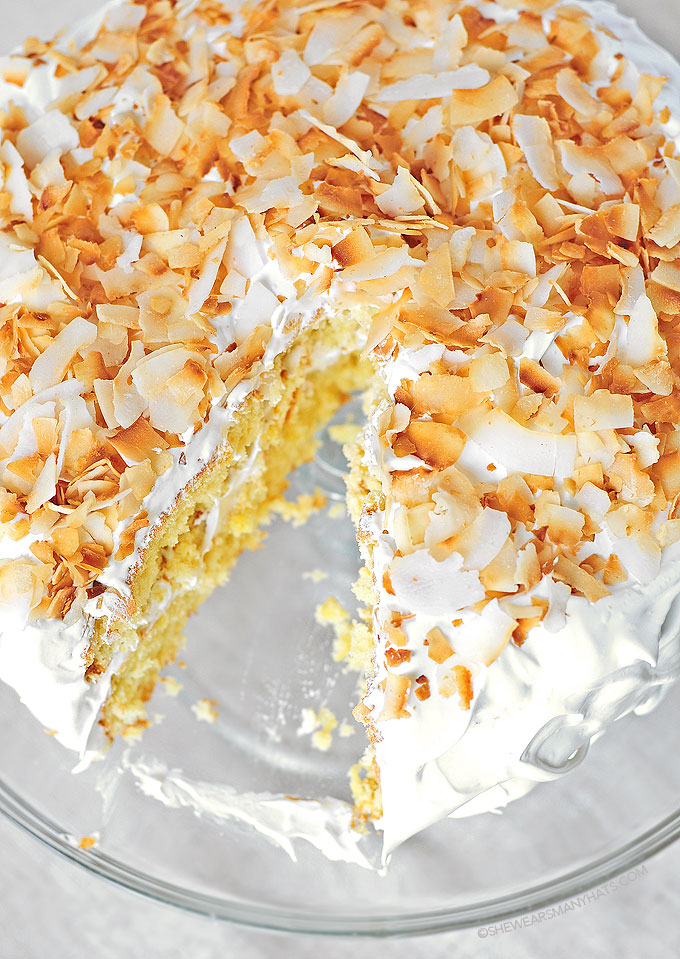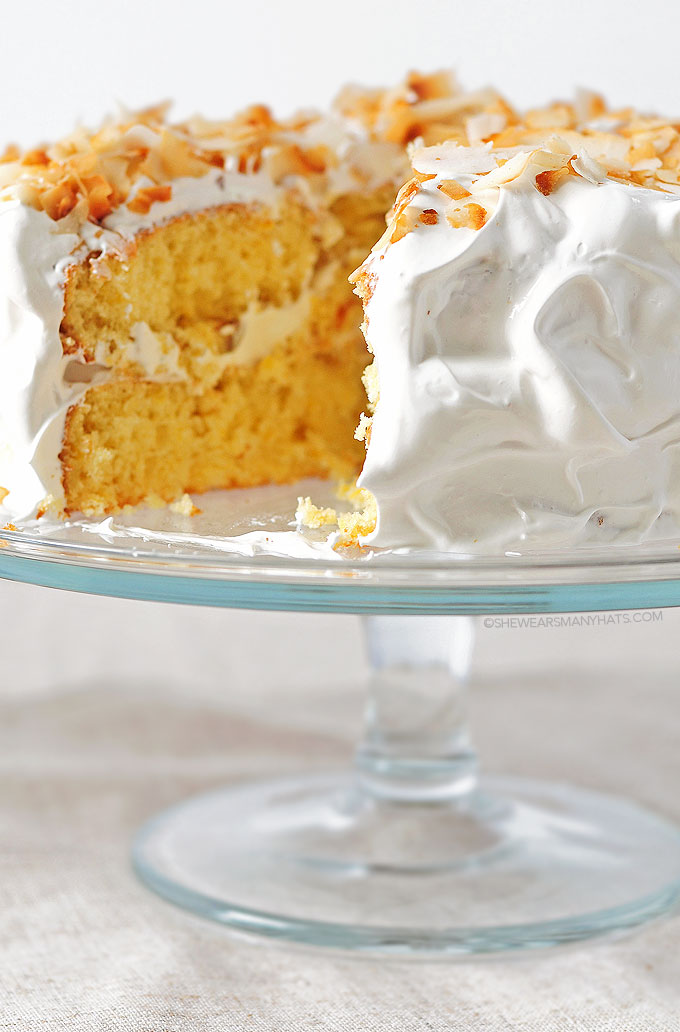 This Pineapple Cake is no exception to the magic flour, sugar, and eggs create. My husband, who is not much of a fan of overly sweet desserts, was a big fan of this cake. Not too sweet and so fluffy, this Pineapple Cake is perfectly balanced. The pineapple isn't overwhelming. It's subtle. Just right, in fact. Pair this fluffy cake with an equally fluffy frosting, like an easy 7-Minute Frosting, topped off with toasted coconut for a bit of texture, and, of course, one of the pineapple's favorite flavor friends.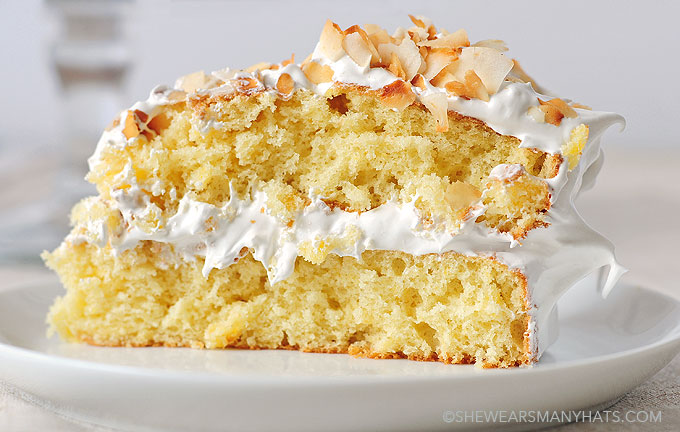 Enjoy!
Pineapple Cake Recipe
Author: ©Amy Johnson | She Wears Many Hats
Ingredients
2½ cups sifted cake flour (sifted before measuring)
1½ teaspoons baking powder
½ teaspoon baking soda
½ teaspoon salt
½ cup pineapple juice
¾ cup drained, crushed pineapple
1 teaspoon vanilla extract
½ cup butter
1 cup sugar, divided
3 large egg yolks
3 large egg whites
Instructions
Preheat oven to 350-degrees F. Lightly grease and flour two 9-inch round cake pans.
Sift together flour, baking powder, baking soda, and salt. Set aside.
In a separate bowl, whisk together pineapple juice, crushed pineapple and vanilla extract.
In a separate large mixing bowl, cream butter and ¾ cup sugar together until fluffy. Add egg yolks one at a time, beating after each addition until smooth.
Alternate adding the sifted dry ingredients with the pineapple juice mixture into the butter/sugar mixture, beating after each addition until smooth.
In a separate bowl, beat egg whites until stiff. Gradually add in remaining ¼ cup sugar, beating until combined.
Fold beaten egg whites into batter.
Divide batter between the two prepared 9-inch round cake pans. Bake at 350°F for 30 minutes, or until cake tester comes out clean.
Let cake layers cool in pans for about 10 minutes, then carefully transfer to cooling racks until cool.