Guacamole Recipe
This tasty Guacamole Recipe is the perfect place for those ripe avocados.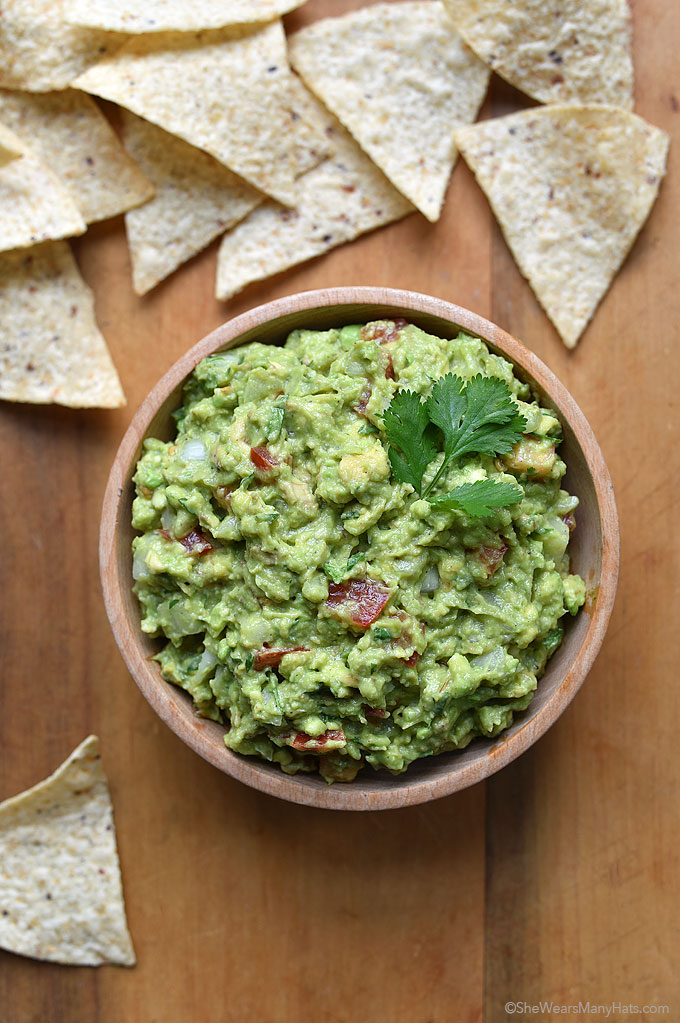 I've never met a guacamole I didn't like, and this Guacamole Recipe is certainly no exception. Picture this: Fifteen years ago, I'm sitting in a chair at the salon, getting my hair all prettied up, flipping through magazines, when I come across a guacamole recipe.
At first glance the guacamole recipe didn't seem like anything special, but as I sat there getting my hair rinsed, I couldn't stop thinking about that guacamole. I could almost taste it. Something about simple fresh ingredients all piled on a crunchy corn tortilla chip made my appetite soar.
I made a detour on the way home to stock up on all the ingredients. As soon as I walked in the door of my home, I sliced open the ripe avocado, diced the tomatoes and onions, and began assembling my guacamole. A few minutes later, I was enjoying the best batch of homemade guacamole, ever. I've continued to enjoy fresh homemade guacamole ever since that day.
Homemade guacamole couldn't be easier. If you are intimidated by homemade guacamole, stop that nonsense right now and try this recipe. Seriously, what are you waiting for? Grab some avocados and get to mashing.
Cinco de Mayo or any old occasion … homemade guac is where it's at, y'all. Give it a try today!
Here are some other terrifically delicious avocado recipes you will enjoy:
Guacamole Recipe
Ripe avocados, lime juice tomatoes, onion and fresh cilantro come together to create a fabulous fresh dip or topping.
Author: ©Amy Johnson | She Wears Many Hats
Recipe type: Appetizer
Ingredients
3 ripe avocados, seeded, peeled
juice of half a lime
½ teaspoon salt
¼ teaspoon pepper
½ cup diced tomatoes
½ cup diced onion
2 tablespoons chopped fresh cilantro
optional (for spicy version): 1 jalapeño, minced
Instructions
In a large bowl, mash together avocados, lime juice, salt and pepper. Add remaining ingredients; stir to combine. Salt and pepper to taste.
Serve right away or store covered refrigerated until ready to serve.