Almond Oatmeal Cheesecake Pie Recipe
This easy Almond Oatmeal Cheesecake Pie is the perfect ending for any meal, especially during the holidays.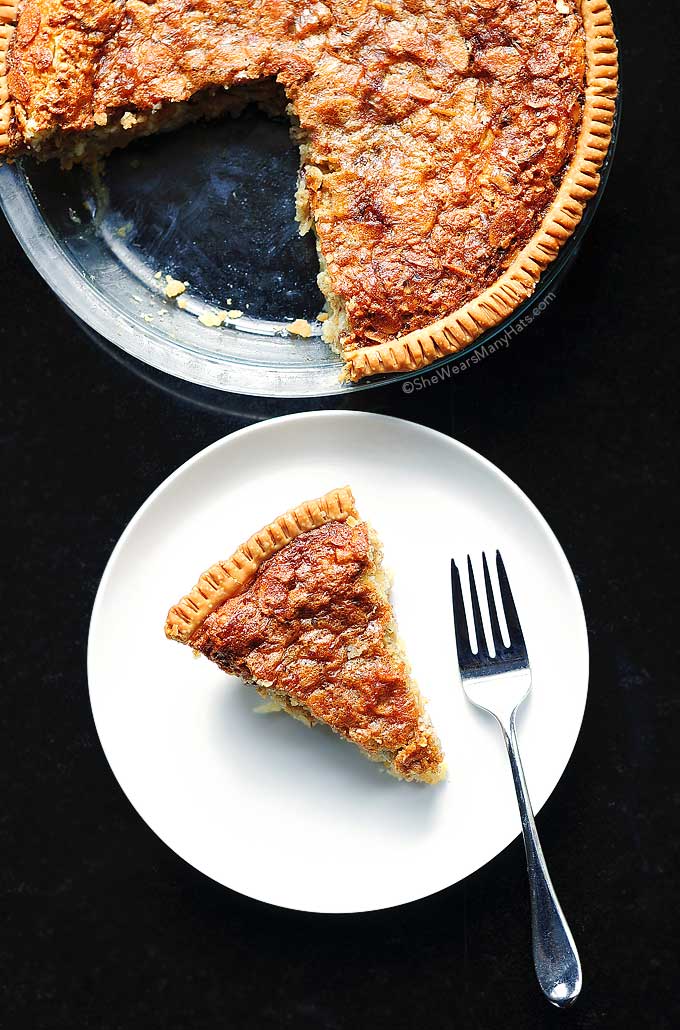 There is a reason for the popular saying: "It's as easy as pie." It's because pie is so easy to make. Really. Most pies consists of mixing up a filling, pouring it into a pie crust and baking it. That's it. And if you're worried about preparing pie crust from scratch, nowadays you can even find dependable prepared refrigerated pie crusts at most grocery stores to solve that problem too. So don't fret. Pie really is easy.
This Almond Oatmeal Cheesecake Pie recipe is no exception to the "easy as pie" rule. Begin with an unbaked prepared 9-inch pie crust, then create the filling. The filling for this pie is broken into to parts: the cream cheese filling and the nutty, crunchy almond and oatmeal top. Both steps only involve basic mixing so you should be able to have this pie prepped and ready to go into a preheated oven in under 10 minutes.
During baking the pie puffs up and the sweetened cream cheese mixture mingles a bit with the nutty almond oatmeal top resulting in a wonderfully textured pie. Imagine cheesecake and a nut pie mixed together. Yep. Good stuff, y'all.
If you haven't already been inspired, this Almond Oatmeal Cheesecake Pie would make a wonderful addition to an autumnal occasion or any holiday dessert spread. I'm thinking the Thanksgiving table will need to make room right next to the pecan pie for this delectable dessert.
Enjoy!
Almond Oatmeal Cheesecake Pie Recipe
A great pie for serving during the holiday season.
Author: ©Amy Johnson | She Wears Many Hats
Recipe type: Dessert
Ingredients
1 (9-inch) prepared pie crust, unbaked
8 ounces cream cheese, room temperature
4 large eggs, divided
¾ cup granulated sugar, divided
2 teaspoon vanilla extract, divided
½ teaspoon salt, divided
1 cup rolled-oats
½ cup sliced almonds
1 cup light corn syrup
½ teaspoon cinnamon
Instructions
Preheat oven to 425-degrees F. Place oven rack on lowest level.
Using an electric mixture on medium speed, beat together cream cheese, 1 egg, ½ cup sugar, 1 teaspoon vanilla extract, and ¼ teaspoon salt until smooth. Pour mixture into prepared piecrust.
Stir together oats and almonds and spread evenly over cream cheese mixture.
Whisk together remaining 3 eggs, ¼ cup sugar, 1 teaspoon vanilla extract, ¼ teaspoon salt, corn syrup, and cinnamon. Pour mixture evenly over oat/almonds.
Place pie on baking sheet and place on lowest oven rack, bake at 425-degrees for 15 minutes. Lower oven temperature to 350-degrees and continue to bake another 30-35 minutes, until pie is set.
Cool completely on wire rack. Serve once cooled or cover and refrigerate for up to 2 days.
Notes
Makes 8 servings.
Prep: 15 minutes
Cook time: 45 minutes
Total: 2 hours
Adapted from Southern Living.