Steak au Poivre Recipe
Steak au Poivre is the perfectly cooked steak plus pepper and a creamy Cognac sauce.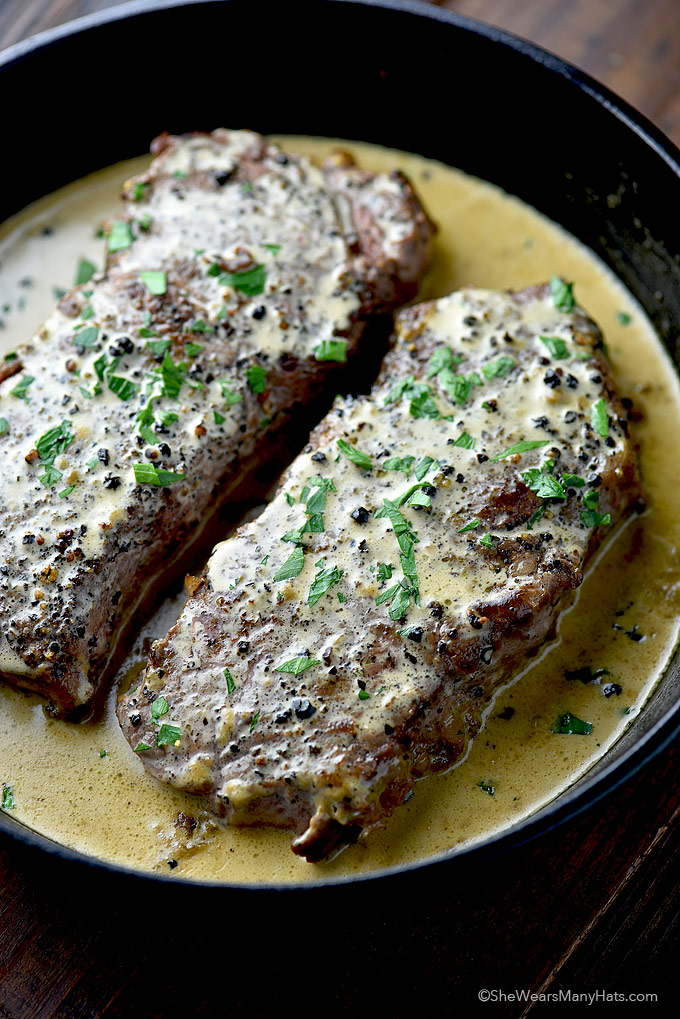 Steak au Poivre is a dish that we've enjoyed for many, many years on special occasions. Randy began preparing it for our special Valentine's Day dinner each year back when our children were young and not so interested in steak. Now they enjoy it just as much as we do. And no wonder—it's delicious! If you're a fan of beef, this is an indulgent way to enjoy it, for sure. Made with fresh crushed black pepper and a cream sauce, with a bit of Cognac, Steak au Poivre is not to be missed.
We originally learned of Steak au Poivre through Alton Brown's Good Eats years ago. Before the steak was finished cooking we were planning our next meal. Randy took over the makings of it all and has since mastered it, and boy, do I feel spoiled. Not only is it usually a special occasion when we enjoy Steak au Poivre, but he cooks it for me. Serve a simple side salad and Garlic Lemon Green Beans, or Roasted Asparagus with this steak and you're set with a perfect meal. The peppery cream sauce over asparagus—oh my!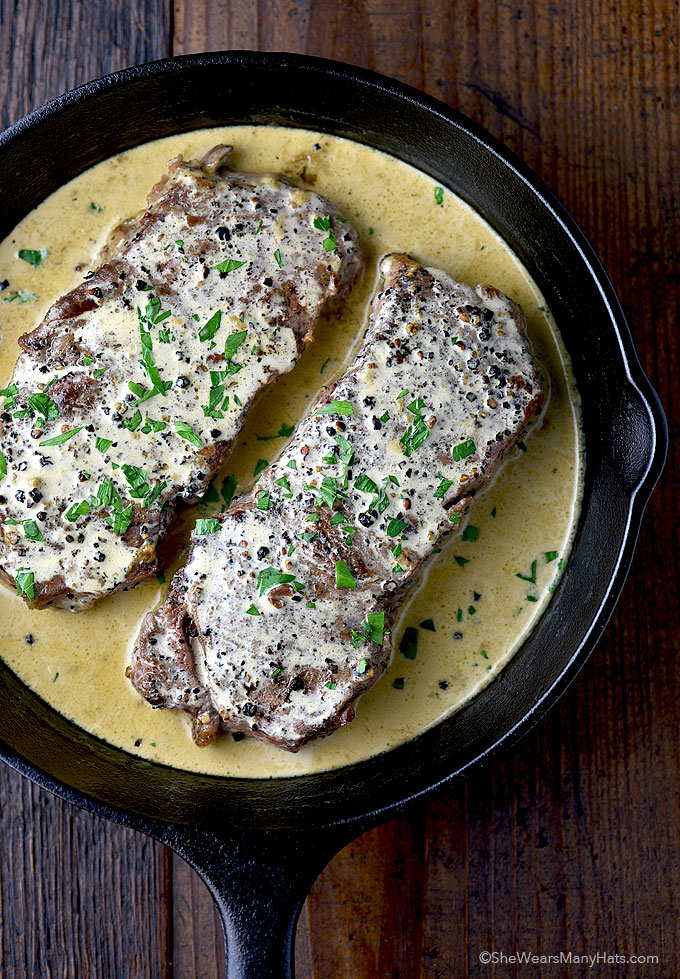 As I said, Randy has mastered the Steak au Poivre (yay me!) and with a few simple tips, you'll be mastering Steak au Poivre in no time too.
Tips for cooking Steak au Poivre:
Filet mignon/beef tenderloin is the very best steak to use for Steak au Poivre, as well as thick NY Strips (as shown in the photos in this post). Be sure to trim any excess fat or gristle before cooking.
An iron skillet is the perfect pan for cooking the steak and sauce. It creates a fabulous sear, cooks evenly and transfers well from the grill to stove, as needed.
We use a mortar and pestle to crush the peppercorns. A heavy flat bottomed glass works well. Of course, if needed a pepper mill set on a large grind would work okay too.
Most recipes may recommend a non-alcoholic substitute for the Cognac, but it is not something I recommend for this recipe. It adds so much flavor to round out the pepper and cream. any alcohol is cooked out before serving. The sauce is divine!
I prefer to cook this dish mostly outside for safety reasons. A side burner on a gas grill works great. 
As always, when cooking meat, especially steaks a meat thermometer is helpful. The recipe below instructs to cook for 4 minutes, each side for medium rare, based on a 1 1/2-inch thick steak. For preferred doneness, adjust cook times accordingly.
When you begin to coat steaks in the crushed pepper, it seems like a lot of pepper. I thought the same thing but the cream balances the pepperiness and both those flavors combined with a good steak and the earthiness of the Cognac, oh my goodness. So don't skimp on that pepper!
Steak au Poivre Recipe
Made with fresh crushed black pepper and a creamy Cognac sauce.
Author: ©Amy Johnson | She Wears Many Hats
Recipe type: Main
Serves: 4
Ingredients
4 beef tenderloin or NY Strip steaks, 6-8 ounces each; about 1½-inches thick
coarse salt
2 tablespoons whole peppercorns, crushed
1 tablespoon butter
1 teaspoon olive oil
⅓ cup Cognac
1 cup heavy cream
Instructions
Trim away any edge fat or gristle from steaks. Salt all sides. Press about ½ tablespoon of fresh course ground black pepper onto each side of each steak. Set at room temperature for 30-45 minutes.
Heat heavy skillet on medium high.* Add butter and olive oil. Just as butter begins to smoke, place steaks in pan. For medium rare, cook for 4 minutes on each side. Adjust cook time according to desired doneness. Transfer steaks to plate; cover loosely with foil; set aside.
Turn burner off. Carefully pour Congac into hot frying pan. Carefully light the alcohol with a long lighter or match; shake and swirl pan around until the flame burns out. Turn heat back on to medium. Whisk in the cream. Continue whisking and bring to a simmer; continue cooking, stirring/whisking until sauce lightly thickens, about 6-8 minutes. Salt and pepper to taste.
Turn off the heat; add steaks back to the pan. Flip to coat all sides with sauce. Serve immediately.
Notes
*I prefer to cook this dish mostly outside for safety reasons. A side burner on a gas grill works great.

Adapted slightly from Alton Brown.