Pumpkin Pie with Toasted Pecan Praline Topping
Pumpkin Pie with Pecan Praline Topping takes Pumpkin Pie to a new level.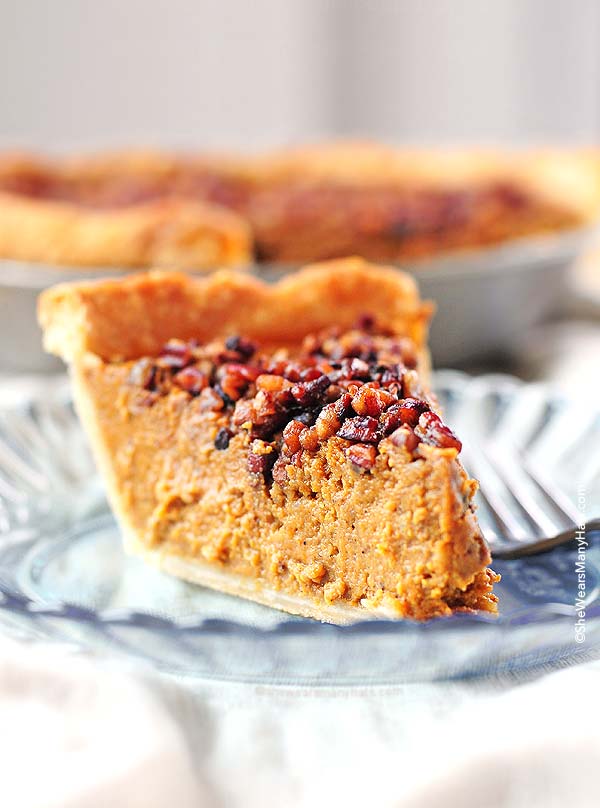 May I be honest with you? Pumpkin Pie has never really been my favorite. I usually eat the obligatory piece so I feel all holiday-ish and festive. And of course it is a vegetable (or is it a fruit?), which makes it totally acceptable obligatory pie to eat, as far as obligatory pie eating goes.
Pumpkin Pie is certainly pleasing enough, what with all the pumpkin and spices and such, but there's just something missing. It kinda seems naked. So I fixed things, and dressed the Pumpkin Pie up a bit by adding a crunchy topping of pecans for Pumpkin Pie with Pecan Praline Topping.
Now all is well in my Pumpkin Pie eating world.
I hope you find it as satisfying as we did. Enjoy!

Pumpkin Pie with Toasted Pecan Praline Topping
Pumpkin Pie a little dressed up.
Author: Amy Johnson | She Wears Many Hats
Ingredients
1 (9 inch) deep-dish pie crust, unbaked


for pie filling:
2 eggs
½ teaspoon salt
1¼ teaspoons ground cinnamon
½ teaspoon ground ginger
¼ teaspoon ground nutmeg
¾ cup brown sugar (either light or dark is fine)
15 onces pure pumpkin puree
8 ounces evaporated milk


for Pecan Praline Topping:
2 tablespoons butter, softened
2 tablespoons brown sugar
5 tablespoons toasted chopped pecans, lightly toasted
Instructions
Preheat oven to 425°F, and prepare pie crust for filling.
In a large bowl whisk the eggs, salt, ground cinnamon, ground ginger, and ground nutmeg together until combined well.
Add brown sugar, and pumpkin, and whisk together.
Gradually stir in evaporated milk until blended, and pour mixture into an unbaked 9" deep dish pie crust, place pie on baking sheet and bake at 425°F for 15 minutes, reduce oven temperature to 350°F and continue baking for 40 minutes.
Prepare Pecan Praline Topping while pie is baking, by mixing together all topping ingredients (softened butter, brown sugar and toasted pecans) in a small bowl until combined.
Carefully top pie with Pecan Praline Topping and cook for another 5-10 more minutes. Before removing pie from oven, check for doneness; knife, cake tester, or toothpick inserted in center of pie should come out clean.
Let cool for at least 1½ hours. Serve right away or refrigerate covered until ready to serve.