Spinach Pasta with Olives, Basil, Garlic, and Lime
A quick and easy Spinach Pasta with Olives, Basil, Garlic and Lime that is so very perfect for a quick meatless meal.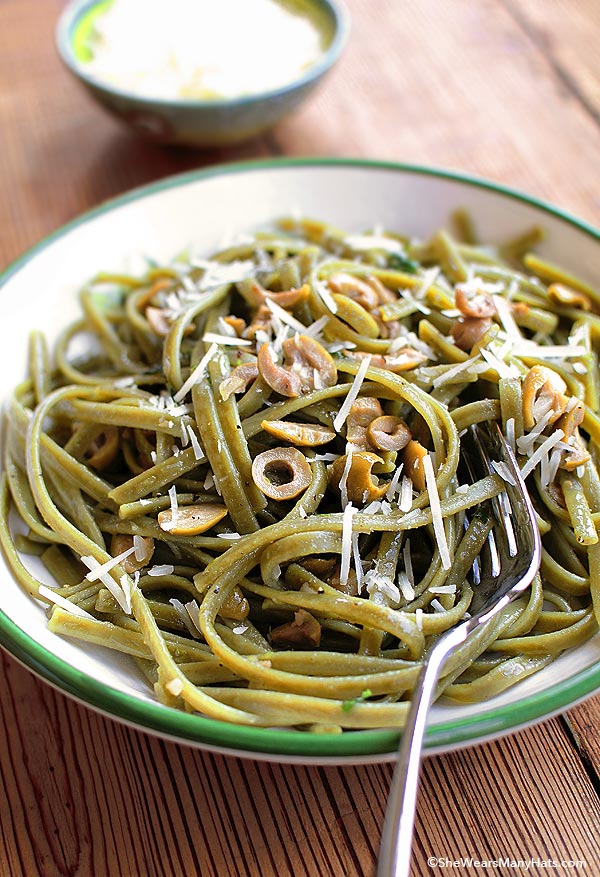 This fresh and simple green-themed Spinach Pasta with Olives, Basil, Garlic and Lime dish couldn't be easier to make. A few minutes is all that is needed to have this flavor-filled dish ready. I've thrown it together for lunch in no time. 
Lovely green fettuccine spinach pasta noodles were tossed with olive oil, olives, garlic, basil, a little butter, and lime zest, then finished off with a squeeze of bright lime juice for a simple, happy, light pasta dish. A little bit of chopping, and zesting, followed by some basic sautéeing is all that is required. Easy enough, right?
I'm thinking it would be mighty fine served as a chilled pasta too. Mighty fine, indeed. Make it ahead a day or two, chill it and have a tasty meal to pack and take for lunch.
Here's a tasty tip: If you're a big olive fan, you may want to go ahead and double the amount in the recipe. I've had a hankering for olives lately and this dish can definitely handle more if olives are your thing.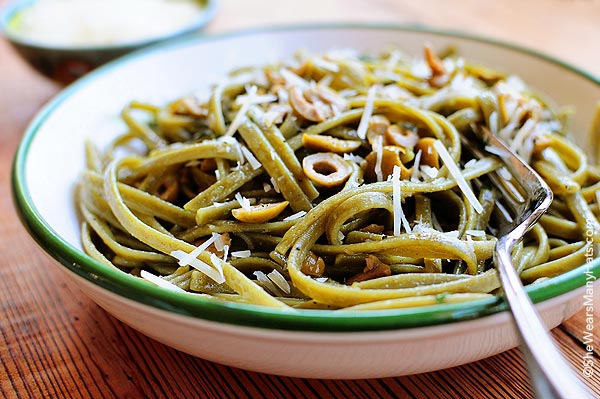 Pasta on the brain? Check out these other delicious pasta recipes:
Mushroom Florentine Pasta Recipe
Shrimp Pasta with Cilantro Pesto Recipe
Spinach Pasta with Olives, Basil, Garlic, and Lime
A simple pasta perfect for a light lunch.
Author: Amy Johnson | She Wears Many Hats
Recipe type: Main
Ingredients
8 ounces spinach fettuccine pasta (or preferred pasta)
1 tablespoon olive oil
1.5 ounces ( about ⅓ cup) green pitted olives, rough chopped
1 clove garlic, minced
1 tablespoon butter
⅓ cup basil leaves loosely packed, rough chopped
zest from 1 lime (about ½ tsp)
2 pinches pepper
juice of ⅓ of a lime
salt and pepper to taste
grated parmesan, optional
Instructions
Cook pasta according to package instructions.
Add olive oil to a skillet. Heat over medium until oil begins to ripple.
Reduce heat to medium low. Add olives and garlic. Cook for about 3 minutes.
Add butter, basil, lime zest, and pepper. Stir together and cook for about 2 minutes.
Add drained pasta. Squeeze ⅓ lime over pasta. Toss all together.
Salt and pepper to taste.
Top with grated parmesan, if desired.
Enjoy!
Updated 2/22/15. Originally published 3/18/13.